Environment
The World's 10 Largest Wind Farms
A list of the 10 largest onshore wind farms by capacity.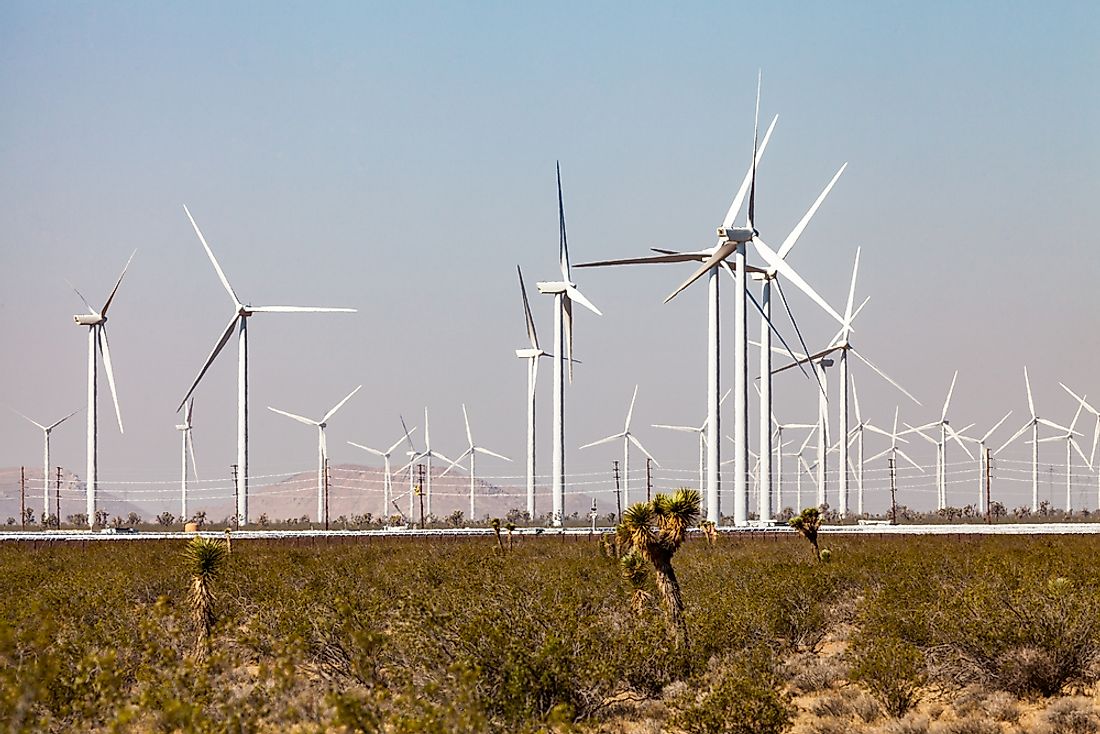 A wind farm is a location where the wind is harnessed to produce electricity by using multiple wind turbines. Most wind farms are located in areas with wind speeds of at least 10 miles per hour and access to transmission facilities. Areas of high altitude are preferred because of the higher wind speeds due to lower drag. The first wind farm was installed in December 1980 in Southern New Hampshire with 20 turbines and had a capacity of 0.6 MW.
The 10 Largest Wind Farms
The Gansu Wind Farm
The Chinese government constructed the Gansu Wind Farm to take advantage of the wealth of wind resources in the province of Gansu as well as to improve its clean energy sector. At a current capacity of 7,965 MW, it is the largest onshore wind farm in the world and is expected to grow in capacity to 20,000 MW by 2020. In spite of the large amounts of electricity it produces, the wind farm is not adequately utilized as the local government prefers to use coal and the underdeveloped long distance transmission. The low demand for wind energy in China and the wind farm's location far from major towns has also contributed to the underutilization of the wind energy.
Alta Wind Energy Centre
This wind farm is located in Kern County, California and has a current capacity of 1547 MW. It is the largest onshore wind energy project in the US. The project was completed in 2014 and has 600 turbines occupying an area of about 3200 acres. The project was developed to supply South California Edison with 1550 MW of renewable energy for 25 years. The biggest hurdle to the project's success was the insufficient power transmission capacity. The South California Edison local government constructed a transmission system, the Tehachapi Renewable Transmission Project, to overcome the obstacle of long-distance transmission to fully utilize the wind farm's potential.
Muppandal Wind Farm
India's largest onshore wind energy project is the Muppandal Wind Farm located in Tamil Nadu. The wind farm makes use of 3000 wind turbines to tap the seasonal monsoon winds to achieve its production capacity of 1500 MW which is approximately 20% of India's energy requirements. The wind project has contributed significantly to reducing India's reliance on fossil fuels and cutting its carbon emissions.
Fantanele-Cogealac Wind Farm
Fantanele-Cogealac is Europe's largest onshore wind farm. It is found in Romania and has an output of 600 MW. The farm has 240 turbines spread out over 42 square miles. The Romanian government laid down 93 miles of cables to transmit the power from the wind farm to the consumers. The wind farm was constructed to reduce the country's reliance on fossil fuel energy.
The Benefits of Wind Energy
Wind is renewable and it can be used continuously without the risk of the supply diminishing. Harvesting wind power is eco-friendly as there are no pollutants emitted in the process. Wind farms can also be used for farming as wind turbines have a small base area. Generating wind energy is also cheaper as wind is a natural resource.
The 10 Largest Wind Farms
| Rank | Wind farm | Current capacity (MW) | Country | State/Province |
| --- | --- | --- | --- | --- |
| 1 | Gansu Wind Farm | 7,965 | China | Gansu |
| 2 | Alta Wind Energy Center | 1,548 | USA | California |
| 3 | Muppandal wind farm | 1,500 | India | Tamil Nadu |
| 4 | Jaisalmer Wind Park | 1,064 | India | Rajasthan |
| 5 | Shepherds Flat Wind Farm | 845 | USA | Oregon |
| 6 | Roscoe Wind Farm | 781.5 | USA | Texas |
| 7 | Horse Hollow Wind Energy Center | 735.5 | USA | Texas |
| 8 | Capricorn Ridge Wind Farm | 662.5 | USA | Texas |
| 9 | Fântânele-Cogealac Wind Farm | 600 | Romania | Fântânele & Cogealac |
| 10 | Fowler Ridge Wind Farm | 599.8 | USA | Indiana |
About the Author
Benjamin Elisha Sawe holds a Bachelor of Arts in Economics and Statistics and an MBA in Strategic Management. He is a frequent World Atlas contributor. 
This page was last updated on June 18, 2018.
Citations
Your MLA Citation
Your APA Citation
Your Chicago Citation
Your Harvard Citation
Remember to italicize the title of this article in your Harvard citation.