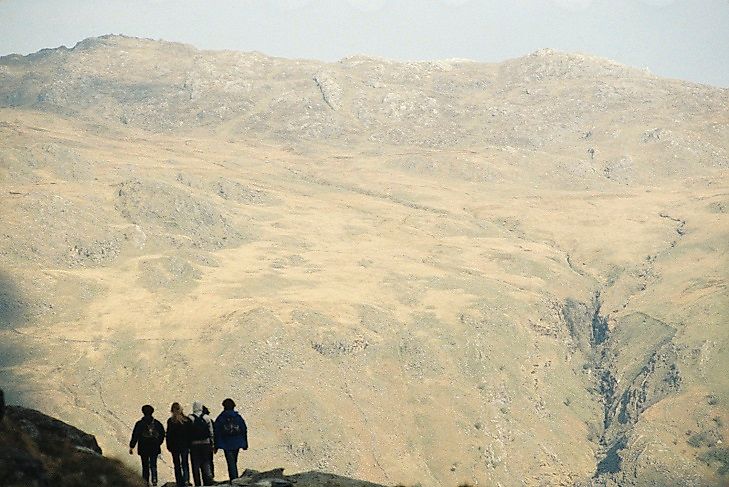 Wales is part of the United Kingdom, and it is located on the island of Great Britain. It borders England, the Irish Sea, and the Bristol Channel. The total area covers more than 20,779 square kilometers (8,023 square miles), and has a coastline stretching more than 2,700 miles, and most of it is mountainous. The highest summit is around Snowdon. The mountains were formed during the Little Ice Age that occurred ten centuries ago. Snowdonia National Park is the largest in Wales. Other mountainous regions are the Brecon Beacons and the Black Mountains.The mountains give a unique landscape to the country. The high peaks, gentle slopes, and scenic views provide exciting opportunities for mountaineers and explorers. Sportsmen also use the mountains as training grounds. In ancient days, the mountains provided a defense to Wales against invaders.

Snowdon
Snowdon is the highest mountain in Wales, standing at 3,560 feet above sea level. It is located in the north of Snowdonia National Park. The mountain has a wealth of rare plants and animals. One of the rare plants is the Snowdon lily only found in Snowdon. It is a protected plant species due to its rare occurrence. The mountain has some lakes such as Llyn Llydaw, Glaslyn, and Llyn Teyrn that add to its beauty. Mount Snowdon is the perfect destination in Wales for rock climbing, mountain biking, wild swimming, and photography. It is also a top alpine destination for tourists. The region has one of the longest human histories, and it is evident with the Neolithic burial Cairns and the Roman forts.
Carnedd Llewelyn
Carnedd Llewelyn is a mountain found in the Snowdonia Ranges and stands at 3,491 feet above sea level. It is the second highest mountain in Wales. It is said that Mount Carnedd Llewelyn and its neighboring peak, Carnedd Dafydd were named after Llywelyn ap Gruffudd and his brother Dafydd ap Gruffudd, the last independent Prince of Wales. Carnedd Llewelyn has a flat summit. The cliffs below, including Ysgolion Duon (meaning black ladders) and Craig yr Ysfa, are popular rock climbing spots. The highest lake in Wales, Llyn Llyffant, is on the slopes of Carnedd Llewelyn.
Glyder Fawr
Glyder Fawr is another mountain in Snowdonia, Wales. It is the fifth highest mountain in Wales at an elevation of 3,284 feet. The name Glyder Fawr translates to 'big mound.' It is said the Glyderau range where the Glyder Fawr is located was formed around five hundred million years ago. Two land masses collided and caused Snowdonia massif to rise. The mountain ranges have been shaped by nature to what they are today. Glyder Fawr is part of Snowdonia National Park, and it is protected by the National Trust in Wales.
Y Garn
Y Garn is part of the Glyderau range in Snowdonia. It has an elevation of 3107 feet above sea level. Y Garn is a good site for mountaineers due to its rough terrain and enormous size. The climb starts at Idwal Cottage and progresses to the magnificent shores of by Llyn Idwal. The mountain has breath-taking views and a cottage where climbers can stay. Y Garn is popular with tourists.
Welsh Mountains a Natural Heritage
Wales is said to have more than 180 mountains. 14 of the highest mountains in Wales are above 3000 feet and are collectively known as the "Welsh 3000s". The mountains form a beautiful alpine environment. Rare animal and plant species are found in the mountains. The mountains which form part of the Wale's natural heritage are protected by the National Trust.

| | | |
| --- | --- | --- |
| Rank | Highest Mountains in Wales | Elevation in Feet |
| 1 | Snowdon | 3,560 |
| 2 | Carnedd Llewelyn | 3,491 |
| 3 | Glyder Fawr | 3,284 |
| 4 | Y Garn | 3,107 |
| 5 | Elidir Fawr | 3,031 |
| 6 | Tryfan | 3,012 |
| 7 | Aran Fawddwy | 2,969 |
| 8 | Y Lliwedd | 2,946 |
| 9 | Cadair Idris | 2,930 |
| 10 | Pen y Fan | 2,907 |
About the Author
Benjamin Elisha Sawe holds a Bachelor of Arts in Economics and Statistics and an MBA in Strategic Management. He is a frequent World Atlas contributor. 
This page was last updated on April 25, 2017.
Citations
Your MLA Citation
Your APA Citation
Your Chicago Citation
Your Harvard Citation
Remember to italicize the title of this article in your Harvard citation.