The Tallest Mountains In Algeria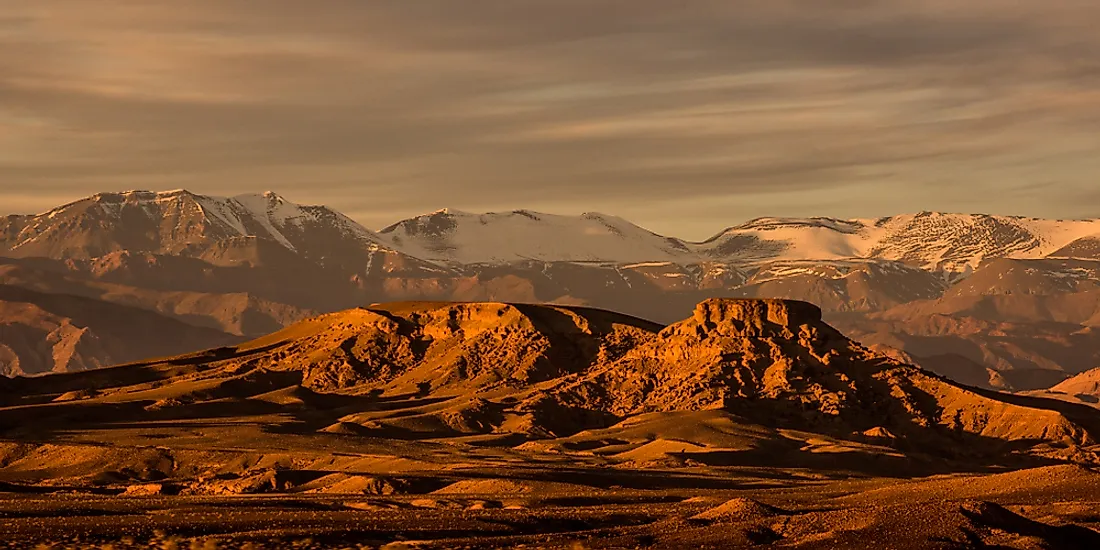 Algeria is a North African country bordering the Mediterranean Sea, and has Algiers as both its capital and its most populous city. Arabs make up 99% of the total population and Arabic is the official language.
Two mountain ranges, the Aures and the Nememcha, occupy the entirety of northeastern Algeria. The other mountain ranges in Algeria include the Atlas mountains, the Saharan Atlas, the Tell Atlas, the Hoggar Mountains, and the Tassili n' Ajjer mountains. This article discusses some of the highest mountains in the country.
Tallest Mountains in Algeria
Mount Tahat
Mount Tahat is the highest peak in Algeria with an elevation of 9,541 feet, and is found 35 miles north of the city of Tamanrasset. It is located in an arid zone central of the Sahara desert and is of volcanic origin. The Tuaregs are the predominant community around these areas. The first documented ascent took place in 1930. Nature tourists come in huge number for hiking escapades in Mount Tahat.
Mount Chelia
Mount Chelia is the highest peak in the Aures mountain ranges and is located west of Khenchela in the Bouhmama region. It sits at an elevation of 7,638 feet above the sea level and prominence of 1,612 feet. Before 1850, forest fires were frequent in the forests of Mount Chelia. The promulgation of laws governing land and forest use in Algeria led to a sharp decrease in the frequency of the forest fires. Tourism in the mountain is not very rampant as it is a very hard mountain to climb.
Lalla Khedidja
Lalla Khedidja sits at an elevation of 7,572 feet and has a prominence of 5,640 feet. The mountain is the third highest in Algeria and the highest in the Tell Atlas mountain ranges. Snow always covers it during the winter. There are several notable landmarks, including such mountain passes as Tizi-n-Kouilal, Tizi Tirkabine, and Tizi Bougueni. A historical shrine, Sidi Mohamed El Arba is also found on the slopes of the mountain. The town of Illitene is located only two miles north of the mountain. There is no much documentation on tourism and the ascent of the mountain.
Environmental Threats
As with any other ecological region in the world, the ecology of Algeria is under threat due to the expanding Sahara Desert. Climatic change is also changing the living conditions of the local animals, as well as melting the glaciers and on snow cover on the mountains. The government has set up measures including the Sahara Conservation Funds to help protect against the effects of the Sahara Desert's spread.
Tallest Mountains In Algeria
| | | |
| --- | --- | --- |
| Rank | Tallest Mountains in Algeria | Elevation |
| 1 | Tahat | 9,541 feet |
| 2 | Chélia | 7,638 feet |
| 3 | Lalla Khedidja | 7,572 feet |
| 4 | Issa | 7,336 feet |
| 5 | Azao | 7,080 feet |
| 6 | Mount Babor | 6,575 feet |
| 7 | Sidi Amar | 6,512 feet |
| 8 | Mansoura | 6,109 feet |
| 9 | Choukchout | 6,010 feet |
| 10 | Guern Arif | 5,646 feet |