Spiral Jetty, Utah - Unique Places Around The World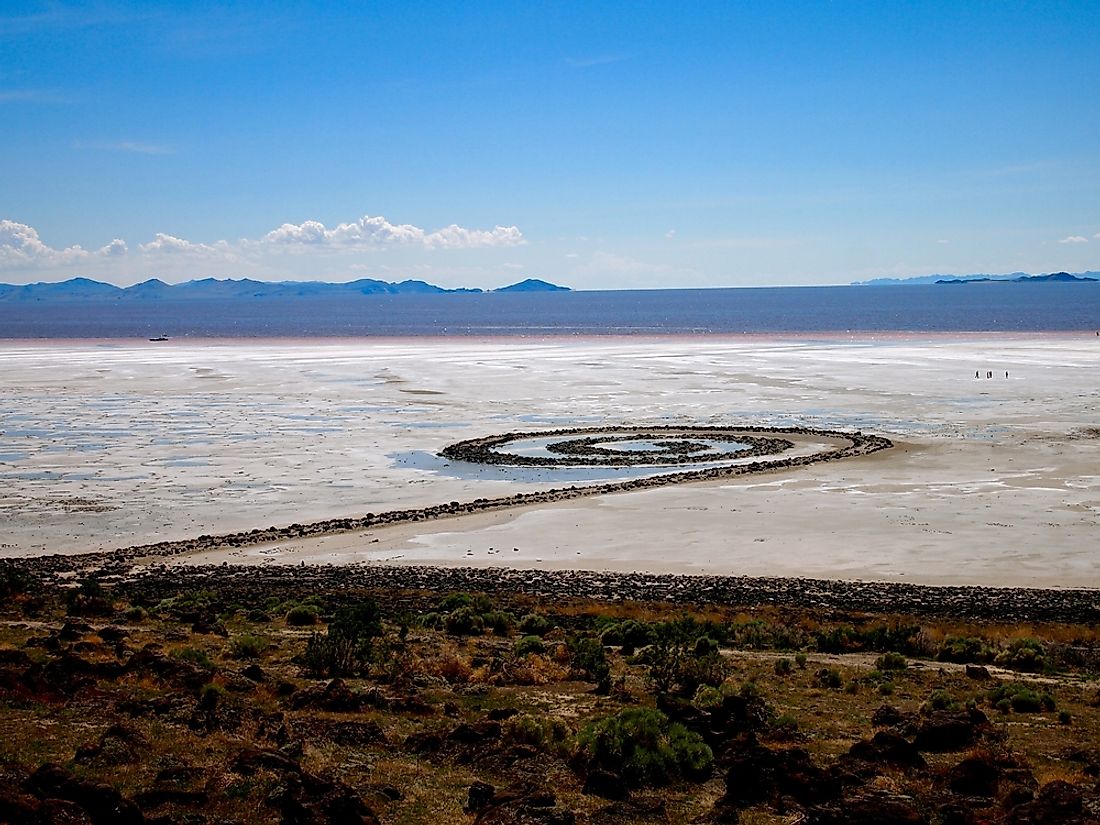 Spiral Jetty is an earthwork sculpture on the northeastern shores of the Great Salt Lake, Utah, United States. Built in April 1970 by American sculptor Robert Smithson, the earthwork sculpture, which is also referred to as earth art or environmental art, is a counterclockwise coil constructed of mud, salt crystals and basalt rocks that is 1,500 ft long and 15 ft wide. Smithson created the sculpture during a period of drought, but soon after its completion the water level rose and submerged Spiral Jetty for three decades until it re-emerged again during a drought in 2004. Spiral Jetty becomes visible whenever the lake's water level rises above 4,197 ft, and white salt deposits have since covered the dark basalt rocks. Smithson was killed in a helicopter crash three years after the completion of Spiral Jetty, and since then no restoration has been performed on the sculpture. In 1999, Smithson's wife, artist Nancy Holt, donated Spiral Jetty to Dia Art Foundation.
Construction
Smithson selected the northeastern shore of the Great Salt Lake, near Rozel Point, as the location for his sculpture due to the reddish color of the water. The water's red hue is caused by the presence of algae and bacteria that are tolerant to the high salinity of the water. Smithson hired Bob Phillips, an experienced contractor in Utah, to haul 6,650 tons of hard rock into the lake using a large tractor and two trucks. Work on the sculpture began in April 1970, and lasted a period of 6 days. However, Smithson later wanted to make certain alterations are recalled the construction crew for an additional 3 days.
Preservation
Shortly after Smithson completed Spiral Jetty, it became submerged underwater. In fact, the sculpure was still underwater when it was acquired by Dia Art Foundation. As a result, existence of the sculpture was relatively unknown until a prolonged drought in Utah caused the lake's level to drop, exposing the artwork. Since then, the number of visitors to the site has risen significantly, and Spiral Jetty was generated public interest at both the local and national levels. Dia Art Foundation maintains photographic records and documents changes to the sculpture over time. Smithson was fascinated by entropy and suggested that his work should not be protected from natural erosion, but safeguarded only from human interference and destruction. Visitors are advised to maintain the natural environment near the sculpture by not removing rocks, stepping on vegetation, dumping waste, and building fire pits. Smithson recorded a 32-minute color film documenting each stage of the construction process. In 2017, the state of Utah declared Spiral Jetty as its official state work of land art.