The Deadliest Flash Floods Of All Time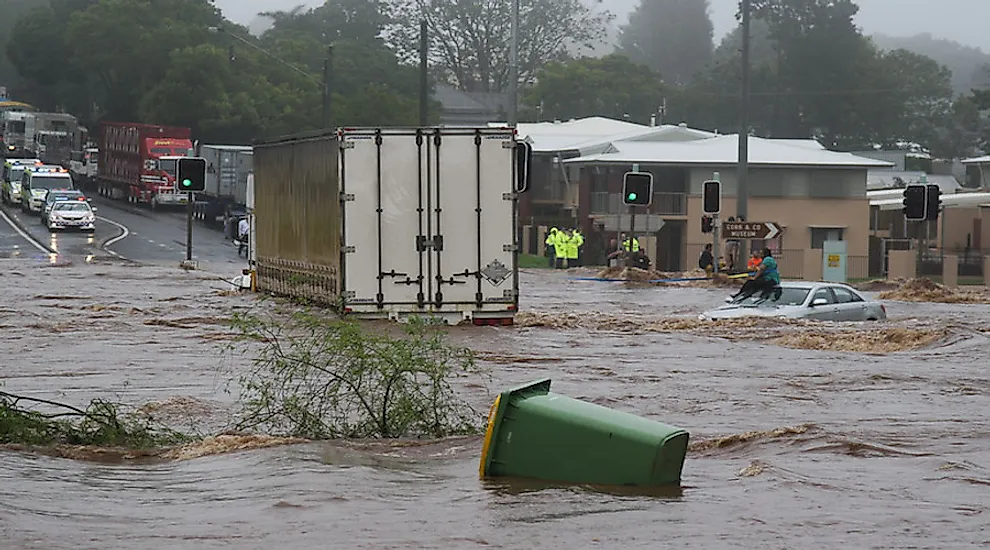 What Is A Flash Flood?
A flash flood occurs when a low-lying area, such as a river valley, basin, or dry lake, is flooded in less than 6 hours. It can be caused by heavy rainfall due to thunderstorms, hurricanes, or tropical storms. Additionally, it can occur when a dam, either natural or man-made, breaks. When a flash flood occurs, it can result in significant damage to natural habitats and private property, and can even cause the loss of human life. This article takes a look at some of the deadliest flash floods in world history.
1. August 11, 1979 - India
The deadliest flash flood in history occurred on August 11, 1979 in the town of Morbi in the Indian state of Gujarat. The Machchhu II dam is located on the Machhu river and burst after holding back several days of heavy rainfall. Its failure sent waves between 12 and 30 feet in height to the low-lying areas of Morbi, located below the dam. These waves flooded the entire area within 20 minutes and caused the deaths of what is estimated to be between 1,800 and 25,000 people. Additionally, the flood damaged surrounding agricultural lands and resulted in significant loss of crops. An investigation after the flood determined that the break had been caused by a lack of communication and structural failure. This event holds a place in the Guinness Book of Records as the worst dam break in history.
2. May 31, 1889 - United States
The Johnstown Flood, which occurred on May 31, 1889, is the second deadliest flash flood in history. This tragedy occurred when the South Fork Dam, located on the Little Conemaugh River in the US state of Pennsylvania, broke after approximately a week of storms and heavy precipitation. The break sent 20 million tons of water from Lake Conemaugh, the local reservoir, into the city of Johnstown below the dam. Researchers suggest that the amount of water that flowed into Johnstown was equal to that of the Mississippi River. This tragedy caused the loss of 2,209 lives.
3. July 2010 - Pakistan
The third deadliest flash flood in history occurred in July of 2010 in Pakistan during monsoon season. Heavy rains fell throughout the Khyber Pakhtunkhwa, Sindh, Punjab and, Balochistan regions, flooding the Indus River basin. Estimates suggest that around 20% of this country's land area was affected by flooding. Approximately 20 million people suffered property loss and damage. Recovery and emergency relief aid were slow and around 10 million people were left without access to safe drinking water. This country suffered extreme agricultural losses, particularly to its wheat crops, leaving millions of individuals without food. In total, an estimated 1,400 individuals were killed.
4. November 25, 1967 - Portugal
In 1967, severe flooding rampaged the city of Lisbon, which is surrounded by ocean and rivers, and nearby towns. After a day of heavy rain, which fell at a rate of around 1.2 inches per hour, many of the streets in the city were flooded as well as many nearby neighborhoods and villages located at low elevations. The flooding destroyed houses, cars, and private businesses. In addition, the floods claimed 464 lives, making it the worst natural disaster to hit Portugal since the earthquake of 1755 and the fourth deadliest flash flood in world history.