Snow Goose Facts: Animals of North America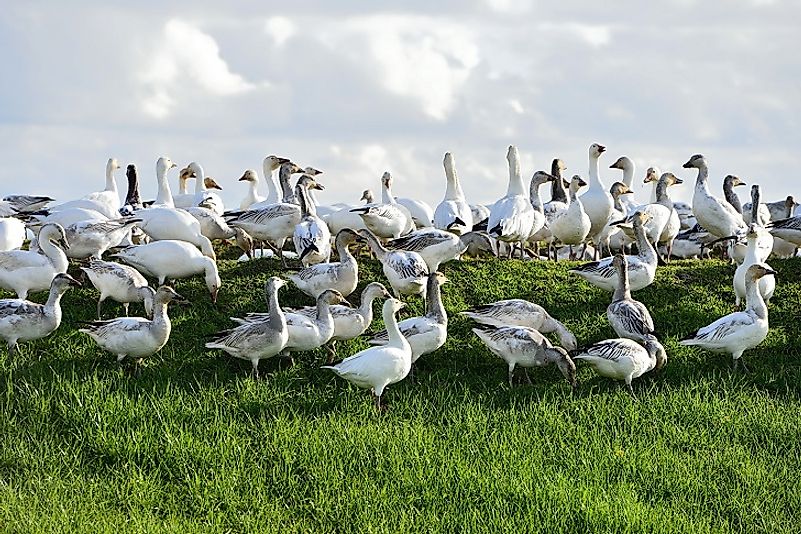 5. Physical Description
The Snow Goose is apart of the Anatidae family, which is widespread across North America and includes other geese, as well as ducks and swans. The Snow Goose is known for its white feathers, though it's a common misconception that all Snow Geese adorn such an icy-looking white coat. On the contrary, it's only the "white-morphs" who grow these solid white feathers, as the "blue-morphs" grow a dark, speckled, brown coat. Depending on the size and maturity of a Snow Goose, its wingspan can reach 4.5 feet long, though their tiny bodies usually only grow to between 2 and 3 feet tall when standing. Male Snow Geese will grow to weigh between 5 ad 6.5 pounds, with females being somewhat smaller at 3.5 to 5 pounds.
4. Diet
Snow geese are herbivores, as are many other migratory avian species. Berries, grasses, and leaves are among the favorites in the Snow Goose's diet, although when the Geese travel south, their diets may change to better suit their new environments. A female Snow Goose will forage for up to 18 hours a day for food when they arrive at their breeding grounds. This lasts until they lay and hatch their eggs, at which time they will only spend roughly an hour or two feeding daily. A Snow Goose may produce 6 to 15 droppings per hour, as their digestive tracks will digest their food in two hours at most.
3. Habitat and Range
Their epic annual journey down south gives Snow Geese one of the largest ranges out of all of their avian counterparts in the New World. During the winter months, they fly south as they cannot stand the cold winter months in Canada. After winter, Snow Geese will fly back north once again, where they will lay their eggs in their breeding grounds on the Arctic tundra. Due to their extensive eating, Snow Geese can cause a lot damage to the areas they forage in. In response to this, before 1916 the birds were hunted to almost extinction. Around that time, laws were passed that restricted the hunting of Snow Geese. By the 1970s, the hunting of these birds was allowed again, though their numbers are constantly regulated. Today there is no threat to Snow Geese as their numbers continue to grow, and hunting of them is once again allowed.
2. Behavior
Snow Geese are social birds, and belong to flocks. These flocks become especially large within the winter months and during migrations. In order to find their food, a Snow Goose will forage in shallow water (to find certain grasses) or on land. They are excellent fliers, swimmers, and walkers alike. Ever versatile creatures, Snow Geese fly during migration, can swim while they sleep, and walk as they forage in order to find food.
1. Reproduction
Much like Emperor Pingeuns, a Snow Goose will mate with only 1 or 2 birds in their entire lifetimes. They become attached to one another at some time between 2 and 4 years of age. Every female Snow Goose is philopatric, meaning she will only return to her own specific nesting grounds to give birth. Female Snow Geese will nest together in colonies that are usually higher than sea level. A single female can lay up to 5 eggs, and it takes between 20 and 25 days for hatching to begin. Once a baby Snow Goose is hatched, it only takes a few hours for the baby to leave the nest and start travelling with its mother. Snow Geese will remain on foot for the first month or so of their young lives, and at roughly 50 days old they will begin to fly. A young Snow Goose will remain with its family for about 3 years, until it's ready to start its own reproductive cycle.