Native Plant Species Of Brazil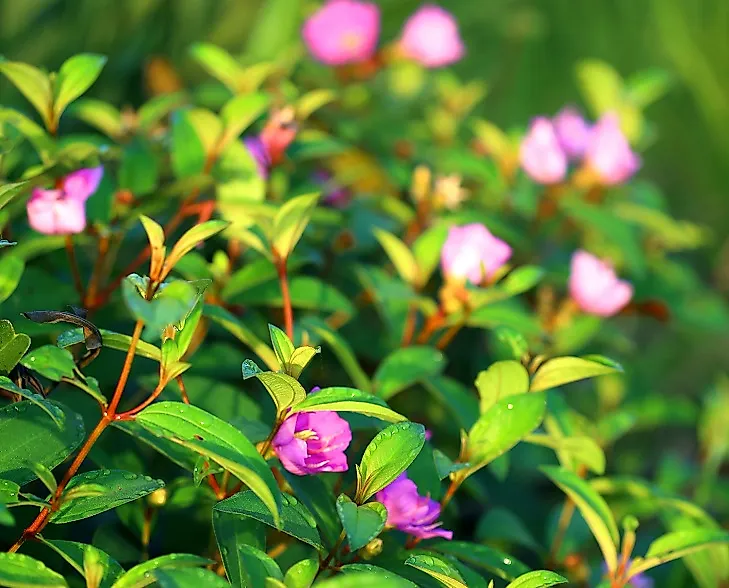 Brazil is one of the countries in South America, and a land blessed with an abundance of different kinds of plants. Among them, the known species alone number around 55,000, with the majority being found within the lush, abundant Amazon rainforests. The plant species are widespread divisively over the entire regions of tropical forest, tropical savanna, mangrove forest, and wetlands areas. Brazil is known by its beautiful nature of the ecosystem in South America and at the world at large by the adverse growth of different species. The following are the native plants of Brazil.
Princess Flower (Tobouchina semidecantra)
The Princess Flower is one of the dominant species in Brazil, predominately found in the tropical rainforests and warm temperate regions. It presents as a large woody shrub tree 3 meters in height, and portrays saucer-shaped flowers and a four-angled stem with reddish branches at an early stage of development, which later turns to soft green and becomes covered with beautiful flowers. It grows on an acidic and rich fertile soil but may adapt as well to other soils if mulched. Regular watering is an activity adopted action to conserve the species.The species is susceptible to root rot, leave spot, and gray mold if in one way get exposed to the cold draft or intense sunlight.
Lady Ackland's Cattleya (Cattleya aclandiae)
The Lady Ackland's Cattleya is another native species widely found in elevated plateaus bordering the drainage basin of the Piraguacu River. It also occurs in small dominance in the southwest of Salvador and extends northeastwards. The species is slightly broader at the top and is a dwarf 3 to 5 inches high, with small bifoliate and substantial waxy long-lived flowers, and has fleshy leaves colored red and black. Spots, ample water, is required in active growth, less water during winter since the high moisture is earnest in the root zones and high humidity is advantageous for the proper development of the species. The species will mature between 4 to 7 years from seed if no disturbances are experienced, and in favorable conditions. It is used in Brazil as orchid by breeders to produce a compact hybrid.
Brazilwood (Paubrasilia echinacea)
Brazilwood is a dense orange-heartwood that takes a high shine having wood that yields a red dye. It is a medium sized leguminous tree of height reaching 12 meters, a stem diameter of 70 centimeters, and has yellowish-green flowers whose flowering stages last from 10 to 15 days. Its growth rate is slow depending on the condition of the soil and climatic conditions. Dominantly, found in coastal plains and lowlands on sandy or sand-clay soils along the Atlantic coast. However, it is sometimes dominants at the semi-deciduous seasonal forest. Excessive exploitation and illegal logging for export which may adversely reduce the ecological habitats of some organisms.
Mangabaeira (Hancornia speciosa)
The Mangabaeira is a small deciduous tree growing to heights of 10 to 25 feet. It has long tubular, fragrant white flowers, and has rounded ends with yellowish exocarps and red stripes with spotted fruits. It grows in a well-drained and sandy-loamy soil. Pruning can be done for proper growth and maintenance when it is one meter high.It is susceptible to Anthracnose disease which may drastically cause defoliation in young plants and dark stains on fruits. The fruit if maintained in a good state without any interference may get ripe after 112 days.
Other Native Brazilian Plants
Brazil is universally recognized as among the most "mega-diverse" countries, and it is considered as having the largest flora collection in the world, renowned as well for its many astonishingly bright, vibrant, colorful, and beautiful flowers. Some of the dominant flowers that contribute largely to the adorable conditions in Brazil are but not limited to, Spanish Cedar Egg Nut, Globe Amaranth, Açaí Do-Amazonas, White Ipe, and Quinine Bark. Most of these can economically be used for medicinal products in conjunction with aesthetic nature of all these which, in turn, boosts the economy of the country.
Native Plant Species Of Brazil
| Native Plants of Brazil | Scientific Name |
| --- | --- |
| Princess Flower | Tibouchina semidecandra |
| Lady Ackland's Cattleya | Cattleya aclandiae |
| Brazilwood | Paubrasilia echinata |
| Mangabaeira | Hancornia speciosa |
| Spanish Cedar | Cedrela odorata |
| Egg Nut | Couepia longipendula |
| Globe Amaranth | Gomphrena globosa |
| Açaí-Do-Amazonas | Euterpe precatoria |
| White Ipe | Tabebuia roseo-alba |
| Quinine Bark | Cinchona officinalis |