Environment
Native Amphibians Of Papua New Guinea
Papua New Guinea's amphibian biodiversity is largely dominated by endemic tree frogs and big-eyed frogs.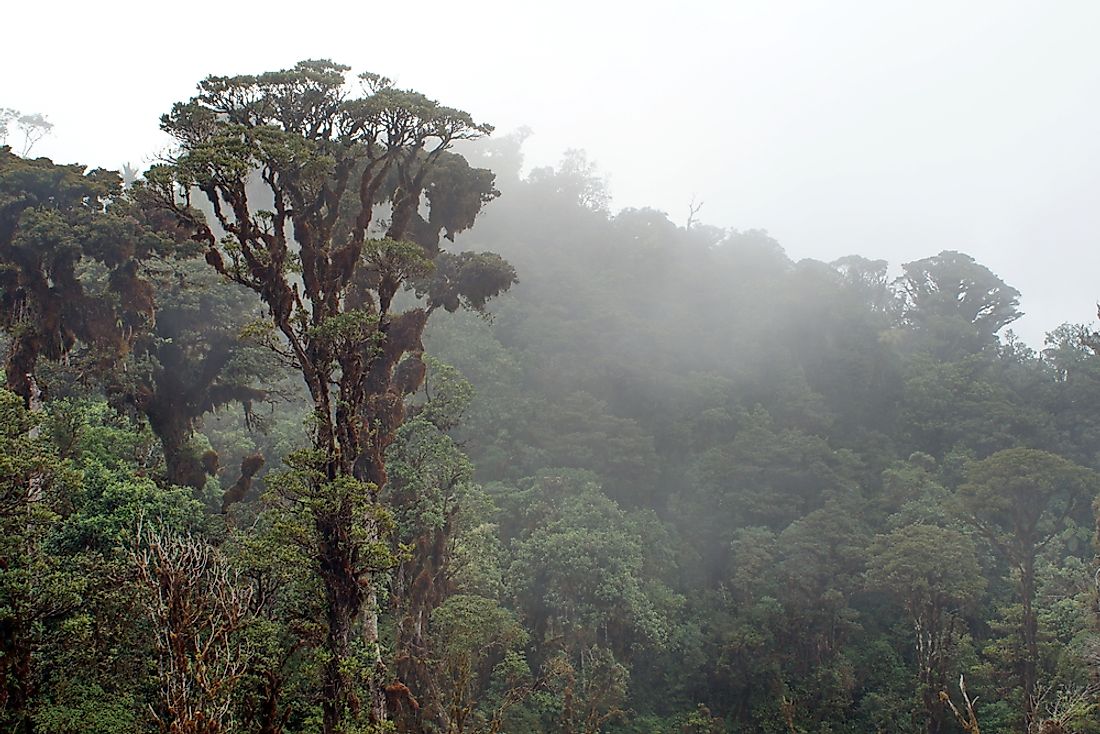 The Asian country of Papua New Guinea occupies the eastern portion of one of the largest islands in the world. Located in the Pacific Ocean to the north of Australia, the country of just over seven million people gained its independence in 1975. Papua New Guinea boosts a rich diversity of plant and animal life including a number of native amphibians and distinctive frog species.
Weifel's Big-Eyed Tree Frog
This species makes its home in both subtropical and tropical environments, particularly throughout rainforests and rivers. Weifel's Big-Eyed Tree Frogs are known to occupy the eastern portion of Papua New Guinea's Star Mountains near Telefomin, West Sepik Province as well as an area of land that extends about 18 miles westward.
Darlington's Madang Tree Frogs

This unique tree frog can sometimes reach sizes of over two inches. However, males of the species grow to almost one and a half inches while females can measure just shy of two inches. These particular frogs are most often found in the Southern Highlands Province of the country at elevations of approximately 5511 feet. Their habitats are often near temporary pools. They are known for emitting a low noise.
Efogi Tree Frog
This unique amphibian can be found not only in Papua New Guinea but also West Papua in the nation of Indonesia. Its natural habitats include subtropical or tropical wet lowland forested areas, rain forests, rivers, marshes,and country gardens. Habitat loss is an issue for this particular species.
Geelvink Pygmy Tree Frog
Found in West Papua (Indonesia) and Papua New Guinea, this frog's name is a reference to Geelvink Bay (which is currently called Cenderawasih Bay). Along with inhabiting lowland forests, marshes, and country gardens this type of frog can adapt to city living and can also be found in ditches and canals.
What Kind of Amphibians Come From Papua New Guinea?
Amphibians that come from Papua New Guinea include the efogi tree frog, the Rossell Island tree frog, and the Arfak Mountains frog.
Native Amphibians Of Papua New Guinea
| Native Amphibians of Papua New Guinea | Sceintific Binomial Name |
| --- | --- |
| Zweifel's big-eyed tree frog | Nyctimystes zweifeli |
| Arfak Mountains frog | Hylarana arfaki |
| Wandolleck's white-lipped tree frog | Litoria albolabris |
| Barabuna tree frog | Litoria contrastens |
| Trauna River tree frog | Litoria oenicolen |
| Darlington's Madang tree frog | Litoria darlingtoni |
| southern New Guinea tree frog | Litoria impura |
| Efogi tree frog | Litoria prora |
| Rossell Island tree frog | Litoria louisiadensis |
| Geelvink pygmy tree frog | Litoria pygmaea |
About the Author
C.L. Illsley hods a BA degree in English and a BFA. in Film Studies. She has written for various publications & websites including Montreal Rampage where she currently contributes film reviews & entertainment related articles.
This page was last updated on April 25, 2017.
Citations
Your MLA Citation
Your APA Citation
Your Chicago Citation
Your Harvard Citation
Remember to italicize the title of this article in your Harvard citation.