National Parks Of Macedonia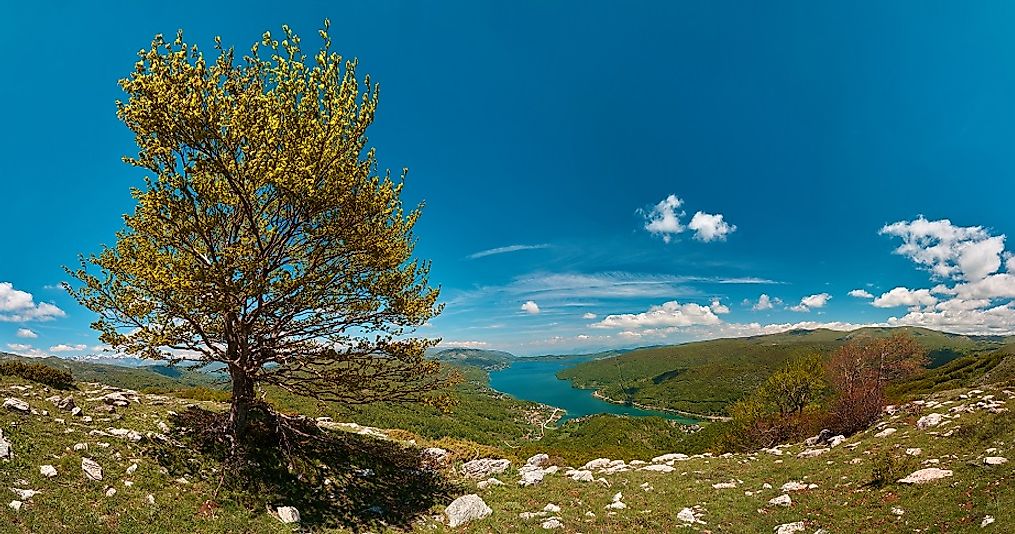 Mavrovo National Park
Mavrovo has a temperate continental climate, with warm and humid summers and cold winters. The coldest month is February, while June, June, July, August, September, and October all warm, with July and August being the warmest. Months with the highest rainfalls include January, February, March, April, May, and December. Mavrovo National Park is a mountainous region, with mountains of high peaks. Some of these mountains include Bistra, Korab, and Desat. Mavrovo is characterized by various types of vegetation, such as lichens (fungus and algae), Norway Spruce, and Common Beech. Wildlife includes Hawks, Golden Eagle, rare species of Wolves, Bears, Otters, and the endangered Balkan Lynx.
The main environmental threat has been the construction of hydropower dams. So far two have been constructed, and there are proposed plans for the construction of several others. This would in the long run, affect biodiversity, vegetation cover and result in deforestation. Several conservation groups have protested the construction of these dams through campaigns and petitions. So far the results have been positive. For instance, World Bank withdrew its funding from Lukovo Pole Hydropower construction, which was proposed in 2010. The Macedonian Administrative Court also revoked the license that was granted for the Boskov Most Hydropower construction proposed in 2012.
Galicica
Galicica has a moderate continental climate due to its abundant water bodies and low mountain ranges. Galicica's terrain is rocky and steeply sloping, thus giving it a mountainous terrain. The Galicica national park is home to many endemic species of both plants and animals. Floral species include Fritillaria gussichiae (a sub-family of the Lily plant), Malus florentina (a species of apple), Pinus heldreichii (Bosnian pine), and a host of vascular plants. Animals include endemic Worms, relict Snails, endemic Trouts and Roaches which are found in the Ohrid Lake, and Eels.
The main environmental issues faced here are pollution due to illegal sewage disposal and unregulated building and road construction. This hampers biodiversity as these problems affect the free flow of water from the surrounding lakes. A Commission has been put in place to tackle these issues, but they are still largely understaffed and underfinanced.
Pelister
Pelister has no one particular climate. The climate there varies based on ground height. Hence, there exists several different kinds of climates, usually continental in nature. The terrain of this park is highly mountainous, and also includes rocks, slopes, springs, and lakes. The park is home to such trees as Beech, Fir, the Macedonian pine which is rarely found elsewhere, medicinal herbs, and fruits, including strawberries and blueberries. Animals found here include the Balkan Lynx, grey Eagle, Partridges, the Pelagoniska Trout, Bears and several others.
There are no serious threats in Pelister except for illegal logging and littering in the park, especially by tourist hikers. Volunteers as well as locals have been actively involved in maintaining general sanitation in the park. Environmental education has also been introduced in schools in order to enlighten students regarding the dangers of these environmental issues.
National Parks Of Macedonia
| National Parks of Macedonia | Area; Year of Formation |
| --- | --- |
| Mavrovo | 301 square miles; 1949 |
| Galicica | 88 square miles; 1958 |
| Pelister | 66 square miles; 1948 |