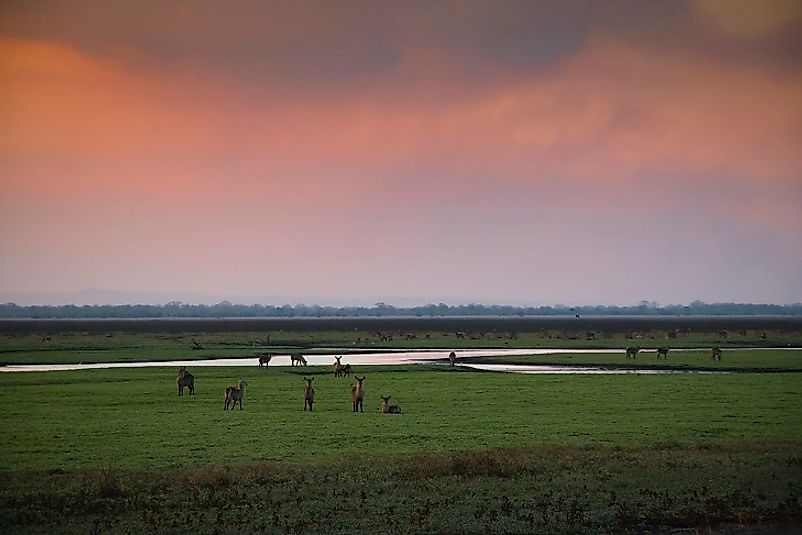 Mozambique is a country situated in the southern part of the African continent along the Southeast African coast. It is one of only a few countries housing the "Big Five" game species, which include African elephants, African leopards, African lions, Cape buffaloes, and rhinoceroses. However, civil war threatened the survival of the animals in the 1980s and 1990s. There are numerous National parks and reserves as part of conservation areas in Mozambique. They are found in different climate settings and consist of unique flora and fauna. Banhine is the world renowned National Park receiving tourist throughout the year. The other national parks also have huge tourist turnouts.

Banhine National Park
The national park covers an area of 7,250 square kilometers. The area where the national park sits receives around 400 millimeters of rainfall in a normal year. However, the place is highly humid. It has 18 species of fish, such as the lungfish which has developed ways of surviving the droughts. There are migration birds and mammals such as reedbuck and duiker. Mammals such as kudu, hippos and lions also frequent the site. There are distinct landscapes that consist of Savannah and miombo woodlands and form the best habitat for most animals. Civil wars in the 1980s and 1990s were some of the most notable events that contributed to the disappearance of animals such as buffaloes and zebras that were once plentiful in the region. Drying of rivers threatens wildlife especially fish which live in the resource. African Wildlife Foundation sponsors the National Park to enhance conservation.
Bazaruto Archipelago National Park
The national park is located in Inhambane Province and is comprised by 5 islands covering an area of 1,463 square kilometers. Within the park are the beaches that have clear waters and have diverse marine fauna such as turtles, sharks and dolphins and marine vegetation such as mangroves. Water pollution from industries threatens marine life in the national park. However, its creation was to conserve endangered animal species such as the sea turtles and the dolphins.
Gorongosa National Park
Located near the Zimbabwean border, Gorongosa covers 5,370 square kilometers and consists of bush-covered plains and open grasslands. The landscape entails valley floors and plateau parts. Mount Gorongosa is the source of rivers in the region. Acacia trees, dry forests, and savanna are part of the flora. The plateau areas comprise of miombo woodlands rain forests and mountain vegetation. The region experiences tropical savanna climate and an annual rotation of dry and wet seasons. Gorongosa Restoration Project is one of the efforts to conserve area. It adopts a model of balancing the needs of the wild game and the surrounding people. Ecotourism is another contributing effort in the conservation of the wildlife. However, cultivation is still a threat to wildlife from the community living around the National Park
Gile National Reserve
The reserve resides in Zambezi Province, covering 4,436 square kilometers. It has riverine vegetation along the rivers and miombo forests. Granitic kopjes act as habitats for different animals. The terrain consists of surrounding mountains that are suitable for mountaineering and attracts tourist every year. With 95 mammal species and 114 bird species, the reserve is rich in fauna. Elephants, lions, and leopards are the main attractions to tourists. Human activities such as cutting of trees and use of game meat threaten wildlife in the game reserve.
Chimanimani National Park
It is situated in Chimaninmani Province, a region with a mountainous terrain, and covers an area of 6,550 square kilometers. It experiences wet summers and dry winters. Gorges and mountain peaks enhance the park's spectacular view. There are numerous mountain springs and streams. There are also falls with great views and trails that are suitable for hiking. Animals in the park include bushbucks, blue duikers, King Springers, and leopards. There are 186 bird species including the Laughing Dove, swallows, and eagles. The forests are evergreen with rare tree species, insects, and snakes. The flora includes Cassandra, yellow-wood, and cedar trees.
What is the Largest National Park in Mozambique?
The largest national park in Mozambique is the Niassa National Reserve, which has a total of 42,200 square kilometers.
| | |
| --- | --- |
| National Parks and Reserves of Mozambique | Area |
| Banhine National Park | 7,250 square kilometers |
| Bazaruto Archipelago National Park | 1,463 square kilometers |
| Chimanimani National Reserve | 6,550 square kilometers |
| Gilé National Reserve | 4,436 square kilometers |
| Gorongosa National Park | 5,370 square kilometers |
| Lake Niassa Partial Marine Reserve | 486 square kilometers |
| Limpopo National Park | 11,233 square kilometers |
| Magoe National Park | 3,558 square kilometers |
| Malhazine Municipal Park | 5.6 square kilometers |
| Maputo Special Reserve | 1,040 square kilometers |
| Marromeu Buffalo Reserve | 1,500 square kilometers |
| Niassa National Reserve | 42,200 square kilometers |
| Pomene National Reserve | 50 square kilometers |
| Ponta do Ouro Partial Marine Reserve | 673 square kilometers |
| Primeiras and Segundas Islands Environmental Protected Area | 10,409 square kilometers |
| Quirimbas National Park | 9,130 square kilometers |
| Sao Sebastiao Total Protection Area | 439 square kilometers |
| Zinave National Park | 4,000 square kilometers |
About the Author
Benjamin Elisha Sawe holds a Bachelor of Arts in Economics and Statistics and an MBA in Strategic Management. He is a frequent World Atlas contributor. 
This page was last updated on April 25, 2017.
Citations
Your MLA Citation
Your APA Citation
Your Chicago Citation
Your Harvard Citation
Remember to italicize the title of this article in your Harvard citation.