Market Theater Gum Wall - Unique Places Around the World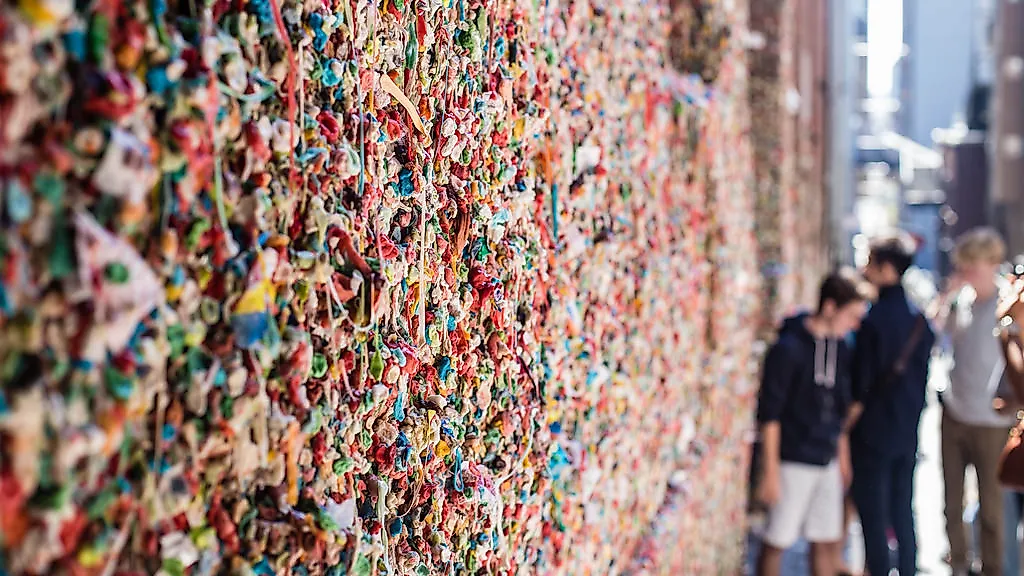 The Gum Wall is located in a hidden alley of the famous Pike Place Market called "Post Alley". Local Seattle legend has it that the Gum Wall started to materialize around 1993 when patrons of the theater located within the alley (called the Market Theater) began to stick their chewed gum on the bricks while on the queue for the late night showing. According to a study published by travel site TripAdvisor in 2009, the Gum Wall was named the second "germiest" sight in the world ahead of the pigeon infested St. Mark's Square in Venice, Italy.
4. Description
The Market Theater Gum Wall (also known simply as the Gum Wall) is a brick wall located in downtown Seattle's Pike Place Market that is covered with used chewing gum. Before its most recent cleanup, the wall had been covered with 15-foot high and 50-foot long gum. The wall is considered a work of art and has several inches of gum placed on it. The tradition of sticking pieces of pre-chewed gum was initially discouraged, but as more and more people participated authorities stopped their resistance and even named the wall a key tourist attraction of the city, starting in 1999. The wall underwent maintenance where 2,350 pounds of gum were removed as it was believed the gum was causing erosion of the bricks. However, after cleaning of the wall was completed, the tradition of sticking the gum continued.
3. History
It is widely believed that the tradition of placing pieces of chewed gum on the wall began in 1993 by patrons who were bored of waiting in line to see a show at the theatre adjacent to the Gum Wall. Staff from the theater tried to discourage the practice by scrubbing off the gum before eventually giving up. Visitors continued placing the gum either randomly or carefully making pieces of art while sticking other items such as coins.
2. Uniqueness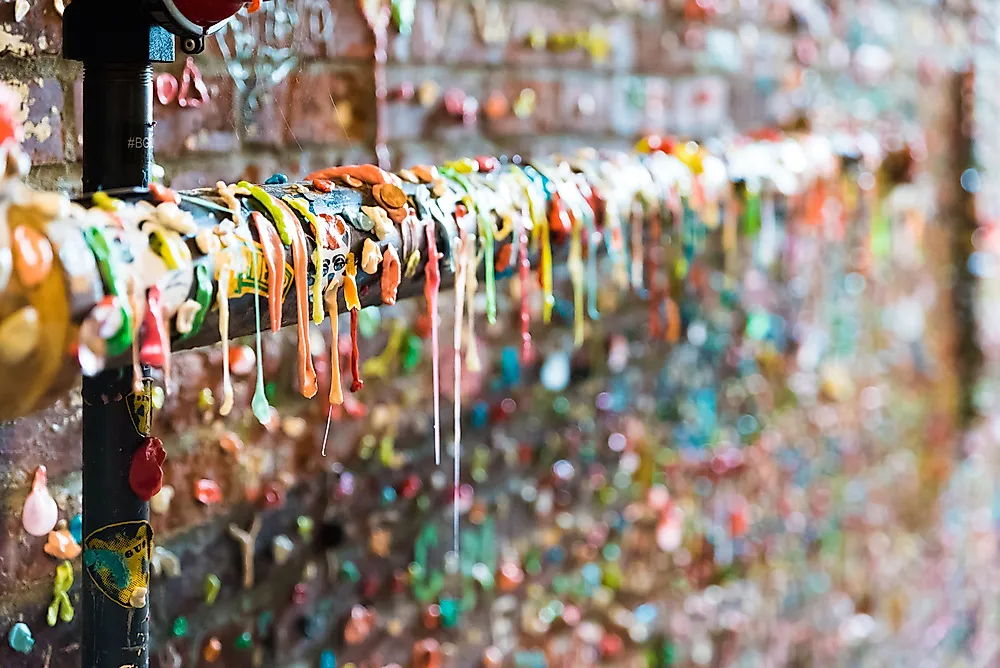 The wall is a one of a kind tourist attraction. Gum has properties which prevent it from being eroded quickly by the weather elements. The wall's reputation of being nasty due to all the saliva-laden gum on display has made it to be named the second "germiest" tourist attraction on earth.
1. Tourism
The Market Theatre Gum Wall has attracted droves of tourists who come to admire the unique attraction. Some come to continue the tradition by sticking their own gum on the wall. The Market Theater has come up with a challenge targeted to amateur photographers to capture the best pictures of the wall and share the same on the social media platforms. The Market aims to use the challenge as a way of promoting the Gum Wall to more tourists through social media. Currently the wall boasts of having over 80,000 tags on Instagram.