Largest National Parks of Brazil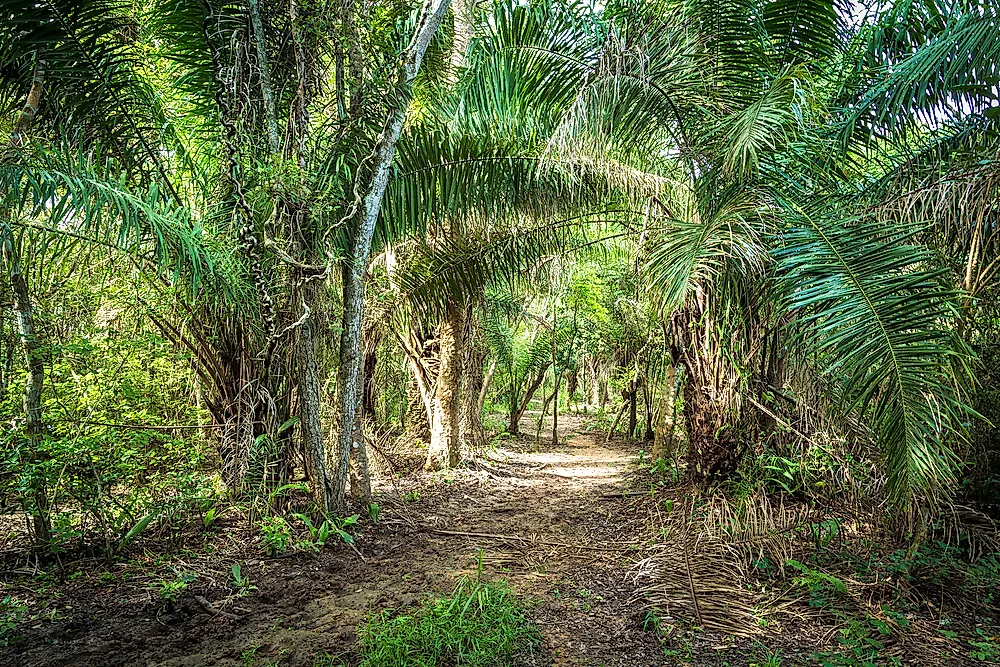 Brazil is regarded as one of the most diverse countries in the world in terms of flora and fauna. The vast national parks in the country are some of the best places on the planet to explore natural beauty. There are mountains canyons and tropical rain forests all of them within the largest National parks in Brazil.
Largest National Parks In Brazil
Jaú National Park
Jaú National Park is a World Heritage Site and the largest tropical rain forest reserve in South America located in the Amazon's state of Amazonas coving an area of 8,772 square miles. The Jaú, Unini, and Carabinani rivers are found in the park. Jaú's terrain has a low and a raised plateau separated by cliffs. Most areas have poor drainage with permanent lakes. The area receives high annual rainfall averaging 98 inches and average temperatures of 79 °F. There are over 300 fish and 450 plant species in the dense rainforest that is home to endangered species such as the jaguar, margay and the giant otter that have been victims of illegal hunting. Being a World Heritage Site, different players, including WWF and other conservation groups, have taken up activities to preserve the ecosystem.
Pico da Neblina National Park
Pico da Neblina National Park is found in partly flooded and mountainous regions of Amazonas bordering Venezuela and covers an area of 8,494 square miles. Pico da Neblina is home to 46 native communities, a scenario that has caused conflicts between the wildlife, communities, park management, and military presence on the border with Venezuela. The area is mostly plateau with a section of two of the highest peaks in Brazil. There is rainfall throughout the year averaging 160 inches and temperatures that vary from 32 °F to 104 °F depending on the season. Pico da Neblina has a variety of endemic plants found inside the mixed dense and scattered rainforests such as Schefflera plurispicata, Hortia neblinensis and Caraioa taquari. The park is a habitat for the endangered primate Uakari, Bush Dog, Jaguar and Guianan bird, cock-of-the-rock. The Brazilian government has set up special commissions to address the plight of the native communities as well as curb hunting. The indigenous people are also involved in traditional conservation practices.
Juruena National Park
Juruena is located along Juruena River between Mato Gasso and Amazonas states and covers an area of 7,568 square miles. More than half of the park is flat with only 1% being mountainous. Juruena has 39 clear rivers that are difficult to navigate using vessels. Vegetation is mixed, featuring enclave rainforests and wooded savannahs. Average rainfall and temperatures are approximately 39 inches and 81 °F respectively, and the park protects many endangered species including the jaguar, giant otter, and harpy eagle. There are hundreds of bird species with 40 such as the bald parrot, bare-eyed antbird among others being native that made the park classified as an Important Bird and Biodiversity Area and as IUCN protected area category II. Juruena is important to birders who fundraise for conservation, research, and education on the site.
Amazônia National Park
Covering 3,838 square miles, the Amazonia is in Para state within the watershed of the Tapajos River, which acts as a barrier so that animals and plants on one bank are not found on the other. Amazonia was established to preserve the Amazon ecosystems through tourism, research, and education. Amazônia Park is home to a range of known and unknown plant and animal species with a mixture of canopy forming tropical rain forest and white-sand grasslands vegetation. There are animals like the Giant Otter and the Anteater which are endangered, reptiles and aquatic animals. Residues of ancient igneous rocks are found in parts of the park. Brazilian authorities are conserving the Amazonia against illegal hunting, mining, and deforestation. Amazonia has 98% dense humid tropical forest and 2% open forest.
Campos Amazônicos National Park
Campos Amazonicos National park covers 3,382 square miles and is located in the states of Rondonia, Amazonas and Mato Gasso to the south of Trans-Amazonian Highway. The park is intersected by two major meandering rivers and has a flat and gradual sloppy terrain. Campos Amazônicos receives an average annual rainfall of 91 inches with the temperature range of 54 to 90°F. The habitat has mixed grassland, rainforest vegetation. There are different species of birds, fish, and monkeys. The Manicore marmoset (Mico manicorensis) was first discovered and studied here. Conservation of the park is taken seriously to preserve the Leopardus tigrinus, Leopardus wiedii and Jaguar species from land rapid, agricultural expansion, and fires.
Significance
Brazilian protected parks boast of many florae and fauna, most being endemic, thanks to the favorable climate for wildlife development. The evergreen parks have acted as labs for researchers who explore wildlife in the region. Many species have been discovered, and more are yet to be discovered as only small portions of the forests have been explored.
Largest National Parks In Brazil
| | |
| --- | --- |
| Largest National Parks In Brazil | Area |
| Tumucumaque National Park | 15,009 square miles |
| Jaú National Park | 8,772 square miles |
| Pico da Neblina National Park | 8,494 square miles |
| Juruena National Park | 7,568 square miles |
| Mapinguari National Park | 6,032 square miles |
| Amazônia National Park | 3,838 square miles |
| Acari National Park | 3,461 square miles |
| Campos Amazônicos National Park | 3,382 square miles |
| Jamanxim National Park | 3,319 square miles |
| Serra do Divisor National Park | 3,255 square miles |