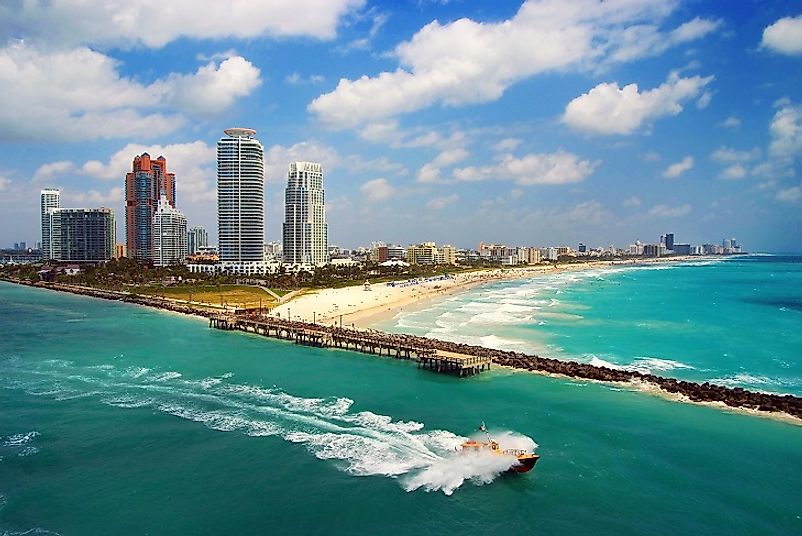 Warm Climates Across the Southern Half of the US
Due to its large size and variations in latitude, the United States has several different climate types. The hottest temperatures can be found in the subtropical, tropical, desert, and semi-arid climates. The vast majority of these climate types are in the southern regions of the country. The Southwest, Gulf Coast, and South Atlantic states tend to be the hottest, particularly during the summer months of June, July, and August.
Hottest Cities in the US.
The hottest cities in the US are, not surprisingly, located within the previously mentioned regions of the southern half of the United States. Of the top 10 hottest cities, 6 are located in Florida. These cities, and their average yearly temperatures in Fahrenheit, include Miami at 77.2° Fahrenheit, Fort Myers (75.1°), Naples (75°), Tampa (73.4°), Port Saint Lucie (73.2°), and Orlando (72.8°). Miami experiences a tropical monsoon climate with hot, humid summers and short, warm winters. In other words, residents of this city must deal with the heat year-round. In fact, the coastal areas of Miami have never reached freezing temperatures. This city also experiences more storms, including hurricanes, than many other cities in the country.
The second hottest city in the US is McAllen, Texas, with an average yearly temperature of 75.6° Fahrenheit. Texas hosts two other cities on the list, namely Brownsville (74.5°) and Laredo (74.2). In McAllen, the climate is considered subtropical with hot, semi-arid temperatures. In this city, residents experience average summer temperatures of up to 97° and 98°, which is higher than the average high in Miami. With low levels of annual rainfall, McAllen is a sweltering city without much relief.
Arizona has 1 city on the list of the top ten hottest cities in the US, and that is Phoenix. The average yearly temperature here is 75.1°. Phoenix is surrounded by the Sonoran Desert and experiences a subtropical desert climate. This city is in one of the sunniest regions of the world which means long, hot summers and short, warm winters. Of the major cities within the US, Phoenix experiences the hottest summer temperatures with over 100 days reaching at least 100°. Due to urbanization, the temperatures are rising in this city as heat is trapped within the cement of sidewalks, roads, and buildings.
Effects of Global Climate Change
The United States has experienced increasingly hotter temperatures all over the country in recent years as a result of global climate change. In fact, June of 2016 was the hottest month on record for the nation, although all months experienced hotter than average temperatures in the prior year. Many cities have been heating up at faster-than-average rates and are not all located in the hottest regions of the country. The 5 fastest-warming cities are, however, located in the southwest and include Reno, Nevada with 1.39° temperature increase per decade), Phoenix, Arizona (1.12° per decade), Las Vegas, Nevada (1.04° per decade), Riverside, California (.95° per decade), and Prescott, Arizona (.89° per decade). While these represent extreme temperature jumps, they are all located in traditionally hot states. Other cities are more surprising. These are generally located further north, such as Fargo, North Dakota with its .72° temperature increase per decade, Duluth, Minnesota (.72° per decade), and Minneapolis, Minnesota (.76° per decade). The changing temperatures in these cities, particularly those located in more northern regions, will have drastic effects on the environment. As habitats around these cities become warmer more quickly than before, plants and animals will be unable to adapt and their numbers are projected to further decrease.
What is the Hottest City in the US?
Miami, Florida is said to be the hottest major city in the United States, with an average daily temperature of 77.2 degrees Fahrenheit.
Hottest Cities In The US
| Rank | US City | State | Temperature (°F) |
| --- | --- | --- | --- |
| 1 | Miami | Florida | 77.2 |
| 2 | Mc Allen | Texas | 75.6 |
| 3 | Phoenix | Arizona | 75.1 |
| 4 | Fort Myers | Florida | 75.1 |
| 5 | Naples | Florida | 75.0 |
| 6 | Brownsville | Texas | 74.5 |
| 7 | Laredo | Texas | 74.2 |
| 8 | Tampa | Florida | 73.4 |
| 9 | Port St. Lucie | Florida | 73.2 |
| 10 | Orlando | Florida | 72.8 |
About the Author
Amber is a freelance writer, English as a foreign language teacher, and Spanish-English translator. She lives with her husband and 3 cats.
This page was last updated on April 25, 2017.
Citations
Your MLA Citation
Your APA Citation
Your Chicago Citation
Your Harvard Citation
Remember to italicize the title of this article in your Harvard citation.