The Tallest Mountains in Sardinia and Sicily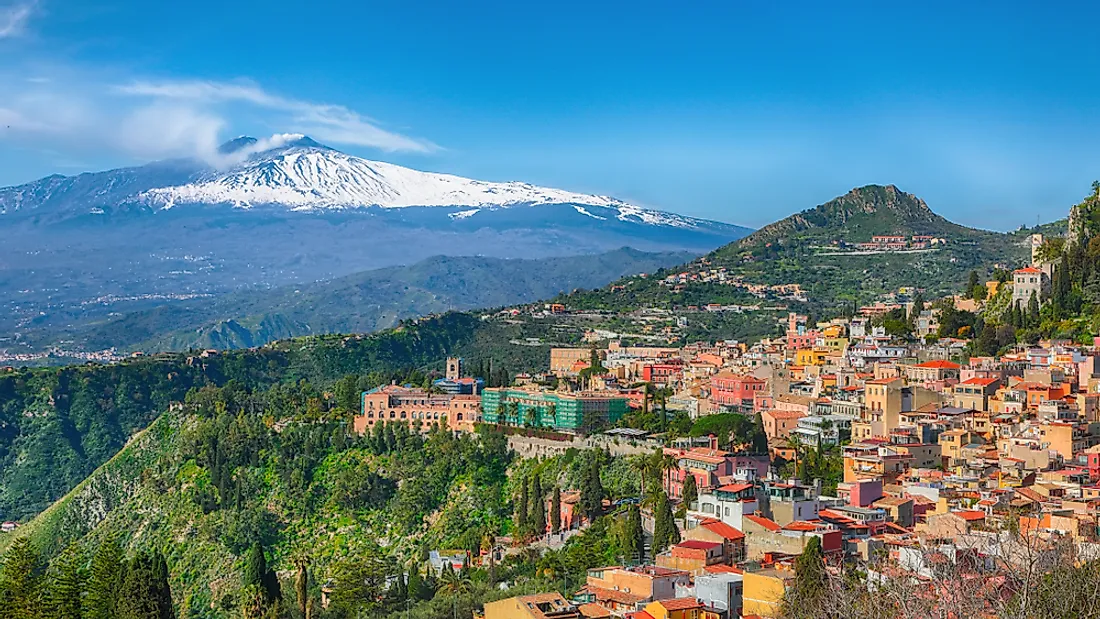 Italy has several islands surrounded by five seas which are the Mediterranean, Adriatic, Ionian, the Tyrrhenian and the Ligurian. The two largest islands in the Mediterranean are Sicily and Sardinia. Other island groups include Capri, Asinara, Favignana and the Aegadian islands, Lampedusa, and The Tremiti Islands. Mount Etna in Sicily is the highest mountain on the island, rising to 3,326 meters. It is the only 3000+ meters mountain on the Islands, with the rest getting close to 2000 meters. These are the highest Island mountains in Italy.
Etna, Sicily
Located on the east coast of Sicily, Mount Etna is an active stratovolcano mountain rising at 3,326 meters of elevation. It lies on the convergent plate of the African plate and the Eurasian plate. It is the highest active volcano in Europe, though it's height may vary during eruptions. Mount Etna is the highest mountain south of the Alps in Italy. Due to frequent eruptions, a lot of volcanic soil can be found around the regions. This soil is very fertile for agriculture and the slope lands, and plains have been used extensively for vineyards and orchards. There are not many settlements around the slopes of the mountain due to its recent activity. Since June 2013, it was added to the UNESCO World Heritage Sites.
Pizzo Carbonara, Sicily
Pizzo Carbonara is the second highest peak in Sicily after Etna. It is a limestone massif and has a plateau shaped summit. This occasionally makes it difficult to determine the highest point. On good weather days, it can be easily climbed by the average fit person. However, there is the challenge of overcoming mist as you climb way up to the plateau summit. It is one of the Madonie mountain groups in Sicily.
Monte Soro, Sicily
Monte Soro has been used to broadcast television signals from its summit, to allow for a large area coverage in the region. It is classified under Nebrodi Mountains and rises to 1,857 meters. This mountain is easily accessible through the Highway 289, which connects San Fratello and Cesaro.
La Marmora, Sardinia
This mountain is 1,834 meters high and found on the island of Sardinia in the Gennargentu Range. It provides a breathtaking scenic view of the entire island of Sardinia. On a clear day, most of the coastline and all the surrounding peaks are visible.
Rocca Busambra, Sicily
Rocca Busambra is found in the Italian province of Palermo and rises to 1,601 meters. It is the highest peak in the Monti Sicani, western Sicily. It appears like a flat, isolated ridge surrounded by vegetation (Bosco Della Ficuzza Wood occupying its slopes).
Other notable mountains on the islands of Italy include; Montagna Grande (Sicily), Monte Limbara (Sardinia), Monte Pizzuta (Sicily), Monte Linas (Sardinia), Monte Altesina (Sicily), MonteCaravius(Sardinia), Monte Sparagio (Sicily), and Monte Capanne (Elba).
These Island mountains are important elements of the landscape and provide habitat for local flora and fauna.
Highest Mountains On The Islands Of Italy
Rank
Highest Mountains on Italy's Islands (Island)
Elevation
1
Etna (Sicily)
3,326 meters
2
Pizzo Carbonara (Sicily)

1,979 meters
3
Monte Soro (Sicily)

1,857 meters
4
La Marmora (Sardinia)

1,834 meters
5
Rocca Busambra (Sicily)

1,601 meters
6
Montagna Grande (Sicily)

1,374 meters
7
Monte Limbara (Sardinia)

1,365 meters
8
Monte Pizzuta (Sicily)

1,333 meters
9
Monte Linas (Sardinia)
1,216 meters
10
11
12
13
Monte Altesina (Sicily)
Monte Caravius (Sardinia)
Monte Sparagio (Sicily)
Monte Capanne (Elba)

1,192 meters
1,162 meters
1,110 meters
1,018 meters