Highest Mountains In Vietnam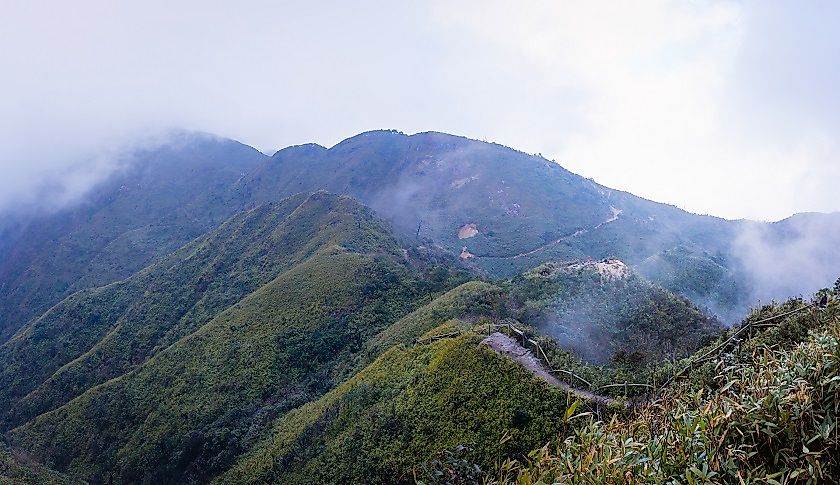 Vietnam, once isolated from the majority of the world, now has improved diplomatic relations with every major nation on the globe. Consequently, Vietnamese tourism is booming, with almost eight million international visitors in 2015. The country itself has become known for its impressive mountain ranges, with many climbers making the journey to the small nation to participate in mountaineering activities.
Geography Of Vietnam
Vietnam has a humid, subtropical climate with humidity averaging 84% a year. This humidity varies from region to region. The country itself is divided into the highlands of northern Vietnam and the low, coastal lands of southern Vietnam. There is also dense forest highlands within Vietnam which are well known internationally. Vietnam is a country of challenging terrain and level land only covers 20% of the entire country!
Significant Peaks In Vietnam
Fansipan
Located in the northwest region of Vietnam and standing at 10,312 feet, Fansipan is the highest mountain in Vietnam. Fansipan is often referred to as the "roof of Indochina" (including Cambodia, Laos, and Vietnam), due to the mountain having the highest summit of the entire region. It usually takes two to three days to finish a journey to the peak of Fansipan and return. There is a small village as well as camping grounds on the mountain for visitors to utilize. The mountain is a great source of pride for the northern Vietnamese tourism board, as many travellers fall in love with adventure tourism once they climb this peak. Fansipan is also known for having very diverse flora and fauna, with over 2,000 floral varieties and 300 types of animals living on this impressive mountain. In February 2016, a cable car was constructed and takes visitors most of the way up Fansipan.
Nui Ba Den (Black Lady or Black Virgin)
This mountain played a huge role during the Vietnam War due to the fact that it overlooks a flat area of Vietnam. During this time, this mountain was of great strategic importance, housing intricate Vietcong tunnel systems as well as weapons caches. Once the American soldiers had captured the mountain, they created their own base there until 1973 when they were overrun by Vietcong troops. In contrast to the recent history of the mountain, Nui Ba Den is now known as a tourist site, housing a theme park as well as stunning temples and even fruit orchards. Nui Ba Den is located 60 miles northwest of Ho Chi Minh City. Nui Ba Den is the tenth highest mountain in the country at 3,268 feet.
Ngu Hanh Son
Ngu Hanh Son which is also referred to as the Marble Mountains is a group of 5 mountains located south of Da Nang city. These mountains are named after the 5 elements; Kim (metal), Thuy (water), Moc (wood), Hoa (fire) and Tho (earth). All of these peaks have tunnels below and through them as well as a network of intricate cave systems. These mountains have become a famous tourist attraction due to the Buddhist temples and stone sculptures. Only 1 of these mountains is accessible to visitors and that is the mountain of Thuy. This peak can be reached by a staircase that contains over 150 steps and provides tourists with excellent panoramic views of the surroundings as well as the other mountains.
As mentioned earlier, tourism in Vietnam is booming due to the fact Vietnam is now considered an open country rather than a closed, communist state. This beautiful country boasts amazing mountains for climbing tourists as well as mountains and terrain that cater to beginners. Vietnam should be considered a hot-spot for tourism in the 21st Century.