Gila Cliff Dwellings National Monument - Unique Places in North America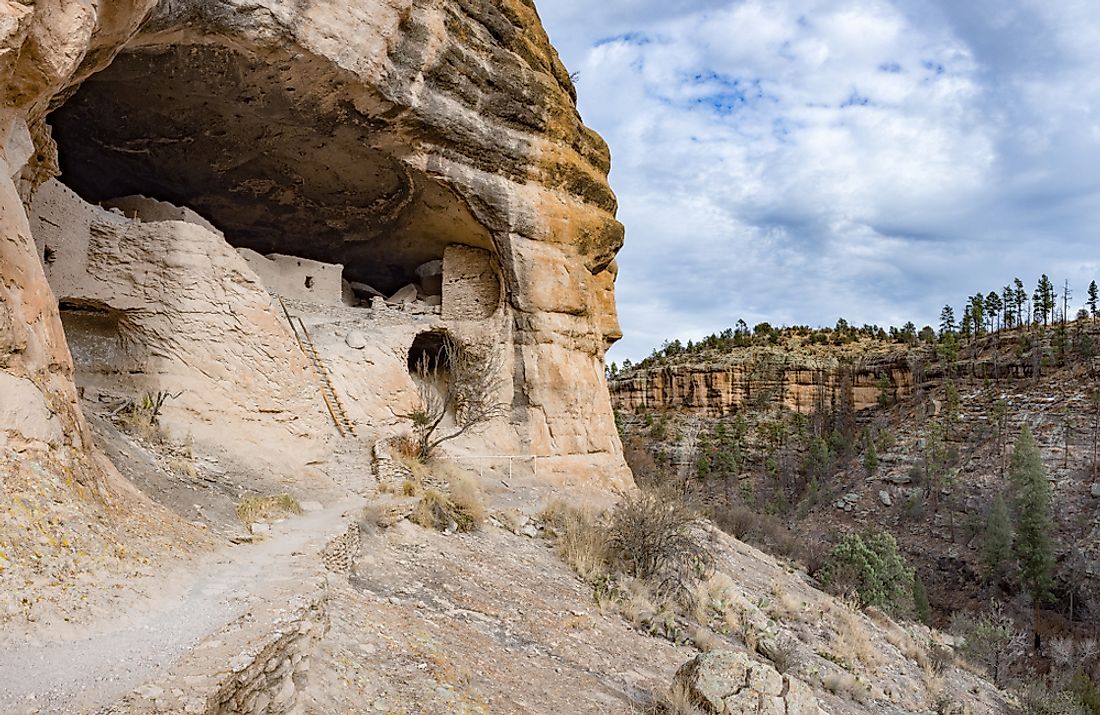 The Gila Cliff Dwellings National Monument was established to safeguard Mogollon cliff dwellings in the Gila Wilderness in Southwest region of New Mexico. The monument was founded on November 16, 1907, and is managed by the Gila National Forest.
Description
The monument has a land surface area of 0.86 square miles, and it consists of two major ruin sites and other smaller ones situated within the Gila Wilderness in the Gila National Forest. The monument has various land elevations ranging from about 5,700 feet to 7,300 feet. The landscape around the ruins is arid and rugged and has canyons with steep sides. Volcanic activity in the area during the ancient times left behind hot springs which can be found around the monument. The cliff dwellings had been built in five caves, and each dwelling had around 40 rooms. The Mogollon people used fallen rocks to build their dwellings of which some remain standing to date.
Habitat
Some of the plants that can be found in the Gila Forest include Gambel's Oak, Ponderosa Pine, Douglas fir, pinon pine, New Mexico Juniper, alligator juniper, and cholla and Prickly pear cactus. Prickly poppy and buffalo gourd are in plenty in the area. Some of the animals present at the monument include elk, the Mountain Lion, Mule deer, some bat species, and the black bear. There are about 100 bird species that can be seen at the monument; rare sightings include the Zone-tailed Hawk and the Montezuma quail.
Uniqueness
The Gila Cliff Dwellings give visitors a glimpse into how the Mogollon people lived and their culture, over 700 years ago, and this makes it unique. The monument is a major archaeological site and mummies have been discovered at the location. The discovery of a mummified infant, who was referred to as Zeke, in 1912, increased the monument's popularity.
Tourism
The Gila Cliff Dwellings are open to the public with guided or self-guided tours. The Trailhead Museum displays Mogollon artifacts collected from the cliffs. The Cliff Dwellings Trail is one-mile long circuit trail that goes through the cliff dwellings, and the hike may take up to an hour. By 2016 there were 41,519 people who had visited the monument.
Threats
The biggest threat to the monument is visitors. Visitors are asked not to sit, climb, or lean on the walls of the ruins as this may cause weak walls to collapse and it is a threat both to the site and the visitors. The collection and excavation of artifacts from the ruins is prohibited, the artifacts are kept in the museum at the monument for learning purposes. Food and beverages, except for water, are not allowed on the trail to preserve the environment. Open fires are not permitted as they pose a threat to the forest. Thunderstorms may cause a danger to visitors, so the trail is usually temporarily closed during bad weather.