Once a booming mining town, today not much more than abandoned houses and decaying roads surround the area of Centralia, northwest of Philadelphia. A look around Google Street View reveals hilly roads through beautiful low lying green mountains. However, the history behind the town is slightly more sinister than this scenery would suggest. Underneath its natural exterior, a toxic fire has been burning for more than 50 years, rendering what was once a small vibrant community unfit for human habitation.
Timeline of the Centralia Mine Fire
It is said that the Centralia Mine Fire probably began as an effort to clean up the dump that had been created on site. However, the specifics of how the fire was started remain foggy, as setting fires to dumpsites was not technically legally allowed. What is known is as follows:
May 27, 1962: The fire is ignited in an effort to clean up the dumpsite. Firefighters believe their attempts to douse the fire to be successful.
May 29, 1962: Flames are once again spotted at the dumpsite. Firefighters again believe their dousing to be successful.
June 4, 1962: Flames return. Firefighters change their tactics by stirring up old layers of garbage that need to be doused.
June 7 or 8, 1962: Firefighters discover a large hole in the dumpsite.
July 2, 1962: Locals complain of foul odors being emitted from the burning trash pile. However, the dumping of garbage into the pit does not cease.
July, 1962: It is determined that the gases emitted from the trash pile contain harmful carbon monoxide.
The fire was never extinguished. By 1980, more than 80 percent of Centralia's original population had disappeared.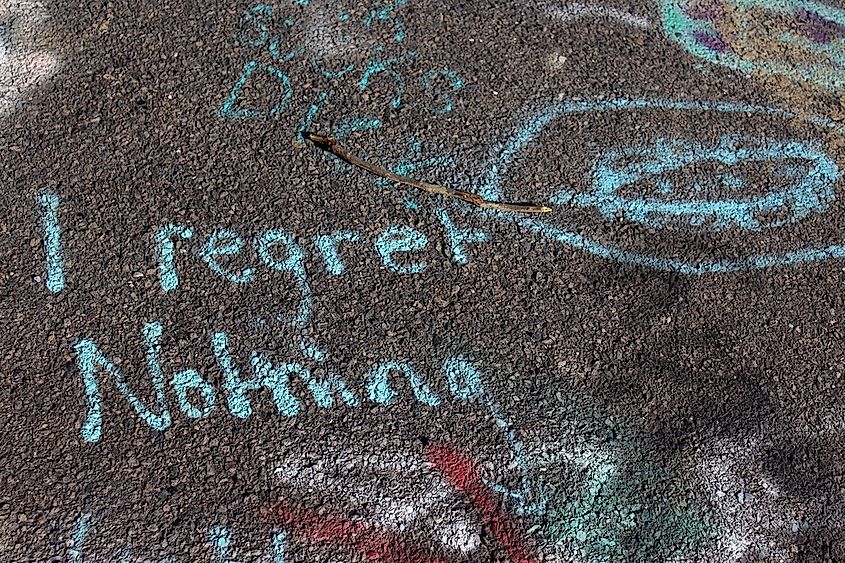 Ominous graffiti in Centralia.
The Current State of Centralia
A few homes in Centralia remain in place. Most abandoned buildings have been demolished by the Columbia County Redevelopment Authority. St. Mary's church still holds services every Sunday. It was not affected by the coal fire. Furthermore, the four cemeteries in the town are also in good condition. Although some residents do live in Centralia, the gases are said to be noxious and detrimental to human health. The underground fire still burning and is expected to continue for 250 years to come.