Gebel Barkal Hill Sites Of Ancient Kush, Sudan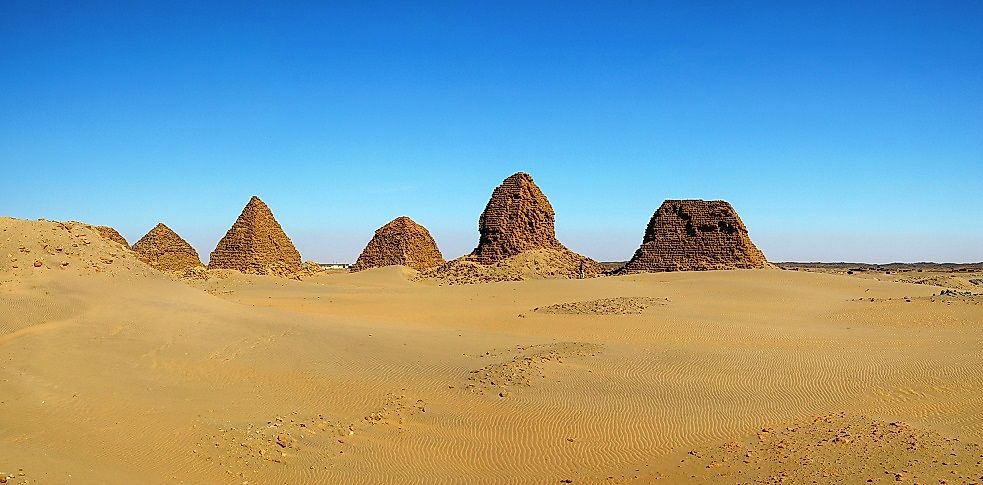 The Gebel Barkal area contains remnants of African, Egyptian, Kushite, and Arabian cultures. This site is considered to be an important place in which the Kush Kingdom of Africa has had their culture preserved to the prestigious level of a UNESCO world heritage site. The area is one of the earliest known settled areas in Africa. The mountain of Jebel Barkal and the surrounding area of archaeological importance is collectively known as Napata. This area houses 13 temples. 3 palaces, and at least 9 Egyptian pyramids.
5. Description and History -
This site has great significance to African, Arabian, and Egyptian histories and cultures alike. The Egyptian empire considered Gebel Barkal as it's southern most point of rule during it's reign of the area. The mountain and surrounding areas served as a burial site for royals with the earliest of these funerals happening as early as the 3rd Century BC in the area of El-Kurru. This area has been considered a sacred site since 1500 BC, with Egyptians believing that their God, Amon, was born atop Gebel Barkal. Once European explorers had reached Africa in the early 1800s, these explorers and archaeologists to the continent recorded evidence of these temples and ruins as early as the 1820s. It was not until 1916 that an American archaeological expedition took place, with these scientists coming from from Harvard and the Museum of Fine Arts in Boston respectively.
4. Tourism and Education -
There is still a considerable amount of archaeological and anthropological research yet to be carried out at these sites. Historically, conflicts in Sudan has negatively affected tourism and consequently, this site is still somewhat of a tourist secret. Most tourist reviews found online are positive due to the lack of crowds, some tourists even claiming they had the entire area to themselves when visiting.
3. Uniqueness -
Some of the larger temples in this area, such as Amon's Tomb, remain to be considered sacred to some of the local residents. Gebel Barkal is a small mountain, standing at only 320 feet n elevation, and this minuscule mountain was used as a landmark by traders and explorers historically due to the ease in which travelers can see the peak in an otherwise non-mountainous area. When looking at this area in pictures, the mountain of Jebel Barkal is obvious and stands out with no other hills or peaks in the surrounding area. Although this site is 776 Miles from GIza, there are still Egyptian pyramids in an area called Nuri. This location also houses pyramid tombs from hundreds, if not thousands of years ago.
2. Natural Surroundings, Sights, and Sounds -
Gebel Barkal is located on the west bank of the Nile River in northern Sudan. This area is notorious for it's hot, unforgiving desert climate. The closest city is called Karima city, and the region is called Nubia. Gebel Barkal is approximately 250 miles from the capital of Sudan, Khartoum. The mountain was used as a landmark in the important historical trade route between Arabia, central Africa, and Egypt due to the location of the mountain giving an easier route across the great Nile river. This area also has desert mammal inhabitants such as gazelle and wild dogs. There are also an abundance of lizards and other reptiles, as well as bats.
1. Threats and Conservation -
This precious area is protected by the Antiquities Protection Ordinance of 1905, which has been amended and extended a number of times since 1905 in order to preserve the site. A Management Council of the Gebel Barkal sites has recently been established, and this site is also jointly managed by teams of local archaeological technicians as well as a supervisor. Although these areas are beautiful, longstanding conflicts and tribal wars in Sudan have negatively affected local wildlife as well as historical preservation infrastructure. Today we find this area of Sudan relatively stable and wildlife is recovering slowly.