Fort McHenry - Important Places in US History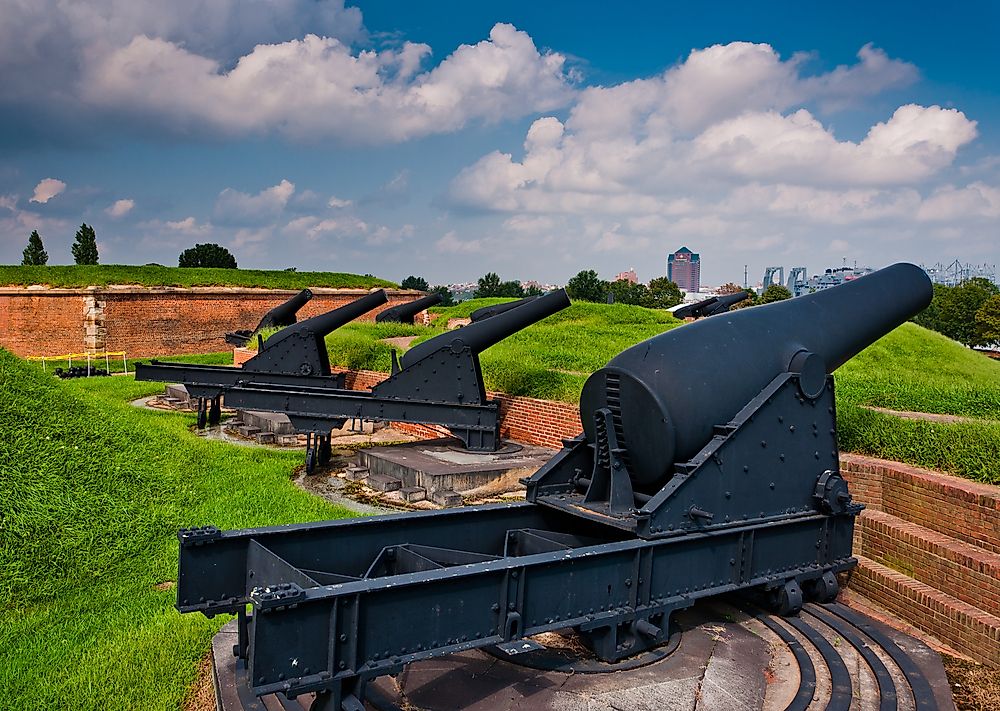 Fort McHenry is a star-shaped fort located in Baltimore, Maryland. It lies on an area of 43.26 acres, it is a national tourist attraction site that was designated as a national park on March 3, 1925 but redesignated as a National Monument and Historic Shrine in 1939. It is also referred to as the "birthplace of the national anthem of the United States of America".
History
Fort McHenry was designed by Frenchman Jean Foncin in 1798. Construction began in 1798 and was completed in 1803. The main reason was to defend Baltimore harbor as per the 1794 congress authorization to build coastal forts as a response to France declaring war on England.
The fort was named after the first War Secretary, James McHenry (November 16, 1753-May 3, 1816).
United States declared war on England on June 18, 1812. On September 13, 14, 1814, British forces attacked Fort McHenry but could not capture it due to its defenses and on the morning of September 14, 1814 they ceased their attack and retreated. The same morning, Francis Scott Key saw the flag of America, sewn by Mary Pickersgill, fly over Fort McHenry and it inspired him to compose "Defence of Fort M'Henry", which later became the country's national anthem.
After the war the fort underwent renovations to what it is now.
During the Mexican war, 1846-1848, Fort McHenry was a training ground for Maryland and Federal Units before they were sent to Mexico
During the Civil War of America, 1861-1865, it became a military prison for confederate soldiers and some of members of the Maryland legislature including George William Brown, the then Baltimore Mayor, George P. Kane the then police commissioner, members of the city council, several newspaper owners, and Francis Key Howard who was Francis Scott's grandson. It also was used as an artillery training ground.
During the Spanish- American war, 1898, it functioned as a training ground for the artillery before being deployed in Cuba.
World War Period
A hospital was established in 1917 to treat casualties returning from World War 1. This was a major surgery centre, specialized in neuro and reconstructive surgery. The hospital closed in 1920 and in 1922 the buildings that had been erected were removed.
During World War 2, 1939-1945 the fort functioned as a Coast Guard Base.
It is tradition to fly a new flag over the fort, once it is designed.
The Fort Today
The park is open everyday 9 am to 5pm but remains closed on Thanksgiving, christmas day and January 1, and charges 10$ for adults and free for children under 15 years. With over 600,000 visitors to the fort, it is a prominent tourist attraction with its archaeological and historical importance. It is currently under the National Park Service, but in event of a national emergency the United States Code authorizes its closure for military use.
A monument of Greek Mythological hero Orpheus is seen in the grounds. It was commissioned in May 28, 1916 and was designed by Charles H. Niehaus. It is dedicated to the soldiers who defended the fort in the war in 1812 and Francis Scott Key.