5. Description
Fly Geyser is a small human-made geothermal geyser that is located in Washoe County, Nevada. It is also referred to as the Fly Ranch Geyser. This geothermal geyser is approximately 1.5 meters (5 feet) tall and 3.7 meters (12 feet) wide. Fly Geyser was accidentally formed when geothermal boiling water was hit during the drilling of a well in an attempt to bring irrigation to the desert. Its unique rainbow color is caused by the growth of thermophilic algae. In 2016, the land upon which the geyser sits was purchased by famous arts festival Burning Man Project.
4. Tourism
When Burning Man Project took over the property, they temporarily closed the property with plans in place to reopen access to the geyser eventually. However, as the property is technically private, trespassing is prohibited. However, the geyser is visible from a nearby road.
3. Uniqueness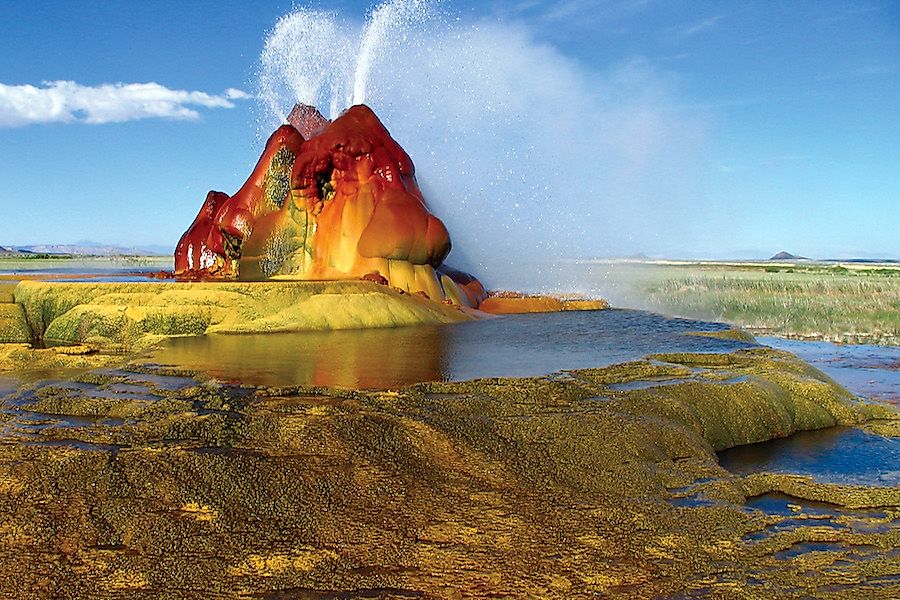 Fly Geyser has an unearthly appearance. From a distance, it appears to have rainbow colors. These colors have been associated with the growth of thermophilic algae that thrive in moist and hot environments. Interestingly, the geyser is constantly growing because of the continuous deposits of minerals that come out of the well.
2. Habitat
Fly Geyser is a hot moist environment, hostile to almost any form of fauna or flora. However, there are types of thermophilic algae that thrive in this type of environment. This is because thermophiles have enzymes that can function at temperatures of as high as 122 degrees.
1. Threats
The stifling temperatures do not support any other living thing apart from the thermophilic algae. The pools that are covering the 74 acres of land contain hot water that could kill any inhabitant with the high temperatures. It is unknown how large the fly geyser will grow to, and there is always the concern that it could reach unmanageable levels.