Society
Where Are Women Least Likely To Hold Senior Roles?
Unfortunately, gender equality in the workplace has not yet been achieved. These countries have the least number of employed women in executive positions.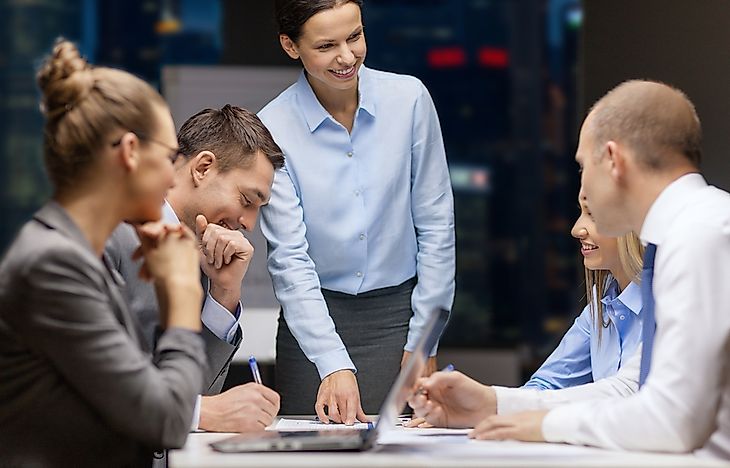 Countries Where Working Women Are Least Likely to Be Boss
Women across the globe have always been marginalized, from the wages they receive to the positions they hold in the workplace. Although several organizations including the International Labor Organization have been advocating for equality in the workplace, it has yet to be achieved. Below are some of the countries with the least number of employed women in executive positions.
Moldova

According to a 2015 survey by World Bank, only 0.5% of employed women in Moldova are employers. This minuscule number is due to various factors including lack of access to funds, discrimination in the labor market, and lack of government support. The low number of female employers has led to slow economic growth and a widening gender wage gap.
Romania

Romania ranks second with only 0.7% of its female workforce being employers, a significant drop from 3.6% registered in 1991. One of the contributing factors mentioned in a world bank report is the punitive laws that discourage women from starting businesses in particular sectors. The low percentage has also led to slow economic growth in the country.
Norway
This report reveals that in 2014, 0.8% of women in the labor force were employers, and as of 2016, the figure had risen by 0.1% to 0.9%. According to PWC, women employment in Norway was higher than in other European countries. Organizations had implemented legislation that required them to have 40% of their board members as women, yet more women preferred being employees rather than employers.
Ukraine

Ukraine registered 0.8% of its female labor force as employers. According to the ILO, women are still marginalized in Ukraine, a factor that not only discourages them from seeking higher positions, but also from running their own businesses. This marginalization has led to a wider gender wage gap and has discouraged many women from venturing into business.
Cyprus
Only one percent of women in the labor force are employers in Cyprus which is the lowest in 15 years. Occupational segregation is still practiced in the country and women are yet to be considered equal to men thus limiting their involvement in business ventures. Although the employment ratio of women in the labor market stood at 49.2%, more women were employees.
Iran
Female employers in the Islamic Republic of Iran represent 1.1% of the women in the labor force. The low number is not shocking news considering that women accounted for a mere 11.62% of the work force in the country. Cultural practices resulting in the discrimination of women in nearly all aspects is to blame for the low percentage.
Luxembourg

Female employers represent 1.2 % of women in the labor force in Luxembourg. According to Secretary of State for Economy, Internal Security and Defence, and Francine Closener, the rate of women entrepreneurs in the country has risen from 5% to 9% in a period of three years. The number is expected to increase considering that the rate of women in the labor force has been on the rise from 31.8% in 1978 to 50.6% in 2015.
Turkey

Just like Luxembourg, 1.2% of women are employers in the country's female labor force, a slight increase from the 0.8% the country registered in 1998. The slight increase is partly due to the drop in the rate of women in the labor force from 35.6% in 1990 to 27.5% in 2015. The low percentage of women employers has led to gender wage gap discrimination and slow economic growth.
Countries Where Working Women Are Least Likely To Be Bosses
| Rank | Country | % of Working Women Employing Others |
| --- | --- | --- |
| 1 | Moldova | 0.5% |
| 2 | Romania | 0.7% |
| 3 | Norway | 0.8% |
| 4 | Ukraine | 0.8% |
| 5 | Cyprus | 1.0% |
| 6 | Iran | 1.1% |
| 7 | Luxembourg | 1.2% |
| 8 | Turkey | 1.2% |
| 9 | Algeria | 1.3% |
| 10 | Lithuania | 1.3% |
This page was last updated on May 29, 2017.
Citations
Your MLA Citation
Your APA Citation
Your Chicago Citation
Your Harvard Citation
Remember to italicize the title of this article in your Harvard citation.