Imagine, to the best of your ability, how composting works. Who, in your mind, composts? What is the point of it, and what does it look like?
If images of a large, smelly mound on a farm comes to mind, you're probably not alone. Although composting has been practiced by humans for millennia, it is an idea that has only recently gained some traction en masse. In this era of a global trash excess, where we are constantly looking for ways to reduce and reroute waste, we can't help but wonder why composting is often reserved only for those at the top of the eco-conscious behavior pyramid. Shouldn't composting be a universal act at this point? It turns out there a lot of reasons why this isn't the case.
What is Composting?
The word is thrown around a lot, but what exactly is "composting"?
Composting is the process of creating compost. In short, compost is fertilizer that is made from organic waste. In compost, waste is turned from discarded material into a fertilizer with the help of bacteria. These bacteria are themselves helped by the likes of small insects, snails, worms, and fungi. The ideal compost consists of a mixture of what is known as "greens" and "browns". As is relatively self-explanatory, greens refers to compost ingredients like vegetable or fruit discards, and "browns" refers to things like old leaves and coffee grounds. If the materials are not balanced within the compost, it may begin to emit an odor or may not be able to break any materials down at all. Mixing a compost, which means literally turning the ingredients over so that they are not stagnant, is a simple way to ensure that the ingredients are melded to their full potential which further helps prevent unpleasant smells.
Sounds simple enough, right? It turns out that, depending on where they live, it is more simple for some Americans than others.
Composting in the City: For Residents With Regional Systems
Right now, it is easier than ever for many US residents to participate in composting - provided their city supports it. Although composting is a relatively new concept in the United States (some European countries like Germany have had composting systems since the 1980s), several US cities like Seattle and San Francisco have been pioneers of residential composting in their own right.
In cities where a residential system has been implemented - and in the USA there are over 100 of such cities - composting is as easy as placing material in a bin and placing the bin at the curb, just like a recycling or garbage bag. In these cases, finding out what makes appropriate compost material can be the hardest part of a transition into a composting household. In order to explain how willing households can best incorporate composting into their routine, World Atlas caught up with the US Composting Council, a non-profit trade and professional organization headquartered in Virginia whose work includes the task of spreading composting awareness.
According to the US Composting Council, determining which materials are suitable for the compost bin is a skill that can be best developed over time. "People should take a look at what their family is throwing away," the US Composting Council suggested. "Start with an item or two that is easy to divert such as produce waste, coffee grounds, holiday Christmas trees, leaves or Halloween pumpkins. Once building a success with that, expand to more daily diversion such as food waste."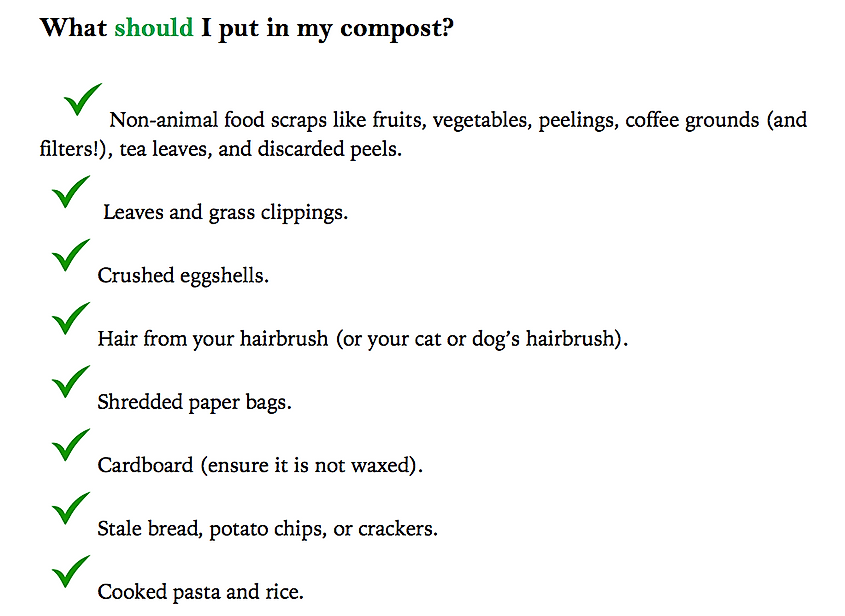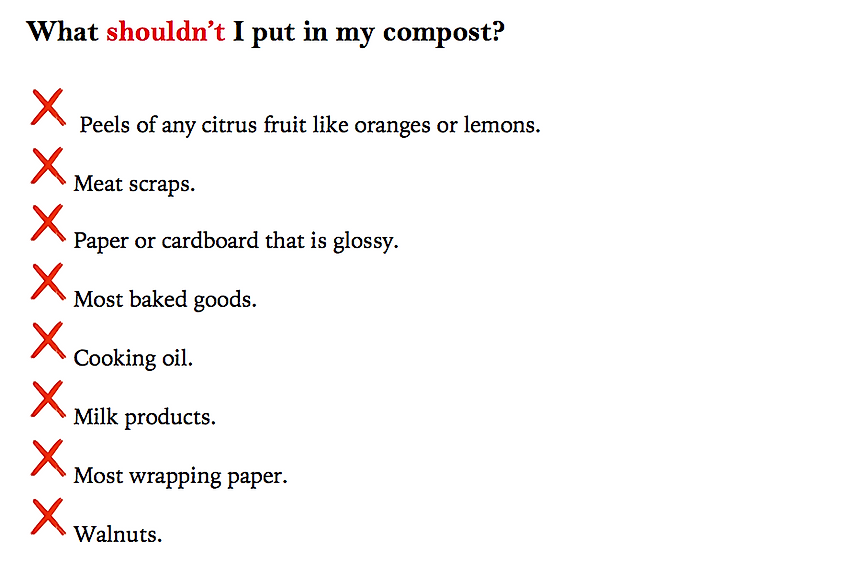 Lists showing the composting potential of a variety of common household waste.
Perhaps the most radical of all US cities when it comes to composting is San Francisco. As part of their Zero Waste strategy, San Francisco maintains what they call a Mandatory Recycling and Composting Ordinance, which requires residents to sort their waste appropriately into trash, recycling, and compost or else risk fines. A compulsory compost policy leaves residents no choice to educate themselves on how to properly compost.
Of course, San Francisco's approach is not the norm but the exception. In reality, in many areas of the United States, proper composting infrastructure is lacking, meaning that many areas would not even be able to compost no matter how strong the will. Most areas of the country need a better system for collecting and processing food scraps before composting can be widely adopted. However, the speed at which government agencies and businesses alike can provide infrastructure could be directly affected by resident demand. If the general population shows an interest in composting, it's possible that stakeholders would be encouraged to put the motions in place to build stronger infrastructure. After all, a strong demand from the consumer base translates into a better chance of profits for companies.
Composting Independently: For Residents Without Regional Infrastructure
Of course, not every American is fortunate to live in a city where composting is a part of the standard composting system. Although it has been reported that pickup of household compost has been increasing in American cities, in what has been called the "curbside compost boom", the reality is that the majority of Americans do not have access to citywide composting at this time. However, for those still wishing to make a difference, being involved in composting may be easier on your own than you think.
For those who live in smaller living spaces, there is equipment available to store compost in for those who are concerned about the potential smell. For those who live in apartment buildings or areas without a yard, there may be a community garden or organization that collects composting. Some communities even have community composts in which local residents can take part. In fact, community composting has been touted as a great way to take the pressure off of regional compost systems, while also creating jobs and spreading greater composting awareness. Of course, those with the land area to do so may also create their own compost in their yard. When it comes to creating your own compost, the US Composting Council also had some great tips to share:
"If you are making your own compost, be sure to receive the proper training about the process and odors and other problems can be avoided. If you are saving food scraps and green waste for pickup, paying special attention to where, how long and in what temperatures it is stored prior to pickup will avoid common problems. 2:1 Browns:greens, 50% moisture (spongey not runny) wood chips to provide air space, turn once per week. At least 1 cubic foot of material to hold heat."
Is Composting Really For me?
If you're still having second thoughts, there is scientific evidence that may help convince you. These environmental benefits may help the learning curve involved in composting seem less daunting.
Composts help take some of the pressure off of landfills, helps conserve water by preventing soil runoff, and helps decrease the emission of CO2 gasses into the atmosphere. It is often stated that every human can do their part, however small it may seem, to alleviate the pressure that is put on the environment. Composting is one of the most directly impactful things that the average citizen can do to help conserve and better the world in which they live.
Expecting the acceptance of composting into the mainstream may seem like a utopian ideal, but the popularity that recycling has garnered over the decades can provide encouragement. Composting, too, has increased in its popularity since the 1990s, but there are still great lengths to be made. An improved public attitude is a promising start.
To learn more about composting, you can visit the official website for the US Composting Council here.
**
Rachel Cribby is a Montreal-based writer with a background in urban studies and creative writing. Aside from geography, her interests include songwriting, traveling, cats, writing, reading, and tea drinking. After a large personal learning curve, she started composting in 2015 and hasn't looked back since.