Environment
China's Best Rated National Parks
From the world's highest mountain to Tibetan lakes to the Shillin Stone Forest, these national parks hold some of China's greatest natural and cultural treasures.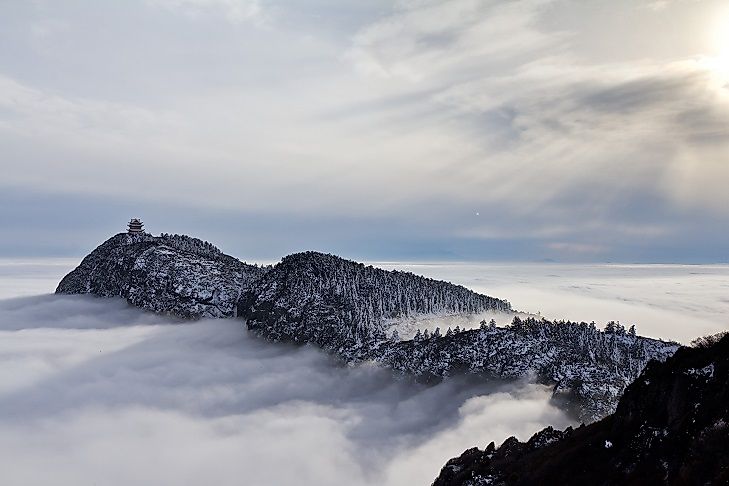 China, officially known as the People's Republic of China, is a country in the East Asia region with an territorial area covering approximately 3.7 million square miles, and a population of 1.38 billion people. It is the world's second largest state by land area and the most populous state. China's coastline along the Pacific Ocean is 9,000 miles long and is bounded by four seas, namely including the Bohai, Yellow, East China, and South China Seas. It is one of the cradles of civilization with its history beginning with an ancient civilization that flourished in the fertile basin of the Yellow River. China's economy is ranked second in the world behind the US. China is home to 225 parks which could either be scenic or historic sites, some are discussed below.
Emeishan
Emeishan, officially known as Mount Emei, is one of the most highly sacred Buddhist mountains of China with an elevation of 10,167 feet above sea level. It is located in the Sichuan Province near the county-level city of Emeishan. The park was inscribed on the United Nations Educational, Scientific, and Cultural Organization (UNESCO) World Heritage List in 1996. It is home to seventy-six Buddhist monasteries which gives a clear display of the various flexible architectural designs. The climate in the region is cold because there are longer cold winters and short cool summers. The precipitation level is high throughout the year, and the rainfall is heavy rainfall during summer. The park has a diverse number of endemic species of fauna and flora.

Guilin Lijiang
Guilin Lijiang, also known as the Li River, is located in the Guangxi Zhuang Province. It flows for 52 miles from Guilin to Yangshuo. The river initially originates from the mountain regions of Xing'an County and flows in the southern direction through Guilin, Yangshuo, and Pingle where it merges with Gui and Gongcheng Rivers. Its course is flanked by green hills and the karst topography hillsides where fishermen use Cormorant, a form of aquatic plants, during fishing. It is a major tourist attraction site where tourists cruise in different types of boats offered in Guilin.
Huangshan
Huangshan is a mountain range located in the Anhui Province of eastern China. The mountain range is known for its high mountain ranges of more than 3250 feet above sea level. Some of the well-known are the lotus peak, bright summit peak, and celestial peak. The most notable feature is how the vegetation of the area varies with the elevation. Below 3,600 feet, the vegetation is within a Mesic forest ( a forest with an abundant supply of moisture). From 3,600 feet to 5,900 feet the vegetation is mainly deciduous forest, and above 5,900 feet lies the alpine grassland (the short evergreen grass species). In 1990, it was named a UNESCO World Heritage Site.
Jiuzhaigou
Jiuzhaigou is a valley of nine fortified villages of Tibet that are located in the Jiuzhaigou County of Sichuan Province in China. It covers an estimated area of 278 square miles with its buffer zones extending 232 square miles with elevation ranging from 6,600 feet to 14,800 feet. Extensive logging and deforestation of the remote region took place until 1979 when the Chinese government made the area a national park. The valley is composed of the multi-level waterfalls, colorful lakes, and snow-capped peaks which are major tourist attraction sites in the region and has impacted in the economy of the country, and expansion of the hotel industry.
Other Notable National Parks In China.
Other parks in china include Zhangjiajie Park in northern Hunan Province, Mount Wutaishan Park which is found in the Xinzhou Region of Shanxi Province, and Mount Everest Park located in Tibet.
China's Best Rated National Parks
| | |
| --- | --- |
| China's Best National Parks | Province |
| Emeishan | Sichuan |
| Guilin Lijiang | Guangxi Zhuang |
| Huangshan | Anhui |
| Jiuzhaigou | Sichuan |
| Lushan | Jiangxi |
| Mount Everest | Tibet |
| Shilin Stone Forest | Yunnan |
| Songshan | Henan |
| Taishan | Guangdong |
| Tianmen Mountain | Hunan |
| West Lake | Hangzhou |
| Wutaishan | Shanxi |
| Zhangjiajie | Hunan |
This page was last updated on April 25, 2017.
Citations
Your MLA Citation
Your APA Citation
Your Chicago Citation
Your Harvard Citation
Remember to italicize the title of this article in your Harvard citation.