Turning a desert into a forest sounds like a dream project. If possible, it would solve many of the world's environmental problems and make life easier for future generations. While it is technically possible to turn a desert into a forest, it is a process that would probably take more than several decades.
The process of turning deserts into forests is called desert greening, and it is something that has been going on for several years now. Even the Sahara desert is slowly being "turned green." This process is the reclamation of deserts by humans to use them for farming, forestry, and other ecological reasons such as biodiversity. It helps with the environment and directly lowers the damage done by humans to the environment. By turning deserts into forests, at least partially, we can help slow down the process of climate change, among many other things.
Desert Greening
Desert greening does not only refer to the process of turning hot, sandy deserts green; it also deals with colder semi-arid deserts. By doing this, mankind can reclaim many of its natural water systems and support life. Currently, desert greening is being performed on more than 30 million square kilometers of land, and it can help humanity with plenty of issues, such as energy, food, and water crises.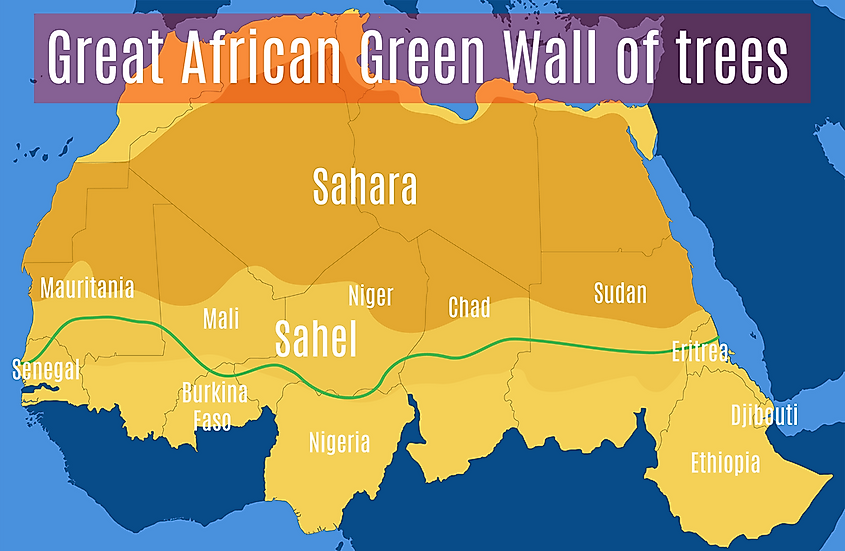 Desert greening is highly dependent on the availability of water. If plenty of water is available, it is possible to turn deserts green. There are numerous ways we are able to get water to aid us during this process, mostly through rainwater harvesting, desalination, saving and reuse, and by using seawater directly. Each one of these methods has its pros and cons, but almost all of them are used regularly.
There are also other methods, such as the usage of solar stills that generate freshwater. This method is used by the Sahara Forest Project, which is a project to provide water, food, and energy to desert regions.
Methods Used In Desert Greening
There are many different methods used during the process of desert greening. Managed intensive rotational grazing is one of them, and it means that livestock is being moved around specific areas of the pastures, which allows the other areas to rest. Holistic management is another important method used in this process, and it is a way of managing resources that is similar to rotational grazing. Still, it focuses on recognizing the differences between ecosystems more thoroughly. 
There are several landscaping methods used during desert greening, and their goal is the reduction of erosion, evaporation, and the consolidation of topsoil. They also help reduce the temperature and the appearances of sandstorms. Permaculture is also used, and it boils down to the harvesting of rainwater to be able to grow communities of various plant species. This exact method is called polyculture, which means that several kinds of plants are planted at the same time. The planting of trees is naturally one of the more important methods of turning deserts into forests, and it also includes other salt-loving plants. This is done because the water these plants use to survive often comes from the ocean.
Experts that work on desert greening also try to regenerate polluted, salty, or degenerated soils, which can help new plants to grow. They also control floods by retaining and infiltrating floodwater. Greenhouses are also an essential factor in this process, and their agriculture plays a major role in the forestation of deserts. Experts are also farming seawater that is then used to keep the plants alive. Some other methods used are the prevention of firewood use, inland mariculture, and natural regeneration managed by farmers. All of these processes (and many more!) combine into numerous attempts to turn deserts green, which would help our planet tremendously.