Blue-Tongued Skink: Animals of Oceania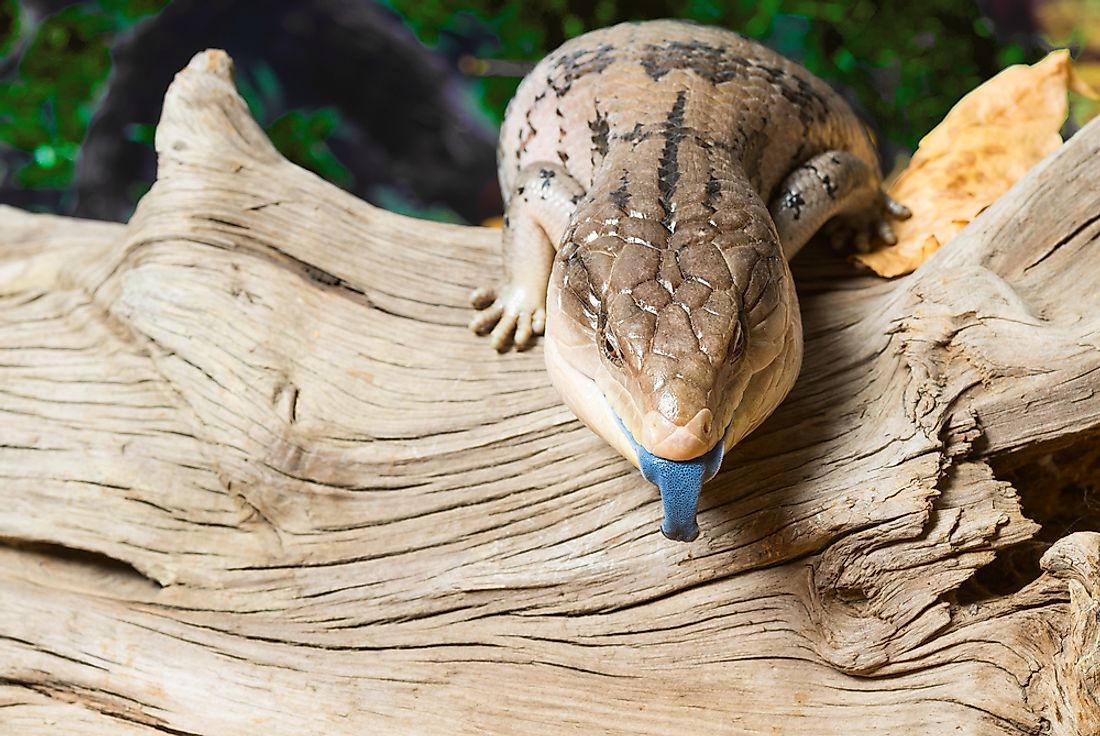 5. Physical Description
Named aptly after its distinctive blue tongue, the Blue-tongued skink is a large lizard that can grow up to 2 feet (60 centimeters) long. Their average weight is between 10 and 18 ounces, and their coloration can range considerably, though they are generally light brown to cream, with dark brown and orange bars running down their bodies. The Blue-tongued skink is part of the Scincidae Family, meaning it is not considered a "true lizard". Blue-tongued skinks lack distinguishable necks, and their legs are small and short compared to the length of their bodies. Female Blue-tongued skinks are larger than their male counterparts, though the females also have proportionally smaller heads than do males.
4. Diet
Blue-tongued skinks are omnivorous, and will eat a large variety of foods depending on their habitats and the availability of resources. Their jaws are strong enough to crush the shells of invertebrates such as snails and beetles. Other creatures they eat include crickets, caterpillars, worms, and other small lizards. Despite the strength of their jaws, they are not very agile creatures, so their prey mostly consists of slower creatures. They will also feed off of the carcasses of already dead animals if they happen to come across them. Blue-tongued skinks will also eat such vegetation as fruits and flowers. Captive Blue-tongued skinks or those living close to humans have also been known to eat pet food.
3. Habitat and Range
There are eight species of Blue-tongued skinks that can be found in the world today. Six are native to Australia, while the other two are found in New Guinea. Out of the eight species, at least one species is considered "Endangered", and two are "Vulnerable". Their predators can include any large carnivore or bird of prey, and domesticated or feral cats or dogs. In many parts of Australia, these lizards can often be found lounging around in gardens. Thus, pesticides can prove to be lethal to them. Their gentle nature and longevity have made Blue-tongued skinks as one of the most popular species of reptiles for humans to keep as exotic pets.
2. Behavior
Although Blue-tongued skinks are burrowing lizards, the reptile has such short legs that it usually resides in the abandoned burrows that have already been created by other animals. Furthermore, unlike some other skinks with longer tails, some species of Blue-tongued skinks do not have regenerative abilities in terms of re-growing their tails. When threatened, the Blue-tongued skink will open its mouth to reveal its bright pink gums and dark blue tongue. It will then hiss and flatten its body to frighten off its would-be attacker, or at least startle it for long enough to make a hasty getaway. Blue-tongued skinks generally live alone for most of the year, and are considered an asset to people's gardens as they help maintain pest snail populations.
1. Reproduction
The mating season for Blue-tongued skinks can range depending on species and habitat but, in Australia, it usually takes place between September and November. Some species will mate every year, while others will do so every other year. After mating, female Blue-tongued skinks will not lay their eggs immediately. Instead, the young will develop in their eggs for three to five months, while they are still in their mother's body, and she will give birth to them live. The number of offspring varies depending on species, and can range greatly from 2 or 3 (such as in the case of the Shingleback Blue-tongued skink) to up to 25 (as with the Common Blue-tongued skink).