Islands of the Bahamas by Size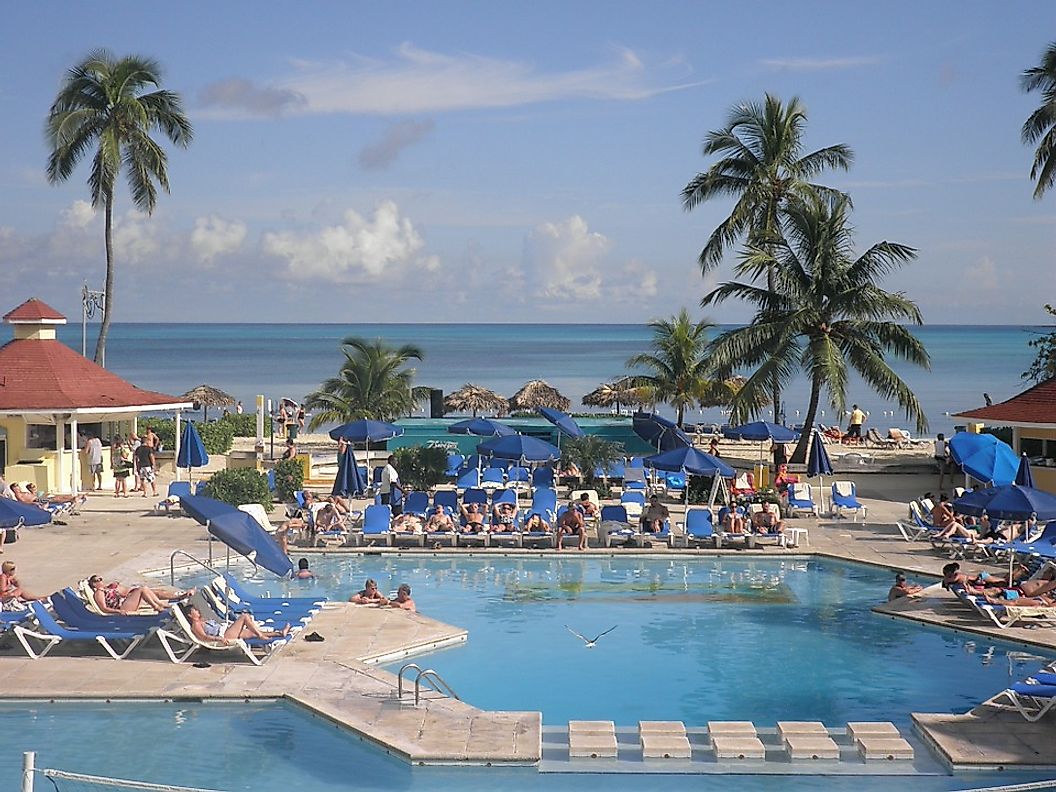 The Bahamas is a Commonwealth nation comprised of 700 islands, islets, and cays. It is located in the Caribbean, and its 2014 population estimate is 382,600 of which 85% are Afro-Bahamian, 15% are European and mixed, 0.6% are Asian, and the rest are other races. Its GDP as of 2012 was $31,382 per capita PPP. Currency is Bahamian dollar. Tourism and finance run its economy. Warm weather dominates the Bahamas except for rare occasions every few decades or so when the cold winter temperatures grasp the region for brief periods of time. The Bahamians are well-educated people whose adult literacy rate is high at 98.2% as of 1995 estimate.
The Bahamas
Out of the total population of the Bahamas, 70% can be found in Nassau and suburbs in New Providence Island. Freeport and suburbs in the Grand Bahama have about 30% of the population. Out of around 700 Bahamian Islands, North Andros covers one-fourth of the nation's entire land area with about 1,328 square miles. It has inland waterways, dense bush, mangroves, pine and hardwood forests. Its barrier reef and blue holes are complemented by its diving and fishing waters. The Great Inagua at 596 square miles is second on the list of the biggest islands in the Bahamas. Attractions are several lakes, avian sanctuary, and about 80,000 West Indian Flamingoes as well. Matthew Town is its capital with a population of only 1000. Third is South Andros with a land area of 559 square miles. It has a barrier reef, blue holes, and more myths than Greece. Crab and pageant festivals attract locals and international tourists. The fourth contender on the list is Great Abaco with a land area of 442 square miles. Tourists come for its cays, pine forests, resorts, hunting forests. It is known as a yachtsman's sailing venue. Fifth is Grand Bahama with a land area of 423 square miles. Attractions include white sand beaches, turquoise waters, and tropical jungle scenery. Sixth is the Long Island with 230 square miles of land area. Its attractions include beaches, swamplands, caves, cays, inlets, and the world's deepest blue hole at 656 feet. Next in sequence are Eleuthera with 200 square miles, Acklins with 192 square miles, Cat with 150 square miles, and Exuma with 112 square miles.
Socioeconomic Significance
The Bahamas has a rich economy, third to Canada and the US in North America. Tourism and financial services oil its economy. Its banking and financial industry provide about 22,000 well-paying jobs for the local population which also supports the real estate market as well as tourism. Rigorous training in the financial sector benefits employees and helps them gain better jobs. It makes up 15% of the total GDP of the Bahamas with 27% of the GDP indirectly connected to the financial services. Tourism also brought a boom and a higher standard of living in the Bahamas as jobs in the services industry like hotels and restaurants were in demand. New infrastructures and improvements of cultural landmarks are credited to gains made from tourism in the country. It provided about 44% of employment in the country. Cruise ships also added to the demand for local services creating additional local employment. The local food catering and supply business have flourished in the islands as well.
Biggest Islands Of The Bahamas
| Rank | Island | Area |
| --- | --- | --- |
| 1 | North Andros | 1,328 square miles |
| 2 | Great Inagua | 596 square miles |
| 3 | South Andros | 559 square miles |
| 4 | Great Abaco | 442 square miles |
| 5 | Grand Bahama | 423 square miles |
| 6 | Long Island | 230 square miles |
| 7 | Eleuthera | 200 square miles |
| 8 | Acklins | 192 square miles |
| 9 | Cat | 150 square miles |
| 10 | Exuma | 112 square miles |