Southern Ocean - Map & Details.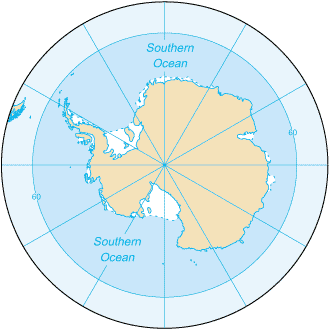 The Southern Ocean, is also known as the Great Southern Ocean, the Antarctic Ocean and the South Polar Ocean. It comprises the southernmost waters on the planet, and is generally accepted to be south of 60°S latitude, and encircling the continent of Antarctica.
The Southern Ocean has typical depths of between 4,000 and 5,000 meters (13,000 to 16,000 ft) with only limited areas of shallow water. Its greatest depth is measured at 7,236 meters (23,737 ft) at the southern end of the South Sandwich Trench, at 60°00'S, 024°W.
It is considered the fourth-largest of the planet's five principal oceans. This ocean zone is where cold, northward flowing waters from the Antarctic mix with warmer sub-Antarctic waters.
Large icebergs are very common in its waters, as well as countless iceberg fragments and sea ice of varied depths. High winds and large waves in its northern reaches are the norm.
This page was last updated on September 2, 2020.