Lake Nicaragua Map and Map of Lake Nicaragua Size Depth History Information Page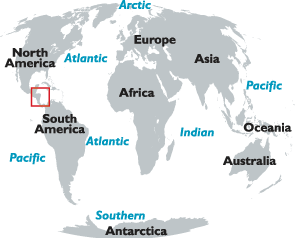 Lake Nicaragua (Lago Nicaragua) is about 99 miles (160 km) in length, with a max width of 45 miles (72 km).
Archaeologists feel that it was once a large bay along the Pacific Ocean, and volcanic eruptions over long periods of time filled in the land with lava.
This huge body of water, the second largest lake in Latin America behind (Lake Titicaca) is home to freshwater sharks, and a long list of seemingly out-of-place aquatic animals - thought trapped here by lava flow that blocked access to the Caribbean Sea and/or Pacific Ocean.
The navigable San Juan River connects the lake to the Caribbean Sea, and that river was long considered an option to the Panama Canal, a route that could offer much-more convenient access to the Pacific Ocean.
Lake Nicaragua has hundreds of islands, including an archipelago of over 350 tiny islets near the port city of Granada. The lake's largest islands include Ometepe, actually formed by the lava flow of two volcanoes; Conception is still active while Maderas is dormant; beautiful Zapatera Island, and further to the south, the thirty-some islands of the Solentiname archipelago.
Dozens of small rivers drain into the lake, and it's connected to Lake Managua by the Tipitapa River.
This page was last updated on September 3, 2020.