Satellite Map of Gulf of Suez and Gulf of Aqaba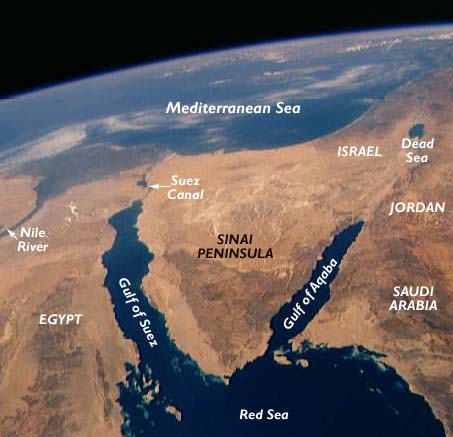 photo from NASA
The northern end of the Red Sea is branches into two forks by the Sinai Peninsula, creating the Gulf of Suez in the west and the Gulf of Aqaba to the east. The Gulf of Suez is a relatively young rift basin, dating back 40 million years. It stretches almost 300 km north by northeast, terminating at the Egyptian city of Suez and the entrance to the Suez Canal. Along the mid-line of the Gulf lies the border between the continents of Africa and Asia. The entrance of the Gulf lies atop the mature oil and gas fields.
The Gulf of Aqaba is the other of two gulfs created by the Sinai Peninsula's bifurcation of the northern Red Sea. The Gulf of Aqaba measures 24 km at its widest point and stretches some 160 km north At this northern end of the Gulf are three important cities: Taba in Egypt, Eilat in Israel, and Aqaba in Jordan. All three cities serve both as strategically important commercial ports and as popular resort destinations for tourists seeking to enjoy the warm climate of the region. Further south, Haql is the largest Saudi Arabian city on the gulf. On Sinai, Sharm el-Sheikh and Dahab are the major centres.
This page was last updated on June 16, 2020.