Long the ancestral home of American Indians, this land was first colonized by the
English
in the early 1600's.
In 1629 a settlement built near present-day Rye was named New Hampshire after the
English
county of Hampshire. Portsmouth was founded one year later.
Scattered communities here united in 1639, and later agreed to become a part of the Massachusetts colony. That contentious and controversial agreement (
or union
) never really worked, and in 1691 it was permanently separated from Massachusetts, becoming the Royal Province (
colony
) of New Hampshire.
Disagreements with
England
over high (
excessive
) taxation, land restrictions and other issues motivated powerful land owners and merchants in England's
13 original colonies
to rebel and they subsequently declared their independence from Great Britain.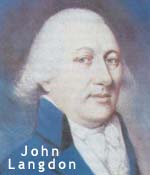 Personal dignity and pride-of-place motivated the colony of New Hampshire to adopt its own constitution in 1776, many months before America's Revolutionary War ended and the
Declaration of Independence
was signed in the city of Philadelphia.
New Hampshire became the ninth and last necessary state to ratify the new Constitution of the United States on June 21, 1788. and
John Langdon
(
of New Hampshire
) became the country's first acting Vice President.
Across America, the plight of black slaves in the southern states was a controversial issue. During the administration of
Franklin Pierce
, New Hampshire's only President of the United States (1853–57), that moral dispute between the northern and southern states peaked, and in 1861 America's Civil War began.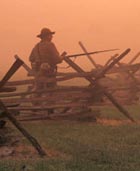 During that bloody Civil War, New Hampshire supported the Northern (
or Union
) cause, contributing more than its share of troops and supplies. The Civil War lasted four years, and nearly 5,000 of New Hampshire's best were dead.
The state's economy peaked following that war as new businesses and factories attracted job-seeking immigrants into the state. Later, during World War I, leather, shoe and textile industries in New Hampshire were the leading industries.
Then the Great Depression of the 1930's reared its ugly head across the land, proving financially disastrous across New Hampshire, and all of
the United States of America.

In the end it was World War II that helped to revive (
and motivate
) the state's economy. Its shipyards built destroyers and submarines for the Navy and its factories supplied boots and uniforms for the war effort.
In the 20th century New Hampshire was the textile capital of
America
, but as that industry moved gradually south (
attracted by lower labor costs
), the agricultural, logging and paper industries filled-in the gaps.
Today, the modern high-tech industries of the southeast, state-wide tourism, and the popular winter ski venues of the White Mountains are also significant contributors to the overall economy.
The state's official motto, "
Live Free or Die,
" certainly fits this rugged land of mountains,
deep-blue lakes
, endless forests and picturesque small towns, as in New Hampshire, a fierce, determined pride in the traditions and values of early America is very much alive.