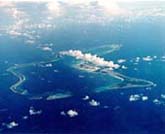 The British Indian Ocean Territory (B.I.O.T.), once an individually controlled, widespread archipelago of over 2,300 small islands, is positioned in the
Indian Ocean
near the
Equator
, about 1,000 miles southwest of
India
. 
Claimed in 1814, it was then established as a territory of the
United Kingdom (UK)
in 1965. In just over a decade later, many of the smaller islands were transferred (
or given
) to the Seychelles when it gained its own independence in 1976. 
After that, transfer of the Chagos Archipelago was all that remained of the B.I.O.T. The largest and most southerly of the islands, Diego Garcia, contains a joint
UK
-
US
naval support facility. All of the remaining islands in the archipelago are uninhabited. 
When the
UK
first established the territory in 1965, the original residents of the islands (
against their will
) were relocated to Mauritius and the Seychelles. In 2001, as a form of compensation, the transferees were granted
UK
citizenship and eventually demanded that they be allowed to return to their home. 
Lately there have been consistent rumors that the
British
will finally allow the original inhabitants (
Chagossians
) to return to the islands, much to the consternation of the
American
military force on Diego Garcia, as they still hold the exclusive lease to this strategically placed island. 
Read more about the B.I.O.T. 
here
.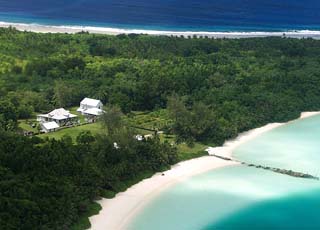 East Point, Diego Garcia, British Indian Ocean Territory
Name: British Indian Ocean Territory (B.I.O.T.)
Capital City: N/A
Population: 0 (military personnel and supportive civilian contractors comprise the only temporary population)
World Populations (all countries)
Currency: United States dollar (USD)
(conversion rates)


One US Dollar
Ethnicity: 95.8% British and American, 4.12% other
Language: English (official)
Largest Cities: (by population) N/A
National Day: N/A
Religion: N/A

The BIOT flag was officially adopted on in 1990.
The blue and white wavy lines represent the waters of the Indian Ocean, and the palm recalls the natural vegetation on the islands. The crown is indicative of it being a British possession.
Larger BIOT flag