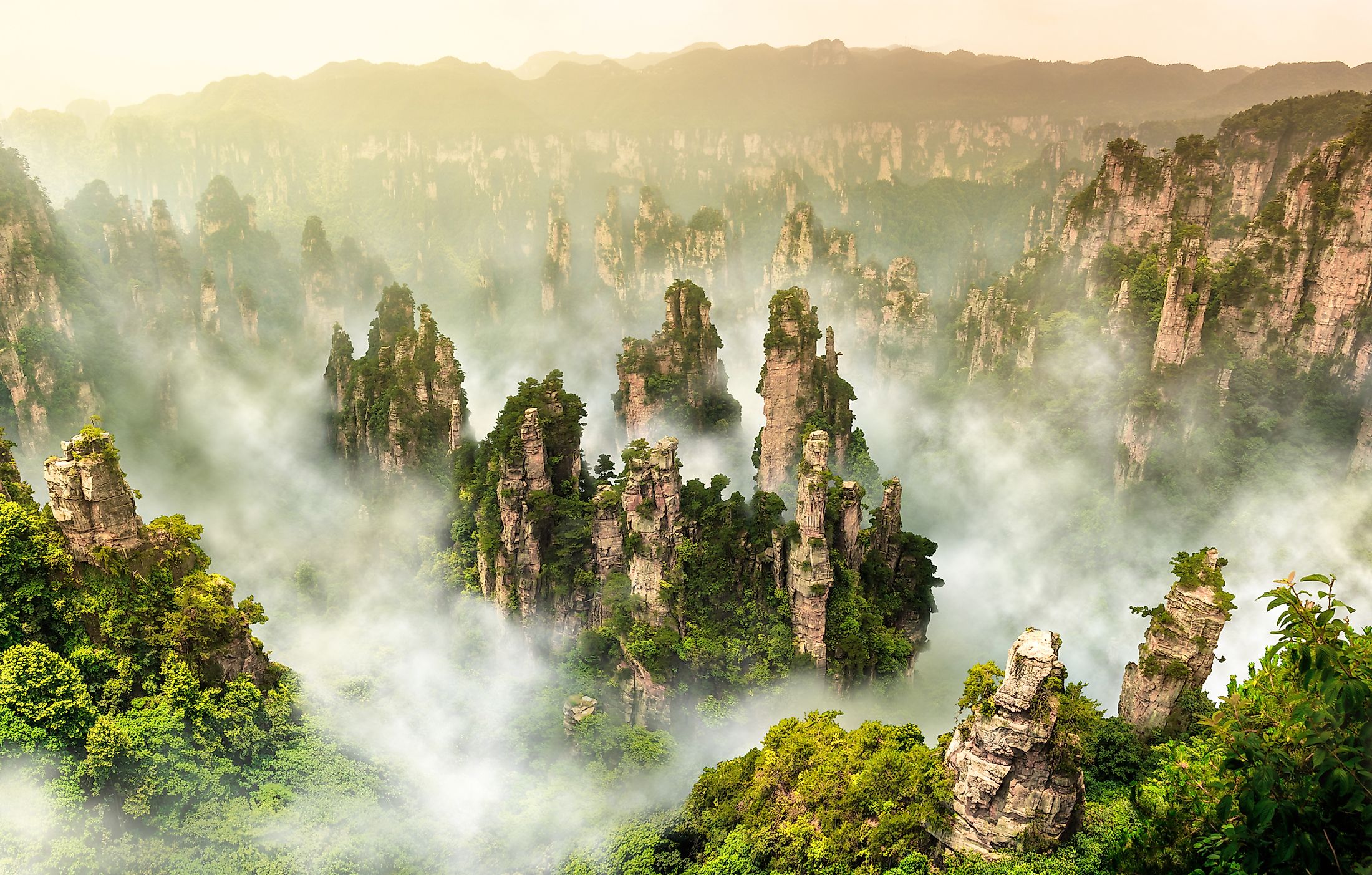 The Wulingyuan, referred to as China's Yellowstone Park by foreigners is a scenic area in the South Central Chinese province of Hunan. It was designated a World Heritage Site in 1992 because of the numerous quartzite sandstone pillars, limestone caves, gorges, and ancient ecosystems. With an area of about 264 square kilometers, the scenic area comprises three sections; Suoxiyu Nature Reserve, Zhangjiajie National Park, and Tianzi Mountain Nature Reserve. It is noted for five natural beauties; unevenly shaped stones, exotic peaks, deep ravines, the caves, and its waters. The site also hosts numerous vulnerable species, including Chinese water deer and Asiatic black bears.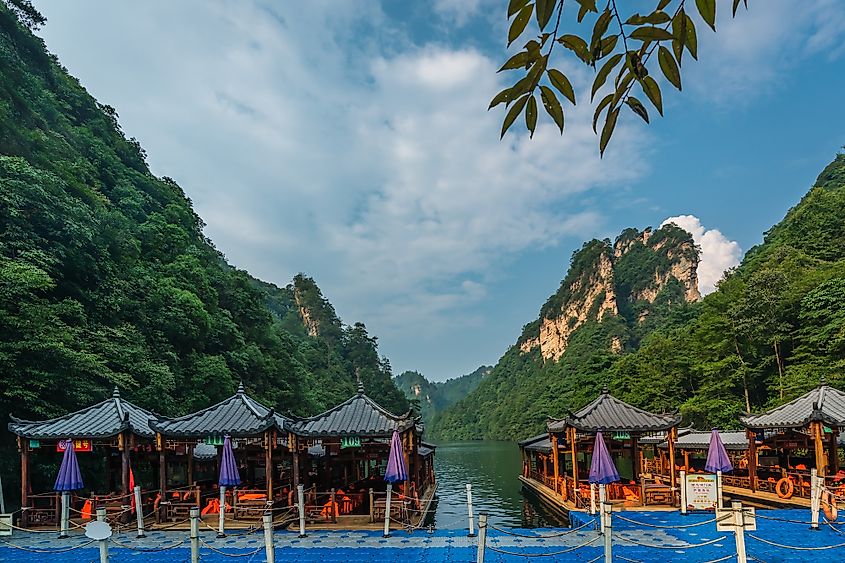 Location
Wulingyuan is an attraction in the Wulingyuan District, a district in Zhangjiajie City located in northwestern Hunan, South Central China. The site lies about 270 km northwest of the provincial capital, Changsha, and forms part of Central China's Wuling Mountain Range.
Brief History
The Wulingyuan Scenic and Historic Interest Area was relatively unknown until the 1970s, when Wu Guanzhong, a popular Chinese master painter, found himself there by chance. He was impressed by the beautiful scenery and described it as "a bright pearl in the depth of the mountains." The place became famous in the 1980s and derived the name "Wulingyuan" from its location in the Wuling Range. In ancient times, the site was considered inaccessible and remote. According to a legend, Zhangliang, one of the Han Dynasty lords lived there and was buried beneath the Zhangjiajie Mountain (formerly known as Qingyan Mountain.
Physical Features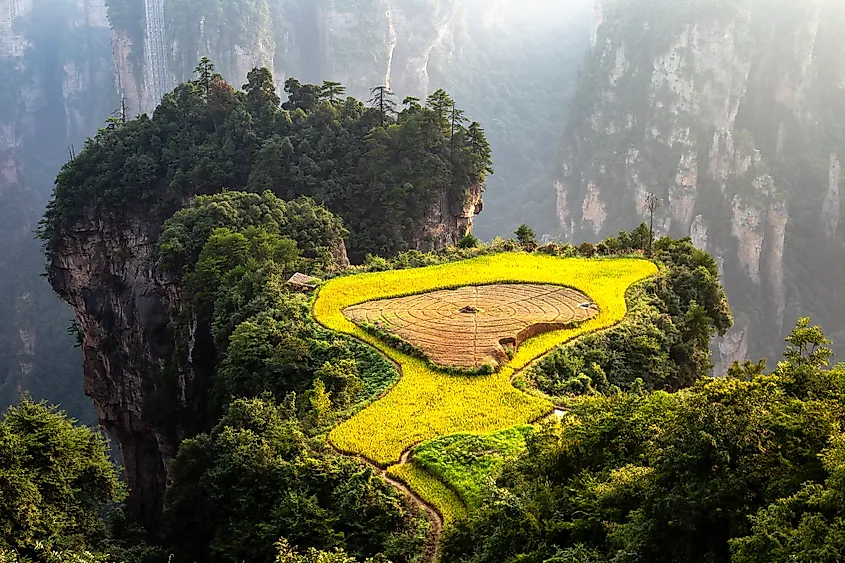 Wulingyuan is covered by towering quartz sandstone and dense forest that hide the limestone caves. There are more than 3,000 quartz and sandstone peaks in an area of about 360 square kilometers, of which about 1,000 are 400 meters or higher above sea level. These peaks stand next to one another, forming an elegant and lofty landscape. With the constantly changing weather and seasons, the quartzite sandstone hills often present different views to visitors. Clouds and fogs often envelop the peaks after rainy days.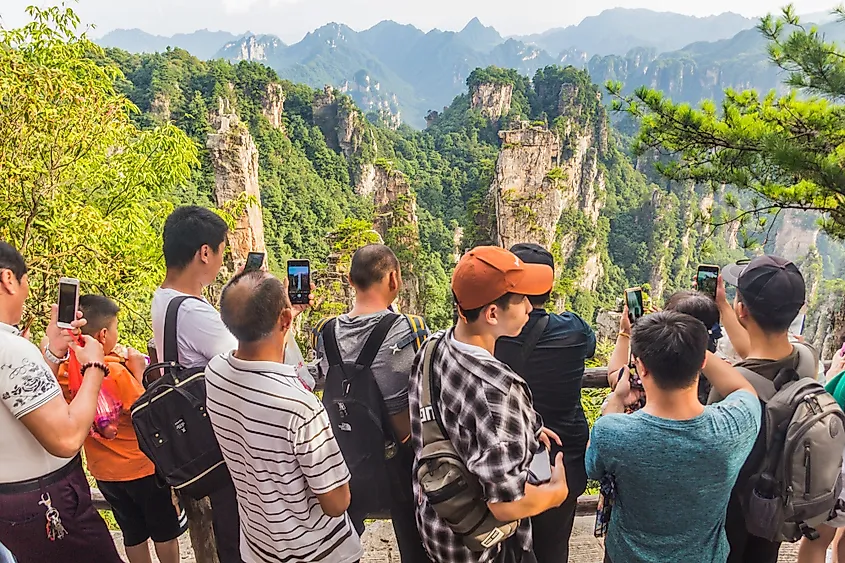 Wulingyuan comprises 800 water sites, including brooks, streams, lakes, springs, pools, and waterfalls. One of the most popular water scenery is the Jinbianxi (Golden Whip Brook), which flows for miles from Zhangjiajie Mountain to Suoxi Ravine via the Fish Jumping Pool, Paper-Straw Pool, and Heavenly Son Islet. A steep cliff stands on either side of the brook. The site is also dotted by limestone caves, including the Goddess of Mercy, Yellow Dragon, Turtle's Home, and the Singing Water. The Yellow Dragon is a 7.5-km long cave, with two rivers, a small pond, and three waterfalls, among other features.
Flora And Fauna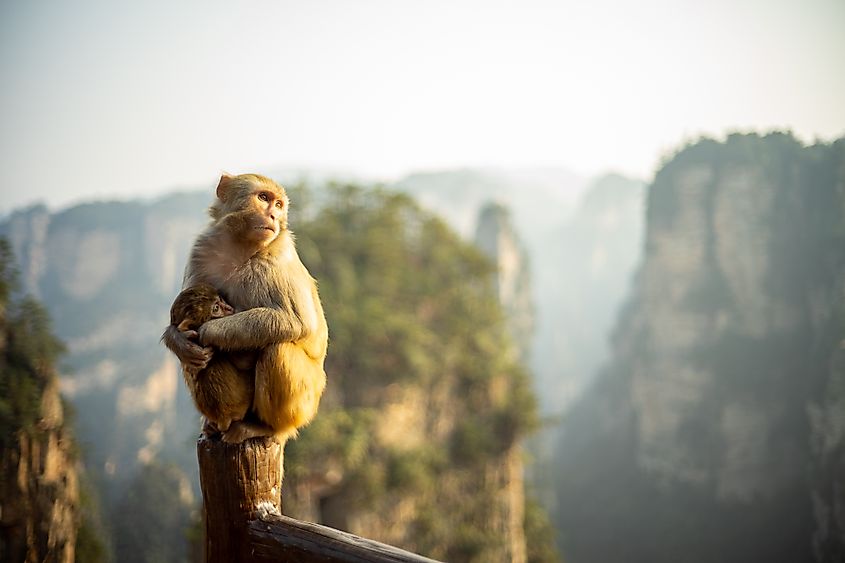 Dense undisturbed forests cover up to 98% of Wulingyuan scenic area. Here, there are more than 3,000 plant species and 700 different tree types, including lobster flowers, ginkgoes, dove trees, giant mountain lotus, orchid bloom, and metasequoias. Flowers blossom in the region all year round, creating beautiful scenery with great fragrance. The green treasure lies in the Sino-Japanese Botanic Zone.
Hundreds of animal species also inhabit the Wulingyuan area, including 116 vertebrate species that fall into 50 families. Among the animal species are the rare Chinese giant salamanders, Asiatic black bear, Asiatic wild dogs, rhesus donkey, and Chinese water deer. The area also contains about 20 rare birds, including golden pheasant, red-billed leiothrix, tragopan, and white-headed duck.