A channel is defined as a wide water body that is situated between two landmasses. These water channels are usually formed due to the erosion of land by glaciation. Bristol Channel is a major inlet of the Atlantic Ocean in Great Britain Island. It separates the southern part of Wales from Somerset and Devon counties in the southwestern part of England. The channel has been named after the city of Bristol, which is also South West England's most populous city.
Geography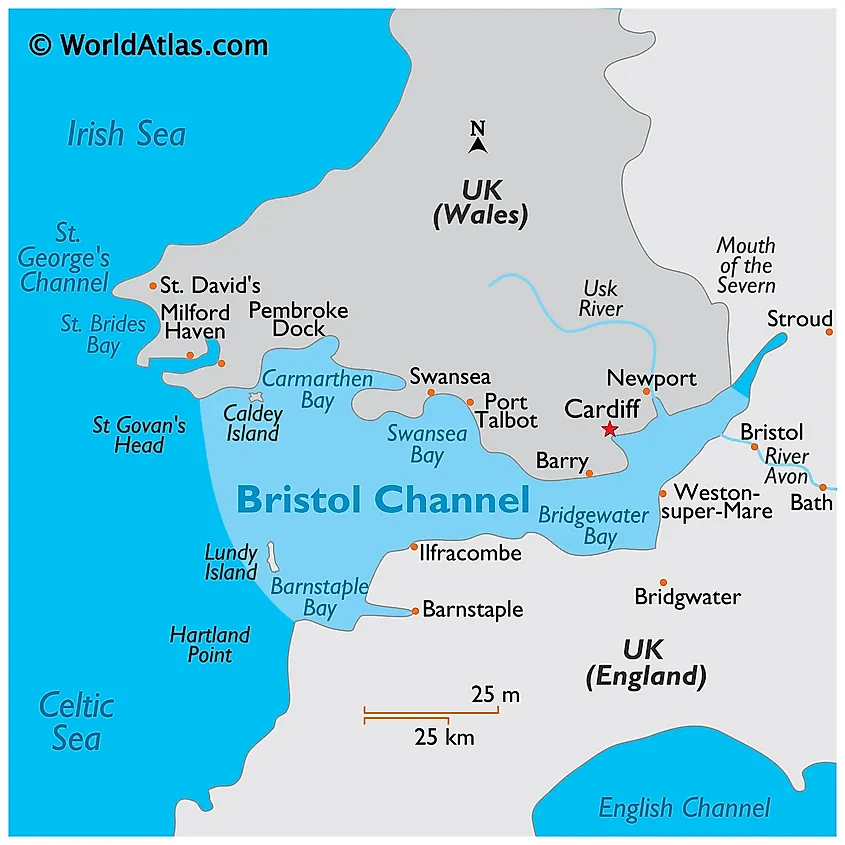 Bristol Channel is over 121 km in length and has a width of 50 km at its widest point. It extends from the edges of the Severn River Estuary in the east and ends between England's Hartland Point and Wales's St. Govan's Head in the west. Several rivers flow into the Bristol Channel. These include the Severn, Avon, Usk, Taff, and Wye rivers. The islands of Lundy, Caldey, Flat Holm, and Steep Holm are some of the large islands situated in the Bristol Channel. All these uninhabited islands are usually protected as important nature reserves.
On either side of the Bristol Channel coastline are several significant British Heritage Coasts, namely Carmarthenshire, South Pembrokeshire, Glamorgan, Gower Peninsula, Hartland Point peninsula, Bideford Bay, and Exmoor. Situated in the Exmoor National Park are the Hangman cliffs, some of Britain's highest cliffs. The Great Hangman is England's highest sea cliff which rises to 318 m. The beaches on the Bristol Channel are known for their high waves. During low tides, major portions of the Bristol Channel turn into mudflats.
Wildlife And Human Settlement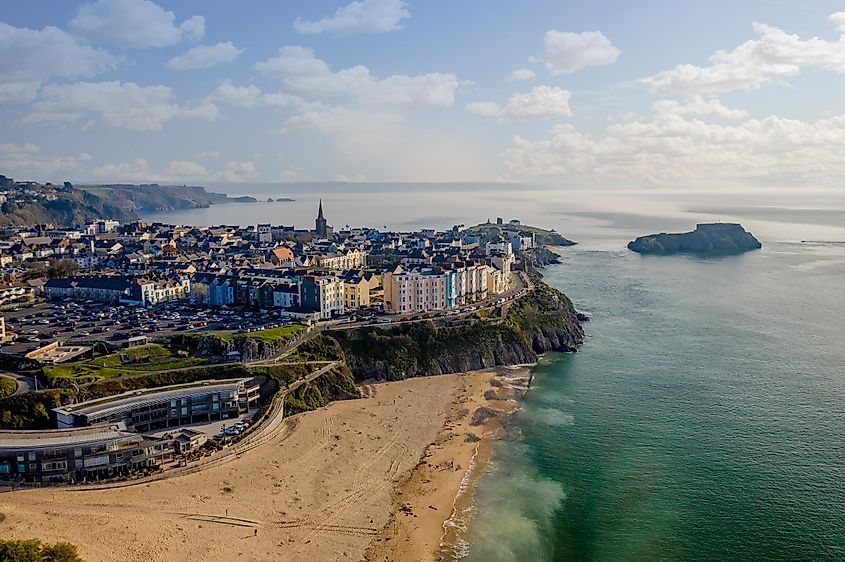 The islands of the Bristol Channel host some unique species of wildflowers. Several rare species like branching sponges, cup corals, sea fans, and seaweeds are also found in the waters around Lundy Island. The Bristol Channel Islands also serve as nesting sites for many avian species like gannets, guillemots, puffins, and shorebirds.
Several important towns and coastal cities are located along the Bristol Channel. Some of the major settlements on the channel's Welsh coast are Swansea, Llanelli, Barry, Port Talbot, Saundersfoot, Porthcawl, and Tenby. The Welsh towns of Cardiff and Newport are upstream of the channel. The major towns on the channel's English coast are Ilfracombe, Minehead, Burnham-on-Sea, Watchet, and Weston-super-Mare. The Bristol Channel and its surrounding areas are famous tourist destinations that provide for many recreational activities like surfing, swimming, walking, etc.
The Bristol Channel provides access to major regional ports. Ships using the Ports of Bristol, Cardiff, and Swansea pass through the Bristol Channel.