Which Crops and Plants Are Pollinated By Honey Bees?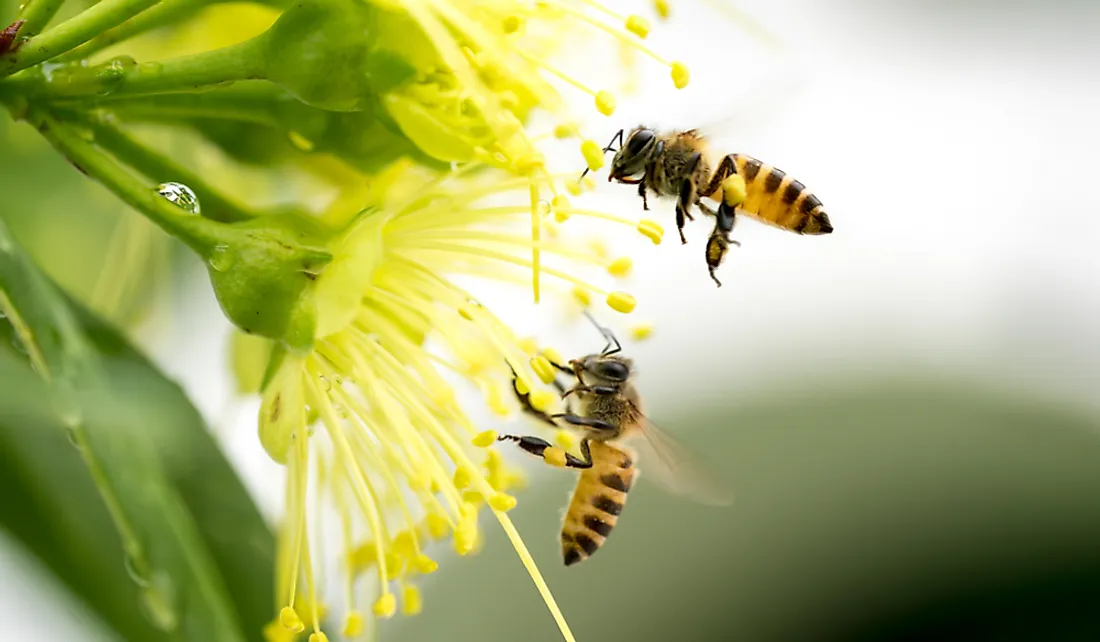 What Is Bee Pollination?
Bee pollination is one type of entomophily, which is pollination performed by insects. Bees are one of the most common pollinators and manage to visit several different plant species in a single afternoon. Bees land on these various plants and collect pollen and nectar, which they carry back to their hives as food for the colony. As they travel from plant to plant, bees deposit pollen on the female reproductive organs of new plants. This transfer of pollen allows for fertilization.
The Importance of Bee Pollination
Pollination is perhaps the most important function of bees, particularly honey bees. In fact, research shows that bees are responsible for pollinating approximately 16% of global flowering plants and around 400 agricultural crop plants. In 2010, honey bees (along with other pollinators) contributed to the pollination of around $19 billion worth of agricultural crops. This article takes a closer look at which specific crops are pollinated by honey bees.
Which Crops Are Pollinated By Honey Bees?
The importance of honey bee pollination varies per crop and can be classified as one of the following: essential, great, modest, and little.
Essential
Honey bee pollination is considered essential for eight crops: kiwifruit, passion fruit, rowanberry, watermelon, squash (includes pumpkin, gourd, and zucchini), macadamia nut, and brazil nut. These plants grow across a wide variety of agricultural climates, from temperate to tropical.
Kiwifruit is most successfully pollinated via saturation pollination. This method is when agricultural workers put about 8 hives for every 2.5 acres, thereby forcing bees to collect pollen from solely kiwifruit blossoms.
Passion fruit is most successfully pollinated via bee pollination because its pollen is too heavy and sticky to be transported across the wind. In the US state of Florida, for example, honey bees are the only pollinator for the yellow passion fruit species. In Australia, agricultural workers encourage honey bee pollination by placing 2 to 3 hives for every 2.5 acres.
Great
Bee pollination is characterized as having great importance in the following crops: cashew, starfruit, turnip, coriander, cucumber, durian, cardamom, loquat, buckwheat, feijoa, fennel, apple, mango, avocado, allspice, apricot, sweet and sour cherries, plum, almond, peach, pear, rose hips, raspberry, blackberry, naranjillo, and blueberry.
Of these crops, blueberries require the greatest number of honey bee hives per acre, between 3 and 4 colonies on each acre. Blueberries are unable to self-pollinate and produce sticky, heavy pollen, which means this plant relies on insects to help it achieve fertilization. In Australia, honey bees make up 95% of the insects that pollinate this crop. Blueberry blossoms attract bees with sweet nectar, which is produced at the base of the stigma.
Almonds are next, in terms of the number of colonies needed for pollination. This crop requires between 2 and 3 hives per acre for proper pollination. The almond plant attracts honey bees and other insects because it produces flowers earlier in the season than other crops, making it one of the only food sources available.
Modest
Crops that fall under modest honey bee pollination include: eggplant, jujube, karite, broad bean, service tree, sesame, elderberry, black currant, pomegranate, guava, prickly pear cactus, mammee apple, sunflower, cotton, strawberry, hyacinth bean, coffee plants, coconut, chestnut, caraway, sword bean, rapeseed, mustard, strawberry, and okra.
A list of the important crop plants that rely on honey bee pollination can be found in the chart published below.
Which Crops Plants Are Pollinated By Honey Bees?
| Rank | Common name | Latin name | Pollinator | Commercial product of pollination |
| --- | --- | --- | --- | --- |
| 1 | Okra | Abelmoschus esculentus | Honey bees (incl. Apis cerana), Solitary bees (Halictus spp.) | fruit |
| 2 | Kiwifruit | Actinidia deliciosa | Honey bees, Bumblebees, Solitary bees | fruit |
| 3 | Onion | Allium cepa | Honey bees, Solitary bees, Blow flies | seed |
| 4 | Cashew | Anacardium occidentale | Honey bees, Stingless bees, Bumblebees, Solitary bees (Centris tarsata), Butterflies, Flies, hummingbirds | nut |
| 5 | Celery | Apium graveolens | Honey bees, Solitary bees, Flies | seed |
| 6 | Strawberry tree | Arbutus unedo | Honey bees, Bumblebees | fruit |
| 7 | Carambola, Starfruit | Averrhoa carambola | Honey bees, Stingless bees | fruit |
| 8 | Beet | Beta vulgaris | Hover Flies, Honey bees, Solitary bees | seed |
| 9 | Mustard | Brassica alba, Brassica hirta, Brassica nigra | Honey bees, Solitary bees (Osmia cornifrons, Osmia lignaria) | seed |
| 10 | Rapeseed | Brassica napus | Honey bees, Solitary bees | seed |
| 11 | Broccoli | Brassica oleracea cultivar | Honey bees, Solitary bees | seed |
| 12 | Cauliflower | Brassica oleracea Botrytis Group | Honey bees, Solitary bees | seed |
| 13 | Cabbage | Brassica oleracea Capitata Group | Honey bees, Solitary bees | seed |
| 14 | Brussels sprouts | Brassica oleracea Gemmifera Group | Honey bees, Solitary bees | seed |
| 15 | Chinese cabbage | Brassica rapa | Honey bees, Solitary bees | seed |
| 16 | Turnip, Canola | Brassica rapa | Honey bees, Solitary bees (Andrena ilerda, Osmia cornifrons, Osmia lignaria, Halictus spp.), Flies | seed |
| 17 | Pigeon pea, Cajan pea, Congo bean | Cajanus cajan | Honey bees, Solitary bees (Megachile spp.), Carpenter bees | seed |
| 18 | Chilli pepper, Red pepper, Bell pepper, Green pepper | Capsicum annuum, Capsicum frutescens | Honey bees, Stingless bees (Melipona spp.), Bumblebees, Solitary bees, Hover flies | fruit |
| 19 | Papaya | Carica papaya | Honey bees, thrips, large sphinx moths, Moths, Butterflies | fruit |
| 20 | Safflower | Carthamus tinctorius | Honey bees, Solitary bees | seed |
| 21 | Caraway | Carum carvi | Honey bees, Solitary bees, Flies | seed |
| 22 | Chestnut | Castanea sativa | Honey bees, Solitary bees | nut |
| 23 | Watermelon | Citrullus lanatus | Honey bees, Bumblebees, Solitary bees | fruit |
| 24 | Tangerine | Citrus tangerina | Honey bees, Bumblebees | fruit |
| 25 | Orange, Grapefruit, Tangelo | Citrus spp. | Honey bees, Bumblebees | fruit |
| 26 | Coconut | Cocos nucifera | Honey bees, Stingless bees | nut |
| 27 | Coffea spp. Coffea arabica, Coffea canephora | Coffea spp. | Honey bees, Stingless bees, Solitary bees | fruit |
| 28 | Coriander | Coriandrum sativum | Honey bees, Solitary bees | seed |
| 29 | Crownvetch | Coronilla varia L. | Honey bees, Bumblebees, Solitary bees | seed (increased yield from pollinators) |
| 30 | Azarole | Crataegus azarolus | Honey bees, Solitary bees | fruit |
| 31 | Cantaloupe, Melon | Cucumis melo L. | Honey bees, Squash bees, Bumblebees, Solitary bees (Ceratina spp.) | fruit |
| 32 | Cucumber | Cucumis sativus | Honey bees, Squash bees, Bumblebees, Leafcutter bee (in greenhouse pollination), Solitary bees (for some parthenocarpic gynoecious green house varieties pollination is detrimental to fruit quality) | fruit |
| 33 | Squash (plant), Pumpkin, Gourd, Marrow, Zucchini | Cucurbita spp. | Honey bees, Squash bees, Bumblebees, Solitary bees | fruit |
| 34 | Guar bean, Goa bean | Cyamopsis tetragonoloba | Honey bees | seed |
| 35 | Quince | Cydonia oblonga Mill. | Honey bees | fruit |
| 36 | Lemon | | Honey bees | fruit |
| 37 | Lime | | Honey bees | fruit |
| 38 | Carrot | Daucus carota | Flies, Solitary bees, Honey bees | seed |
| 39 | Hyacinth bean | Dolichos spp. | Honey bees, Solitary bees | seed |
| 40 | Longan | Dimocarpus longan | Honey bees, Stingless bees | |
| 41 | Persimmon | Diospyros kaki, Diospyros virginiana | Honey bees, Bumblebees, Solitary bees | fruit |
| 42 | Cardamom | Elettaria cardamomum | Honey bees, Solitary bees | |
| 43 | Loquat | Eriobotrya japonica | Honey bees, Bumblebees | fruit |
| 44 | Buckwheat | Fagopyrum esculentum | Honey bees, Solitary bees | seed |
| 45 | Feijoa | Feijoa sellowiana | Honey bees, Solitary bees | fruit |
| 46 | Fennel | Foeniculum vulgare | Honey bees, Solitary bees, Flies | seed |
| 47 | Strawberry | Fragaria spp. | Honey bees, Stingless bees, Bumblebees, Solitary bees (Halictus spp.), Hover flies | fruit |
| 48 | Cotton | Gossypium spp. | Honey bees, Bumblebees, Solitary bees | seed, fiber |
| 49 | Sunflower | Helianthus annuus | Bumblebees, Solitary bees, Honey bees | seed |
| 50 | Flax | Linum usitatissimum | Honey bees, Bumblebees, Solitary bees | seed |
| 51 | Lychee | Litchi chinensis | Honey bees, Flies | fruit |
| 52 | Lupine | Lupinus angustifolius L. | Honey bees, Bumblebees, Solitary bees | seed |
| 53 | Macadamia | Macadamia ternifolia | Honey bees, Stingless bees (Trigona carbonaria), Solitary bees (Homalictus spp.), Wasps, Butterflies | nut |
| 54 | Acerola | Malpighia glabra | Honey bees, Solitary bees | fruit (minor commercial value) |
| 55 | Apple | Malus domestica, or Malus sylvestris | Honey bees, orchard mason bee, Bumblebees, Solitary bees (Andrena spp., Halictus spp., Osmia spp., Anthophora spp.), Hover flies (Eristalis cerealis, Eristalis tenax) | fruit |
| 56 | Mango | Mangifera indica | Honey bees, Stingless bees, Flies, Ants, Wasps | fruit |
| 57 | Alfalfa | Medicago sativa | Alfalfa leafcutter bee, Alkali bee, Honey bees | seed |
| 58 | Rambutan | Nephelium lappaceum | Honey bees, Stingless bees, Flies | fruit |
| 59 | Sainfoin | Onobrychis spp. | Honey bees, Solitary bees | seed |
| 60 | Avocado | Persea americana | Stingless bees, Solitary bees, Honey bees | fruit |
| 61 | Lima bean, Kidney bean, Haricot bean, Adzuki bean, Mungo bean, String bean, Green bean | Phaseolus spp. | Honey bees, Solitary bees | fruit, seed |
| 62 | Scarlet runner bean | Phaseolus coccineus L. | Bumblebees, Honey bees, Solitary bees, Thrips | seed |
| 63 | Allspice | Pimenta dioica | Honey bees, Solitary bees (Halictus spp., Exomalopsis spp., Ceratina spp.) | |
| 64 | Apricot | Prunus armeniaca | Honey bees, Bumblebees, Solitary bees, Flies | fruit |
| 65 | Sweet Cherry | Prunus avium spp. | Honey bees, Bumblebees, Solitary bees, Flies | fruit |
| 66 | Sour cherry | Prunus cerasus | Honey bees, Bumblebees, Solitary bees, Flies | fruit |
| 67 | Plum, Greengage, Mirabelle, Sloe | Prunus domestica, Prunus spinosa | Honey bees, Bumblebees, Solitary bees, Flies | fruit |
| 68 | Almond | Prunus dulcis, Prunus amygdalus, or Amygdalus communis | Honey bees, Bumblebees, Solitary bees (Osmia cornuta), Flies | nut |
| 69 | Peach, Nectarine | Prunus persica | Honey bees, Bumblebees, Solitary bees, Flies | fruit |
| 70 | Guava | Psidium guajava | Honey bees, Stingless bees, Bumblebees, Solitary bees (Lasioglossum spp.) | fruit |
| 71 | Pomegranate | Punica granatum | Honey bees, Solitary bees, Beetles | fruit |
| 72 | Pear | Pyrus communis | Honey bees, Bumblebees, Solitary bees, Hover flies (Eristalis spp.) | fruit |
| 73 | Black currant, Red currant | Ribes nigrum, Ribes rubrum | Honey bees, Bumblebees, Solitary bees | fruit |
| 74 | Rose hips, Dogroses | Rosa spp. | Honey bees, Bumblebees, Carpenter bees, Solitary bees, Hover flies | |
| 75 | Boysenberry | Rubus spp. | Honey bees, Bumblebees, Solitary bees | fruit |
| 76 | Raspberry | Rubus idaeus | Honey bees, Bumblebees, Solitary bees, Hover flies (Eristalis spp.) | fruit |
| 77 | Blackberry | Rubus fruticosus | Honey bees, Bumblebees, Solitary bees, Hover flies (Eristalis spp.) | fruit |
| 78 | Elderberry | Sambucus nigra | Honey bees, Solitary bees, Flies, Longhorn beetles | fruit |
| 79 | Sesame | Sesamum indicum | Honey bees, Solitary bees, Wasps, Flies | seed |
| 80 | Rowanberry | Sorbus aucuparia | Honey bees, Solitary bees, Bumblebees, Hover flies | fruit |
| 81 | Hog plum | Spondias spp. | Honey bees, Stingless bees (Melipona spp.) | fruit |
| 82 | Tamarind | Tamarindus indica | Honey bees (incl. Apis dorsata) | fruit |
| 83 | Clover (not all species) | Trifolium spp. | Honey bees, Bumblebees, Solitary bees | seed |
| 84 | White clover | Trifolium alba | Honey bees, Bumblebees, Solitary bees | seed |
| 85 | Alsike clover | Trifolium hybridum L. | Honey bees, Bumblebees, Solitary bees | seed |
| 86 | Crimson clover | Trifolium incarnatum | Honey bees, Bumblebees, Solitary bees | seed |
| 87 | Red clover | Trifolium pratense | Honey bees, Bumblebees, Solitary bees | seed |
| 88 | Arrowleaf clover | Trifolium vesiculosum Savi | Honey bees, Bumblebees, Solitary bees | seed |
| 89 | Cranberry | Vaccinium oxycoccus, Vaccinium macrocarpon | Bumblebees (Bombus affinis), Solitary bees (Megachile addenda, Alfalfa leafcutter bees), Honey bees | fruit |
| 90 | Broad bean | Vicia faba | Honey bees, Bumblebees, Solitary bees | seed |
| 91 | Vetch | Vicia spp. | Honey bees, Bumblebees, Solitary bees | seed |
| 92 | Cowpea, Black-eyed pea, Blackeye bean | Vigna unguiculata | Honey bees, Bumblebees, Solitary bees | seed |
| 93 | Karite | Vitellaria paradoxa | Honey bees | nut |
| 94 | Grape | Vitis spp. | Honey bees, Solitary bees, Flies | fruit |
| 95 | Jujube | Zizyphus jujuba | Honey bees, Solitary bees, Flies, Beetles, Wasps | fruit |