Environment
Which African Nations Have The Highest Number Of National Parks?
Kenya, Zambia, and South Africa have the highest number of national parks in Africa at 23, 20, and 19 respectively.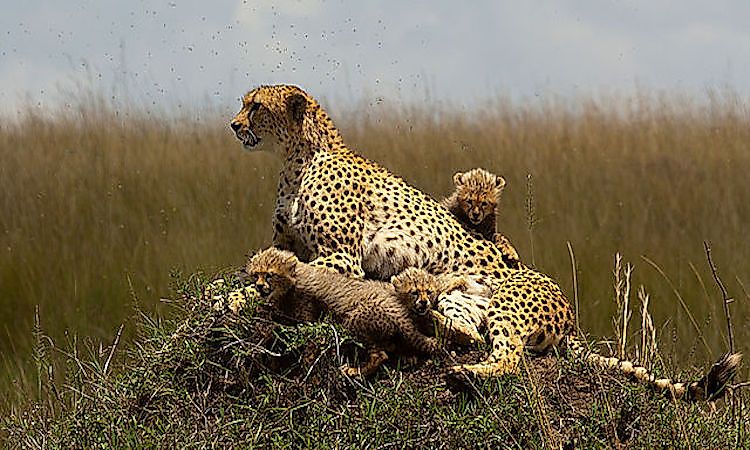 Africa is the second largest and second most populated continent in the world. It covers an area of about 30.3 million square kilometers including the adjacent islands and covers 6% of the total surface area of the Earth and 20.4% of the total land area of the earth. Africa has 54 countries and two disputed countries whose population was estimated at 1.1 billion in 2013 which accounts for 15% of the human population in the world. Africa is bordered by the Red Sea, the Mediterranean Sea, the Suez Canal, Indian Ocean, the Island of Madagascar and other archipelagos. Africa varies greatly in regards to environments and geographic features.

Biodiversity In Africa
Africa has over 3000 protected areas, 198 marine protected areas, 80 wetlands reserves, and 50 biosphere reserves. Africa's biological diversity and arable land are being reduced by the rapidly growing human population and poaching which concurrently destructs significant habitat. The main threat to the biodiversity of Africa is not only human intrusion but also the introduction of foreign species and civil unrest. The threats to Africa's biodiversity have been exacerbated by mismanagement of funds and funding problems, insufficient personnel and administrative problems.
Why Africa Need Protected Areas?
According to the United Nations Environment Program (UNEP), deforestation affects Africa at twice the world rate. The University of Pennsylvania, Africa Studies Center, has established that Africa loses more than 4 million hectares of forest per year with 31% of its pasture land and 19% of its forests and woodland being classified as degraded. About 90% of the regional forests in West Africa and over 90% of the original forests in Madagascar have been destroyed for the past 2000 years. There is the need for protected areas in regions of Africa that have natural and ecological significance in order to conserve the continent's biodiversity from further degradation.
The Top Three African Countries With The Highest Number Of National Parks
Africa has a vast array of wild animal populations and diversity of wild populations that range freely on non-private plains.
Kenya
Kenya is the number one country in Africa with the highest number of national parks with a total of 23 parks. The country's national park system is maintained by the Kenya Wildlife Services (KWS). In Kenya, there are two types of terrestrial protected areas which include national parks and national reserves. Non-terrestrial protected areas include marine parks and marine reserves.
The main roles played by the national parks in Kenya are conservation of wild and marine life and encourages tourism.
Zambia
Zambia has 20 national parks which are administered by the Zambia Wildlife Authority, Environment, and Natural Resources and an autonomous body from the Ministry of Tourism. A few of the national parks in Zambia are not maintained and have zero facilities and just a few animals while the others are highly concentrated with animals and are popular with tourists.
Two or three of Zambia's national parks are world famous. The main role of the national parks in Zambia is for tourism reasons.
South Africa
South Africa is the third country in Africa with the highest number of national parks having a total of 19 parks. The body responsible for managing national parks in South Africa is South African National Park's (SANParks) which was formed in 1926. Kruger and Table Mountain national parks are the two most visited tourist attractions in South Africa. The main reasons for establishing these parks are to preserve wildlife and for tourism.
Other National Parks In Africa
Kenya, Zambia and South Africa have the highest number of national parks in Africa at 23, 20 and 19 respectively. There are 29 countries in Africa with national parks with the top three included in the list above. Africa has a total of 268 national parks.
| Rank | Country | Number of parks |
| --- | --- | --- |
| 1 | Kenya | 23 |
| 2 | Zambia | 20 |
| 3 | South Africa | 19 |
| 4 | Madagascar | 18 |
| 5 | Tunisia | 17 |
| 6 | Tanzania | 16 |
| 7 | Ethiopia | 13 |
| 8 | Gabon | 13 |
| 9 | Zimbabwe | 11 |
| 10 | Algeria | 10 |
| 11 | Morocco | 10 |
| 12 | Uganda | 10 |
| 13 | Malawi | 9 |
| 14 | Côte d'Ivoire | 8 |
| 15 | Ghana | 8 |
| 16 | Namibia | 8 |
| 17 | Nigeria | 8 |
| 18 | Seychelles | 8 |
| 19 | Mozambique | 6 |
| 20 | Somalia | 6 |
| 21 | Botswana | 4 |
| 22 | Burkina Faso | 4 |
| 23 | Chad | 4 |
| 24 | Burundi | 3 |
| 25 | Egypt | 3 |
| 26 | Gambia | 3 |
| 27 | Mauritius | 3 |
| 28 | Sierra Leone | 2 |
| 29 | Niger | 1 |