The words "Chernobyl" and "disaster" go together for a very good reason: this event was the worst nuclear power accident in history. Though the data may not all be accurate, a United Nations report from 2006 reported that it caused 54 fatalities. Moscow hospitals treated approximately 15,000 victims, and Belarus and Ukraine had treated 40,000 more; a large percentage were children. So, what really happened?
The Explosion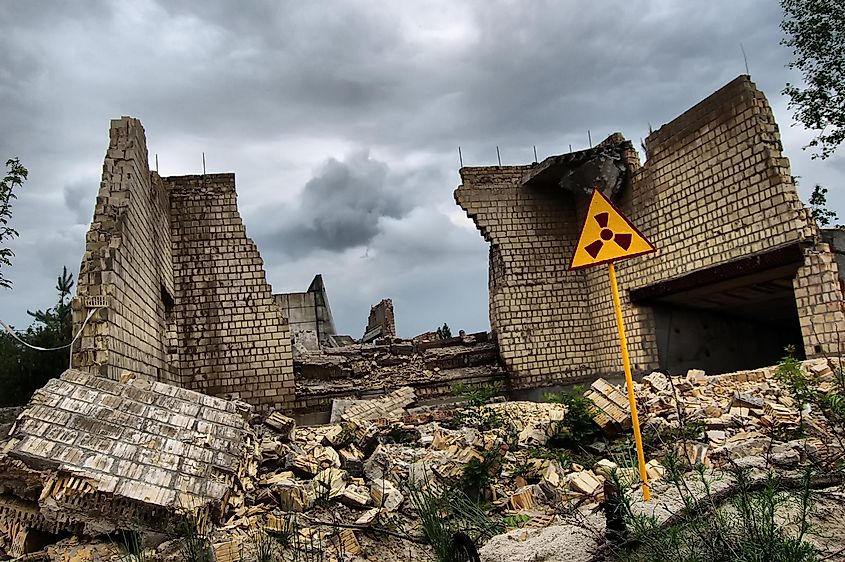 Chernobyl is located in Eastern Europe in Ukraine, part of the former Soviet Union. The nuclear power station was located 10 miles outside of Chernobyl, in the city of Pripyat.  It had four reactors, and each one was capable of generating 1,000 megawatts of electric power. The system first came online in 1977 through 1983.
On April 25 and 26, 1986, workers were conducting a reactor systems test and one mistake led to another. They had shut off the power regulating system and safety systems before removing most of the control rods out of the core. They allowed the reactor to run at seven percent power. On April 26, a sudden power surge occurred, leading to explosions and a raging fire that blew the lid off the reactor. This released vast amounts of radioactive material into the air and surrounding environment, causing a partial meltdown of the core.
Emergency Response and Evacuation
Emergency crews responded, flying in with helicopters to pour boron and sand on the reactor. Within weeks, a temporary concrete structure was erected over the damaged unit to stop more radioactive material from spreading out. The Soviet government also chopped down and buried the surrounding pine forest; eventually, 18 miles around the plant were closed off.
Pripyat's entire population of about 50,000 people were not evacuated until 36 hours after the explosion had occurred. They had to leave in a hurry and did not realize that they would not be able to live there again. The people were not allowed to bring many belongings with them, either.
It is estimated that 115,000 to 120,000 people were eventually evacuated, and 600,000 emergency workers employed to clean up the area and make it safe. However, around 31,000 soldiers were camped out close to the reactor. By doing so they were exposed to contaminated drinking water and radioactivity that was 1,000 times normal levels.
Aftermath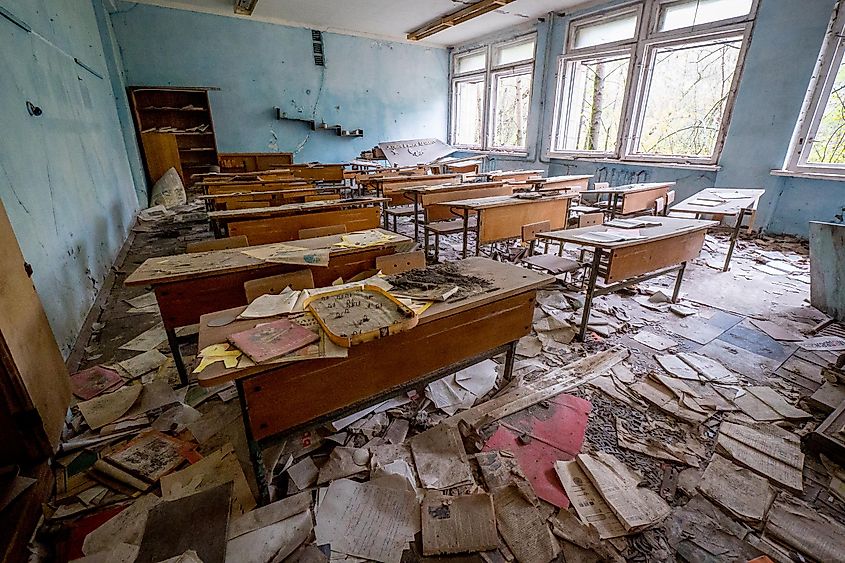 When the Soviet government alerted the world about the Chernobyl disaster, there was an international outcry about hazards from radioactive emissions. Brittanica.com reported that "Between 50 and 185 million curies of radionuclides (radioactive forms of chemical elements) escaped into the atmosphere." This is many times higher than the radioactivity created by the atomic bombs that were dropped on Hiroshima and Nagasaki, Japan. The winds also spread the particles to Belarus, Ukraine, Italy, and France.
Even though many people were evacuated, many more stayed in the contaminated areas. Countless acres of farmlands and forests were also contaminated. Years later, people were suffering from radiation illnesses and cancers; there were also reports of deformed livestock being born.
The Nuclear Regulatory Commission (NRC)'s report stated that most of the five million people living in these areas received very small doses of radiation. Overall, their evidence did not show an increase in adverse pregnancy and delivery outcomes or the overall health of children who were exposed. There may have been some cancer deaths in evacuees, residents, and emergency workers, but the data was unclear. They did find higher rates of anxiety, depression, and alcoholism in some of these populations, though.
The Exclusion Zone
After the Chernobyl disaster, the Soviet government was harshly criticized for the reactors' design flaws and unsafe procedures by workers. The power station's Unit 2 was shut down in 1991 after a fire; Unit 1 was shut down in 1996. The third unit operated until 2000 when the station was decommissioned.
After the explosion, the Soviet Union built an 18.6-mile zone around the Chernobyl plant. This exclusion zone encompassed about 1,017 square miles and was later increased to 1,600 square miles. No one lives here anymore, but scientists and other interested parties can file for permits that permit limited entry.
Scientificamerican.com describes the town as being "frozen in time." There are decaying supermarkets covered by trees and plants, a Ferris wheel that will never turn again, and rusted playground equipment. It is expected that this area will stay uninhabitable for thousands of years since some of the radioactive elements take a very long time to decay. The water contamination levels here have gone down, but there is still much radioactivity within the soil.