These long-legged birds are considered to be one of the tallest of all the flying birds. Their behavior varies by season and they need large areas of open space in their habitat. Cranes inhabit most of the world continents, but for some reason, they do not like South America. And Antarctica, but it is cold out there, so we get it.
Fortunately, cranes are not a critically endangered animal but human activity has affected some species of these long-necked birds, and thus are classified as threatened. There are 15 types of cranes in the world and they can live up to 20 years! Apart from living long, having rich vocalization and a large vocabulary, cranes they are also known to eat a wide range of foods. 
Cranes Are Opportunistic Feeders
What does it mean to be an opportunistic feeder? It means that some animals adjust their nutrition in relation to the season and what their body needs. Most of the time, small rodents and fish will be their main course, along with various insects. However, they will also appreciate some berries for dessert.
They eat both animals and plants, ie. they are omnivores. Foods like berries, leaves, seeds, and such are their primary choice when they are on land. In wetlands, they will eat rhizomes, roots, and mollusks. It all depends on where they are located at the given time, and what is available to them.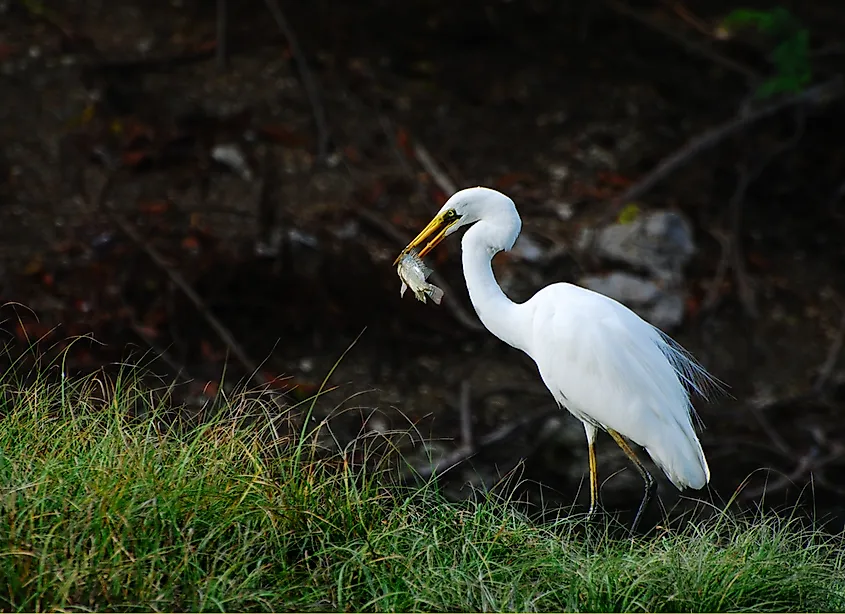 Different food types also require different feeding techniques. When eating plants like rhizomes, which have underground plant stems, cranes dig and expand the hole to find their food. When they are hunting animal food, they will move slowly, lowering their head and approaching with caution.
What is especially interesting is that different crane species will hunt different food when they co-exist in the same area. For example, the Siberian cranes will feed in shallow water while the hooded cranes will feed on sedge meadows to avoid competition.
Why It Is Not a Good Idea To Feed Cranes
In some cases, cranes are known to display hostile and aggressive behavior towards human beings (there were even cases of children being attacked by cranes) and their property. It is not a got idea to attract cranes to urban areas by offering them food, as it can put them to risk of different predators, road traffic, and even pesticide poisoning.
Florida's sandhill cranes (Antigone Canadensis) for example, are likely to get hit by cars as they walk into traffic because they have become accustomed to people that like to feed them. Feeding any wildlife is generally not a good idea and should be kept at a minimum.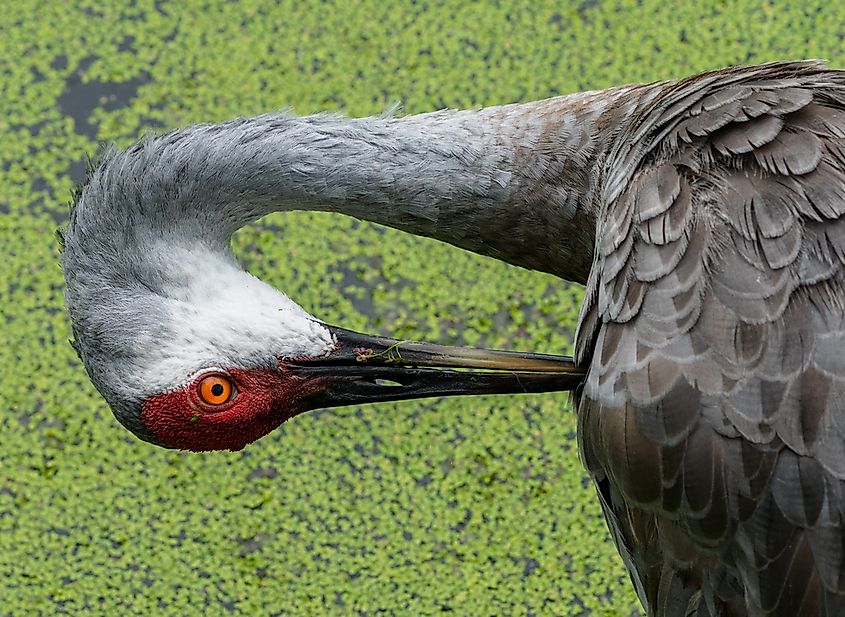 Because their diet is so diverse, and dependant on environmental factors, it is harmful to them to consistently eat only one food item like corn (which is one of the most common handouts), or in worse cases - our food. Because of these reasons, the Fish and Wildlife Conservation Commission made it illegal to feed sandhill cranes in Florida.