Water Buffalo Facts: Animals of Asia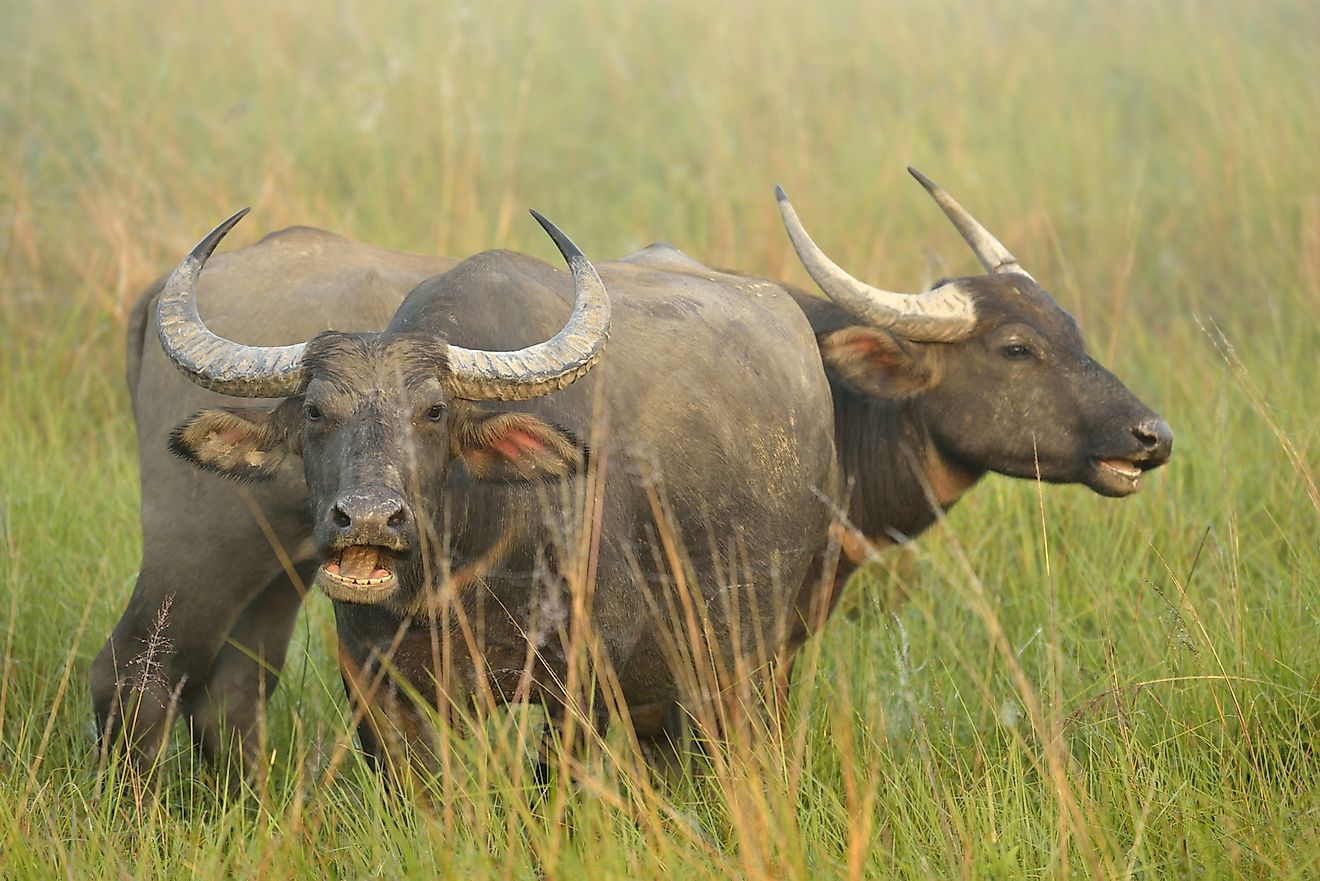 5. Physical Description
The water buffalo, or the Asian buffalo, has a long, narrow face, small ears, and large horns. It has a gray-black coat, and horns that don't meet at the forehead like those of the African buffalo. Its horns are rough, and have rib-like serrations, and its feet have wide hooves to prevent sinking into the mud. Its height up to the shoulder is 1.5 to 1.9 meters (59 to 75 inches), and its length from head to rump is between 2.4 and 2.7 meters (94 to 106 inches) according to National Geographic. The Asian buffalo's tail length is 60 to 100 centimeters. The adult water buffalo's weight is between 1,500 and 2,650 pounds, with males being fairly larger than females.
4. Diet
The water buffalo is a herbivorous, ruminant, grazer. According to Animal Diversity (AD), it eats grasses, herbs, aquatic plants, leaves, farmers' crops, and aquatic vegetation growing along rivers and marshes. It may also at time feed on bark or stems and microalgae, according to National Geographic (NG). The water buffalo grazes in the mornings, evenings, and, at times, of the night, according to ARKive Initiative.
3. Habitat and Range
The wild water buffalo is native to Southeast Asian countries. According to ARKive initiative, India is home to much of the Asian buffalo's population, though they are also spread throughout Nepal, Bhutan, and Thailand, especially in wilderness reserves.The water buffalo has also been introduced into North Africa, Brazil, Central America, and Australia. Its ideal habitat is found in tropical, and subtropical forests or wet grasslands, according to Animal Diversity. Such habitats have tall grasses, rivers, streams, swamps, and a scattering of trees. These forests also have enough water to drink from, and allow these behemoth creatures to wallow in the mud. The 2008 report by International Union for Conservation of Nature's (IUCN's) Red List of Threatened Species classified the water buffalo as an "Endangered" species. The main threats to its existence are interbreeding with domestic buffalo, hunting, habitat loss, and degradation.
2. Behavior
The wild water buffalo is social and not territorial. A typical herd of water buffaloes is comprised by 10 to 20 individuals, led by a dominant, older, matriarch. When it's hot out, these creatures bathe and wallows in the mud to keep cool. These muddy coats also protect their skin from biting insects. If there is no place to wallow in the mud, the water buffalo rests in shady areas. At about the age of 3, young water buffalo males leave the group to form bachelor herds of up to 10 bulls. Aged males may lead a largely solitary lifestyle, though they can also live near female herds.
1. Reproduction
Sexual maturity for a female water buffalo begins at 1.5 years and, for the male, this occurs at 3 years according to Animal Diversity. During wet seasons, adult males go to the female groups and mate with estrus females. Males detect estrus females by sniffing their (females') urine and genitals. After mating, the males are chased away by females for the next 11 to 72 hours. One male water buffalo can mate with several females and, during mating, competitive conflict among males can result in serious injuries. The gestation period of a wild buffalo lasts from 300 to 340 days, after which a female gives birth to one or two calves. At birth the calf weighs 35 to 40 kilograms, and is nursed from 6 to 9 months. According to AD, a female on average produces a calf every two years. In captivity, a wild buffalo can have an average lifespan of up to 25 years, according to National Geographic, though in the wild they will likely make it to only around 12 years.