Travel
Virginia Beach, United States - Unique Places around the World
Virginia Beach is as well known for its safety and rich history as it is for being known as an easily accessible vacation hotspot.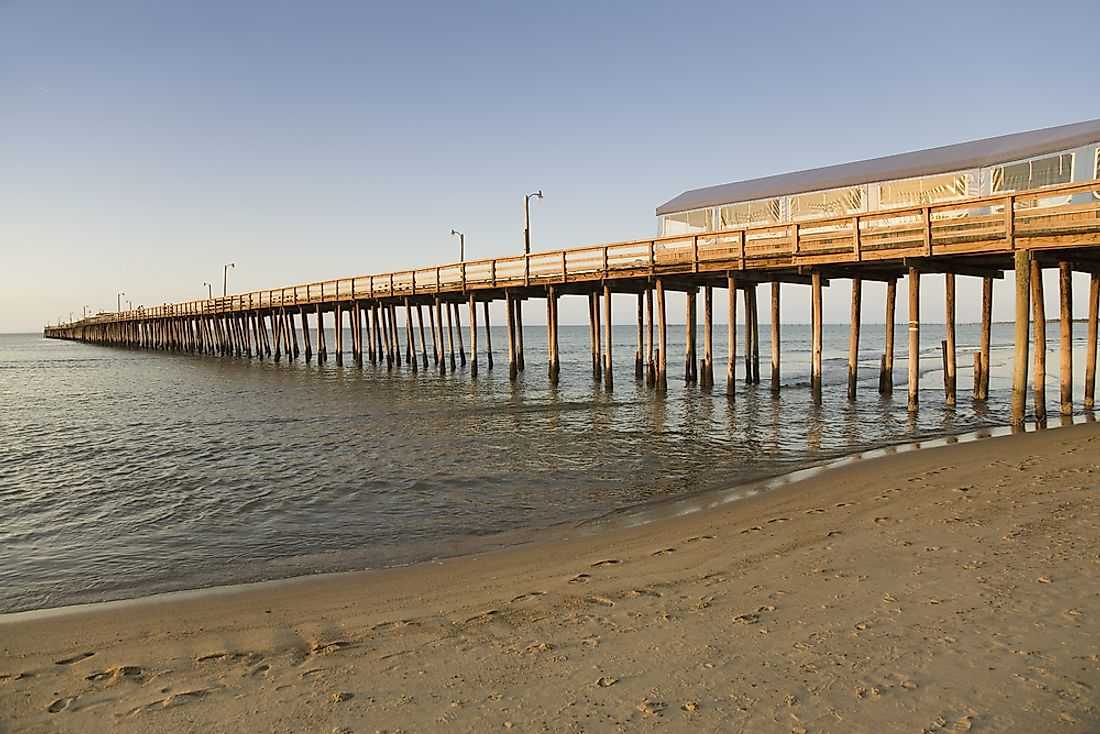 Description
Virginia Beach is a city located in the state of Virginia in the United States. It is located at the mouth of Chesapeake Bay, an estuary that separates the contiguous state of Virginia from its Atlantic Coast. As a result of its unique geography, Virginia Beach is regarded as a resort city with beaches stretching miles and several hotels, motels and restaurants situated along its shoreline. As one of the oldest cities in the United States, Virginia Beach has earned the reputation of being considered a quintessential beach vacation destination and a tourist-friendly oceanfront resort. The climate of Virginia Beach is classified as humid subtropical, meaning it is characterized by mild winters and moderate snowfall, but hot and humid summers. The rainfall received by the city remains constant throughout the year, though spring and summer remain the wettest seasons.
Tourism
As a reputed beach resort, Virginia Beach offers various options for tourists to choose from. Tourist activities can range from visits to nearby national, state, and city parks (the area right in and around the city is home to over 200 parks alone), to outdoor activities like boarding, kayaking, fishing, and bird- and whale-watching. The Virginia Beach Oceanfront, a three mile-long boardwalk area, acts as the city's main tourist attraction, as it features many monuments important to Virginia's history and links to dozens of hotels and restaurants. At 28 feet wide, the Oceanfront has a separate path for biking, making it an ideal spot for quietly strolling. The Oceanfront is considered one of America's best beach boardwalks. Other places of attraction for tourists include the Back Bay National Wildlife Refuge, a wildlife reserve whose area of 36.7 square kilometers is home to Atlantic habitat such as Tundra swan and Bobcat, and important museums such as the Virginia Aquarium & Marine Science Center and Atlantic Wildfowl Heritage Museum. Norfolk International Terminal, in the neighboring city of Norfolk, serves as the nearest airport to Virginia Beach.
Uniqueness
The recorded culture of Virginia Beach dates back to the 16th century when it was first visited by European settlers. At that time, it was inhabited by the Chesepians, one of several Native American tribes in the area that would become Virginia Colony. Since then, this independent city of Virginia has gained a strong reputation for being one of the classiest beach resorts in the country. The Guinness Book of Records lists the city as being the "longest pleasure beach in the world". Fall is said to be the best time of the year to visit the city. The city is known to provide variety of options for the travelers, in the form of hiking, trailing, state parks, wildlife refuges, and, of course, its miles and miles of scenic beaches.
Habitat
In forms of state park, aquariums, museums, and wildlife refuges, the city offers a range of unique perspectives regarding its natural habitats. First Landing State Park, the most visited state park in the city, is called home to unusual habitat features which include bald cypress swamps and lagoons, filled with rare plants and wildlife. At 2,288 acres in size, the park provides trails distinguished from one another, including Spanish moss trees and freshwater ponds, as well as a picturesque view of the Chesapeake Bay. Aquariums such as the Virginia Aquarium & Marine Science Center organize cruises along the Atlantic Coast which provide ample opportunities for the tourists there to view marine life, including whales, seals, and dolphins, as well as a variety of bird species.
Threats
The Commonwealth of Virginia is facing increasing levels of danger to its biodiversity, largely due to loss of, and degradation within, its natural habitats. Increasing urbanization poses grave threats as cities encroach upon the natural landscapes across the state. Chesapeake Bay holds special interest to many environmental activists, as it is one of the more vulnerable spots in the countryside. Submerged aquatic vegetation such as bay grasses are being rendered unsuitable for consumption by the aquatic species due to increasing water pollution. Pollutants such as excessive nutrients form dense algal bloom around the bay grasses. The excessive nutrient formation is a direct result of increased urbanization. Before excessive urbanization, the nutrient used to get naturally absorbed by the surrounding wildlife and habitat.
This page was last updated on April 25, 2017.
Citations
Your MLA Citation
Your APA Citation
Your Chicago Citation
Your Harvard Citation
Remember to italicize the title of this article in your Harvard citation.