Environment
Major Rivers Of Peru
Peru shares the Amazon and most of its major rivers with its neighbors. The Ucayali is the longest wholly within its borders.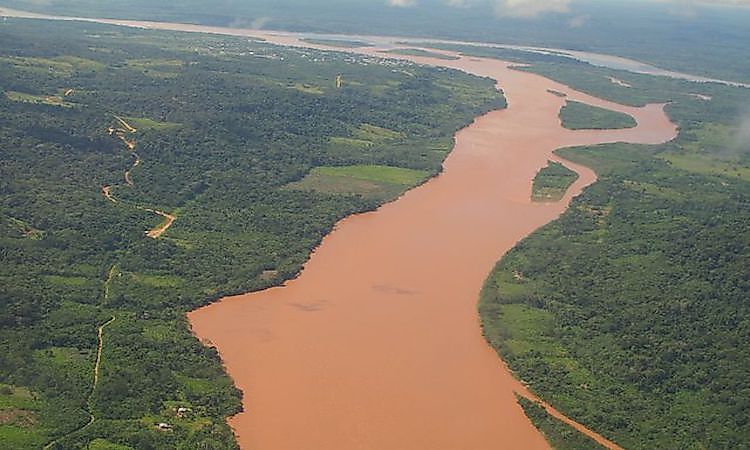 Peru shares most of its rivers with its neighboring countries, including the Amazon River, one of the longest and most diverse rivers in the world. Most Peruvian rivers originate from the peaks of the Andes and drain into three basins. Those pouring into the Pacific Ocean are short and steep and flow intermittently. Tributaries of the Amazon River are fuller, longer and less steep and the rivers that drain into Lake Titicaca are short and fuller.
The Major Rivers Of Peru
Amazon River
The mighty Amazon River is probably the longest river on earth, covering a total of 4,345 miles measured from the mouth to the most distant all year round source. It flows through Peru, Brazil, Ecuador, Colombia, Bolivia, Guyana, and Suriname. It carries more water than any other river and is responsible for about one-fifth of all freshwater that flows into the world's oceans. These waters are a home to about 3,000 known species of fish. The Peruvian Amazon Rainforest covers approximately 60% of Peruvian land and is one of the most diverse ecosystems on earth. It hosts about 262 species of amphibians, 806 species of birds, 300 mammal species, 180 reptile species and 8,000 plants. The Pacaya Samira Reserve is located on the river tributaries, and it is vibrant with blue-and-yellow macaws, snowy egrets, laughing falcons, and kingfishers among others. Illegal gold mining, pollution, and illegal oil extraction going on in the river and its basins are the threats facing this longest river.
Purus
Purus River is a feeder of the Amazon River and covers a total of 1,839 miles. It rises in Peru and defines the boundary between Peru and Brazil. The forested area around the Purus supports several species of animals including the pure red howler monkey native to Peru, Brazil, and Bolivia. Among the birds here are the blue heron, egrets, scarlet, green parrots, and macaws. There are also large predators like water lizards and boa constrictor snake. The river had a great historical significance and was named after a local branch of the natives who settled in the region. It supported the civilization of multiple tribes and earthworks of this pre-Colombian culture still exist in the upper area of the river, just close to the Bolivian border. Many of the Brazil's and Peru's rubber plantations are concentrated along its course, and its basin is a major supplier of cash crops and commodities like manioc, jute, and guarana. The trans-Amazonian highway cutting across the river basin serves as a primary facilitator for deforestation and pollution in this region which is a major concern as it affects its biodiversity.
Jurua
The Jurua River is one of the largest, most navigable and economically important rivers in Brazil and Peru, covering a length of 1, 926 miles. It meanders through floodplains and forested areas with an incomparable biodiversity of flora and fauna which are sources of livelihood for the communities living in its vicinity. Some of the main economic activities carried out in the area include logging, agriculture, fishing, and construction. It is one of the major electricity suppliers with hydroelectric dams built along its banks. Its fauna and flora include trees like capirona, capinuri and ceiba tree. The Peruvian portion has about 184 fish species including catfish, crustaceans, and discusses fish. The variable avian range from kingfishers, parrots, wild ducks to horned screamers. Foreign companies invading the forest land in search of rubber and oil deposits, and hydroelectric dam constructions are the major threats to this river.
Maranon
Maranon River is one of the most important rivers in Peru and a key tributary to the Amazon River. Dry forests extend along the upper river valley and its tributaries and are home to 64 rare bird species, 26 of them are endemic to Peru. The pacaya-samina national reserve is located in the area between the marina and Ucayali Rivers with abundant plant life and water life including pink dolphins, Amazonian manatees, giant river otters and giant river turtles. Animas include a variety of endangered monkey such as the spider monkey, wholly monkey and howler monkey. The proposed hydroelectric dam construction along the banks of the river is a supposed major threat likely to face Maranon River.
Other Rivers In Peru
The longest river that is wholly Peru's is Ucayali flowing in an area of 994 miles and drains into the Amazon River. The Putumayo River crosses through the territories of Colombia, Ecuador, Brazil and Peru and later joins the Amazon River. It is a major transport, navigable for almost its total length. The other main rivers of Peru include Javari River shared by Peru and Brazil, Napo River crossing Peru and Ecuador territories and Huallaga River which is wholly within Peru.
The Major Rivers Of Peru
| Rank | Major Rivers of Peru | Total Length |
| --- | --- | --- |
| 1 | Amazon | 4,345 miles (shared with Brazil, Colombia, and Ecuador) |
| 2 | Purus | 1,839 miles (shared with Brazil) |
| 3 | Jurua | 1,926 miles (shared with Brazil) |
| 4 | Marañón | 1,079 miles (shared with Ecuador) |
| 5 | Putumayo | 1,000 miles (shared with Brazil, Colombia, and Ecuador) |
| 6 | Ucayali | 994 miles (wholly within Peru) |
| 7 | Javary | 736 miles (shared with Brazil) |
| 8 | Huallaga | 671 miles (wholly within Peru) |
| 9 | Napo | 702 miles (shared with Ecuador) |
This page was last updated on April 25, 2017.
Citations
Your MLA Citation
Your APA Citation
Your Chicago Citation
Your Harvard Citation
Remember to italicize the title of this article in your Harvard citation.