The Largest Reservoirs of California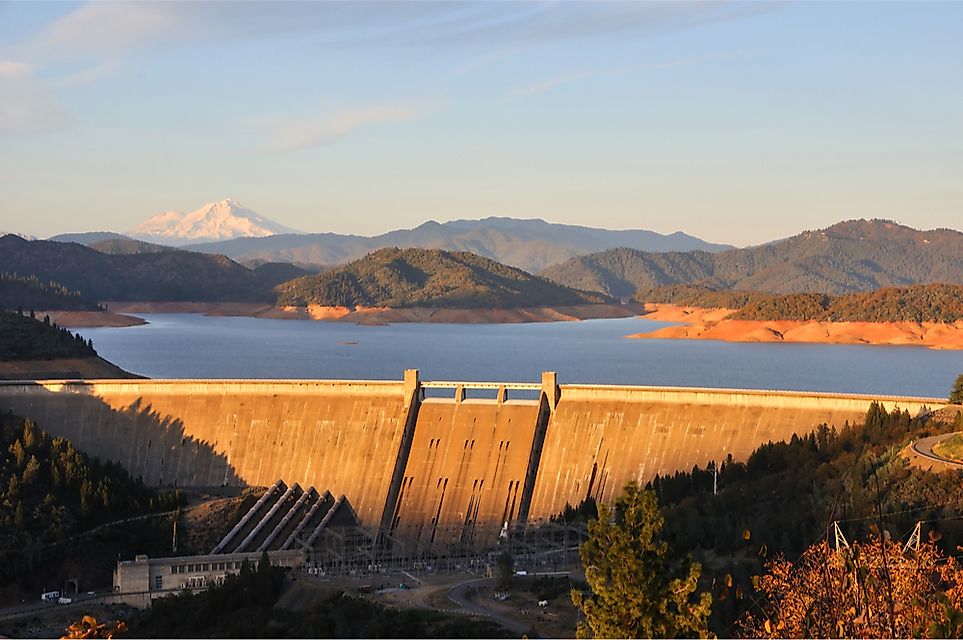 A reservoir is a fluid storage space, and typically refer to an enlarged natural or artificial lake created to store fluids, especially water. California has more than 1,000 major reservoirs, 200 of which have a combined capacity of over 40 million acre feet. Thirty-six of California's reservoirs have a capacity of more than 200,000 acre-feet at maximum capacity. Most of the large reservoirs in the state of California are owned by the federal Bureau of Reclamation, and many serve the State Water Project or the Central Valley Project. Smaller reservoirs are run by county water agencies and irrigation and flood mitigation districts. Most large reservoirs are located in the central and northern parts of the state, especially along rivers that are prone to flooding.
Largest Reservoirs of California
Six of California's reservoirs have a capacity of more than 2 million acre-feet. Shasta Lake, the largest reservoir in the state, has a capacity of over 4.5 million acre feet. The reservoir is located in Shasta County and is a critical source of water for Central Valley farms and the surrounding cities. When full, Shasta Lake can hold enough water for the needs of over 23 million people for a year. The second largest reservoir in the state is Lake Oroville, which is located in Butte County. The 3.5 million acre foot reservoir assists in flood control and provides recreation for the residents of Butte County. Lake Oroville is also known as a bass fishing location. Trinity Lake, the third largest reservoir in the state, is an artificial lake located on the Trinity River, and formed by the Trinity Dam. The lake has a capacity of 2.448 million acre feet and stores water for the Central Valley Project. Trinity Lake is popular for its many arms and favourable water-skiing conditions.
New Melones Lake, the San Luis Reservoir, and the Don Pedro Reservoir also have a capacity of more than two million acre-feet. New Melones Lake on the Stanislaus River has a capacity of 2.4 million acre feet and is a water collection and transfer unit for the Central Valley Project, providing water for irrigation and hydroelectric power. The San Luis Reservoir is an artificial lake with a capacity of 2.04 million acre feet, and stores water from San Luis Creek and supplies it to over 63,000 acres of land in the Santa Clara Valley. The Don Pedro Reservoir is located in Tuolumne County and was formed by the building of a dam across the Tuolumne River. When full, the reservoir stores about 2.03 million acre feet of water which is mainly used by the Modesto Irrigation District. Other notably large reservoirs in California with a capacity of over 1 million acre feet include Lake Berryessa, Lake Almanor, Folsom Lake, Lake McClure, and Pine Flat Lake.
Importance of Reservoirs
Efficient flood management is important in California. The state will always have flood problems, and reservoirs have been included in the flood management program. Almost all large reservoirs in California have a reserved seasonal flood management pool to prevent overflows caused by storms. Reservoirs are able to moderate floods and supply water for irrigation. They are also important sources of hydroelectric power and water for the industrial use in the Central Valley. Some of the reservoirs like Lake Oroville are important fishing locations in California.
The Largest Reservoirs of California
| Rank | Reservoir Name | Volume (Km^3) | Outflow | Dam | |
| --- | --- | --- | --- | --- | --- |
| 1 | Shasta Lake | 5.615 | Sacramento River | Shasta Dam | |
| 2 | Lake Oroville | 4.364 | Feather River | Oroville Dam | |
| 3 | Trinity Lake | 3.02 | Trinity River | Trinity Dam | |
| 4 | New Melones Lake | 2.96 | Stanislaus River | New Melones Dam | |
| 5 | San Luis Reservoir | 2.518 | San Luis Creek | San Luis Dam | |
| 6 | Don Pedro Reservoir | 2.504 | Tuolumne River | New Don Pedro Dam | |
| 7 | Lake Berryessa | 1.976 | Putah Creek | Monticello Dam | |
| 8 | Lake Almanor | 1.613 | North Feather River | Canyon Dam | |
| 9 | Folsom Lake | 1.382 | American River | Folsom Dam | |
| 10 | Lake McClure | 1.264 | Merced River | New Exchequer Dam | |
| 11 | Pine Flat Lake | 1.233 | Kings River | Pine Flat Dam | |
| 12 | New Bullards Bar Reservoir | 1.229 | North Yuba River | New Bullards Bar Dam | |
| 13 | Diamond Valley Lake | 0.999 | Domenigoni Creek | West Dam | |
| 14 | Lake Tahoe[n 6] | 0.903 | Truckee River | Lake Tahoe Dam | |
| 15 | Lake Havasu | 0.797 | Colorado River | Parker Dam | |
| 16 | Lake Isabella | 0.701 | Kern River | Isabella Dam | |