Environment
The Tallest Mountains In Bulgaria
Musala in southwestern Bulgaria is the highest peak in the Balkans with an elevation of 9,596 feet above sea level.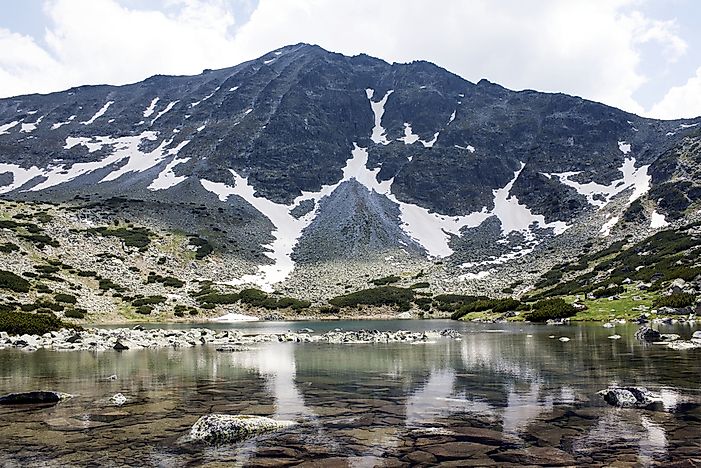 Bulgaria, officially the Republic of Bulgaria is a country in southeastern Europe bordered by Romania, Serbia, Macedonia, Greece, Turkey, and the Black Sea covering an area of 42,855 square miles. It occupies a portion of the eastern Balkan peninsula with the most notable topographical features are the Danubian Plain, the Balkan Mountains, the Thracian Plain, and the Rhodope Mountains. Bulgaria is one of the countries with the highest biodiversity in Europe with 35% of its land area covered with forests with 3,800 species of flora present. There are scores of fungi and growing populations of animals.
Tallest Mountains In Bulgaria
Musala Mountain
Mount Musala is the highest peak in the entire Balkan Peninsula with an elevation of 9,596 feet in Eastern Europe between the Alps and Caucasus region. The peak is the coldest place in Bulgaria and Balkan Peninsula due to its alpine climate with long cold winters snow cover that lasts for up to 9 months. Short cool summers last only two months and hold the possibility of snowfall.
Vihren Mountain
Mount Vihren, located in the northern part of Pirin, is the second highest summit in Bulgaria and the third highest in Balkan Peninsula after Musala and Mount Olympus. It has an elevation of 9,560 feet and can be reached through Vihren chalet, Banderitsa chalet, or across the ridge Koncheto. Several Pirin's lakes are located around the peak, as is Europe's southernmost glacial mass, the Snezhnika glacielet.
Kutelo Mountain
Mount Kutelo is located in Pirin, Bulgaria with an elevation of 9,540 feet above sea level. It is 2nd highest peak of Pirin and 5th highest peak of Balkan Peninsula. The peaks Kutelo and Vihren create beautiful mountain scenery of Pirin National Park and are separated by Saddle which is placed below eastern side of Kutelo and western side of Vihren. Kutelo has two peaks, Kutelo I and Kutelo II which are connected by a ridge called Koncheto Ridge.
Malka Musala Mountain
Mount Malka Musala is the second highest peak of Rila and fourth highest of Bulgaria with an elevation of 9,520 feet above sea level. It is also one of six summits of the Balkan Peninsula that are higher than 9,500 feet and is located is in Musala's north-eastern ridge, between the highest Balkan mountain itself and Ireček. Several hikers visit the every sunny summer day through the well-maintained trail, not many of them venture to climb the rocky ridges.
Bansky Suchodol
The Bansky Suchodol is located in the Pirin Range in Sofia, Bulgaria and is ranked as the second highest mountain in Sofiya and the third highest mountain in Bulgaria with an elevation of 9,461 feet above sea level. It is found near various peaks like Vikhren, Todorinvrukh, Dautov Vrukh, Sinanitsa, and Pirin.
Significance of these Mountains
Various mountains in Bulgaria are important tourist attraction sites and attracts hundreds of tourists a year. Resorts, restaurants, and gift shops have been established this has created employment opportunities. Living standards and infrastructure have also been improved over the years due to the high number of tourists
Tallest Mountains In Bulgaria
| Rank | Tallest Mountains in Bulgaria | Elevation |
| --- | --- | --- |
| 1 | Musala | 9,596 feet |
| 2 | Vihren | 9,560 feet |
| 3 | Kutelo | 9,540 feet |
| 4 | Malka Musala | 9,520 feet |
| 5 | Bansky Suchodol | 9,461 feet |
| 6 | Irechek | 9,356 feet |
| 7 | Polezhan | 9,353 feet |
| 8 | Vitosha | 7,513 feet |
| 9 | Golyam Perelik | 7,188 feet |
| 10 | Radomir | 6,657 feet |
This page was last updated on June 18, 2019.
Citations
Your MLA Citation
Your APA Citation
Your Chicago Citation
Your Harvard Citation
Remember to italicize the title of this article in your Harvard citation.