Environment
Pitons Management Area, Saint Lucia
Pitons has an intriguing mix of volcanic and geothermal wonders, as well as coral reef biodiversity offshore.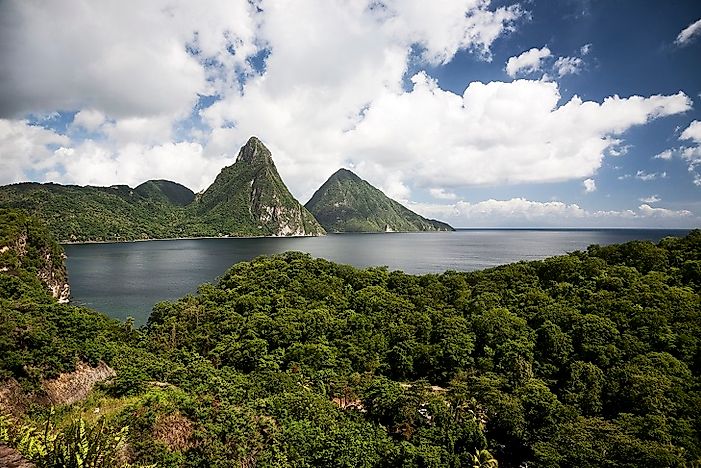 5. Description -
Located on the island of Saint Lucia, the Pitons Management Area is a small reserve known for its two spectacular volcanic cones. These are Gros Piton at a height of 777 meters, and Petit Piton at 743 meters. A ridge links the two cones, while the area has a geothermal field comprising of several sulfurous fumaroles as well as hot springs. The two cones look stunning against green tropical vegetation. They are visible from anywhere on the island. This is always a distinctive landmark for sailors. The area is quite near to the town of Soufriere, a favorite of the tourists who visits the Saint Lucia Island.
4. Natural History-
Geologists believe that the formation of the cones of the Pitons Management Area were due to extensive volcanic eruptions long ago. These eruptions must have occurred less than one million years ago shaping the two cones perpendicularly straight out of the Caribbean Sea. However, some differ in the opinion. As per their studies, the formation of the area is a result of an extensive volcanic eruption that might have happened 30 to 40 million years ago.
3. Tourism and Education -
Being a United Nations Educational, Scientific, and Cultural Organization (UNESCO) Natural World Heritage Site, the Pitons Management Area attracts substantial numbers of tourists every year from all around the world. These foreigners come to take in and submerge themselves in its natural beauty. Tourists enjoy hiking, snorkeling, fishing, boat riding, and many other activities in the area. Many also just prefer to gaze and appreciate natural beauty of the volcanic cones and enjoying local cuisine. There are in fact plenty of resorts and restaurants to serve the tourists. The literacy rate is high in the area. However, there is now an increased demand to educate the local communities in regard to the need of preserving natural resources of the area, as well as to educate the area's visitors concerning the principles of sustainable tourism.
2. Habitats and Biodiversity -
The area has long been a natural habitat for a long stretch of coral reefs, which account for approximately 60% of its marine area. It is also a home to more than 160 species of finfishes, multiple species of mollusks, sponges, echinoderms, annelid worms, cnidarians, and arthropods. One can also spot many species of birds, indigenous rodents, bats, reptiles, and amphibians. The area enjoys immense biodiversity and experience abundance of rainfall. It has forests with some of the rare species of trees, shrubs, and herbs that make it all the more special for the people having an interest in botany.
1. Environmental Threats and Conservation Efforts -
Some of the key threats to the Pitons Management Area are due to the effects of climate change, such as the intensification of ocean acidification, and worsened tropical storms, droughts, and hurricanes. Earlier, the area experiences severe damage because of weather events such as the Tropical Storm Debbie and Hurricane Lenny. Other environmental threats are landslides and rapid soil erosion. Another major threat is an extensive development of infrastructure since it is included as a UNESCO world heritage site. UNESCO has a program known as the Small Island Developing States (SIDS) to conserve the Pitons Management Area. Apart from these, there are a number of organizations such as the Saint Lucia National Trust, Soufriere Regional Development Foundation, Soufriere Marine Management Association, and others.
This page was last updated on April 25, 2017.
Citations
Your MLA Citation
Your APA Citation
Your Chicago Citation
Your Harvard Citation
Remember to italicize the title of this article in your Harvard citation.