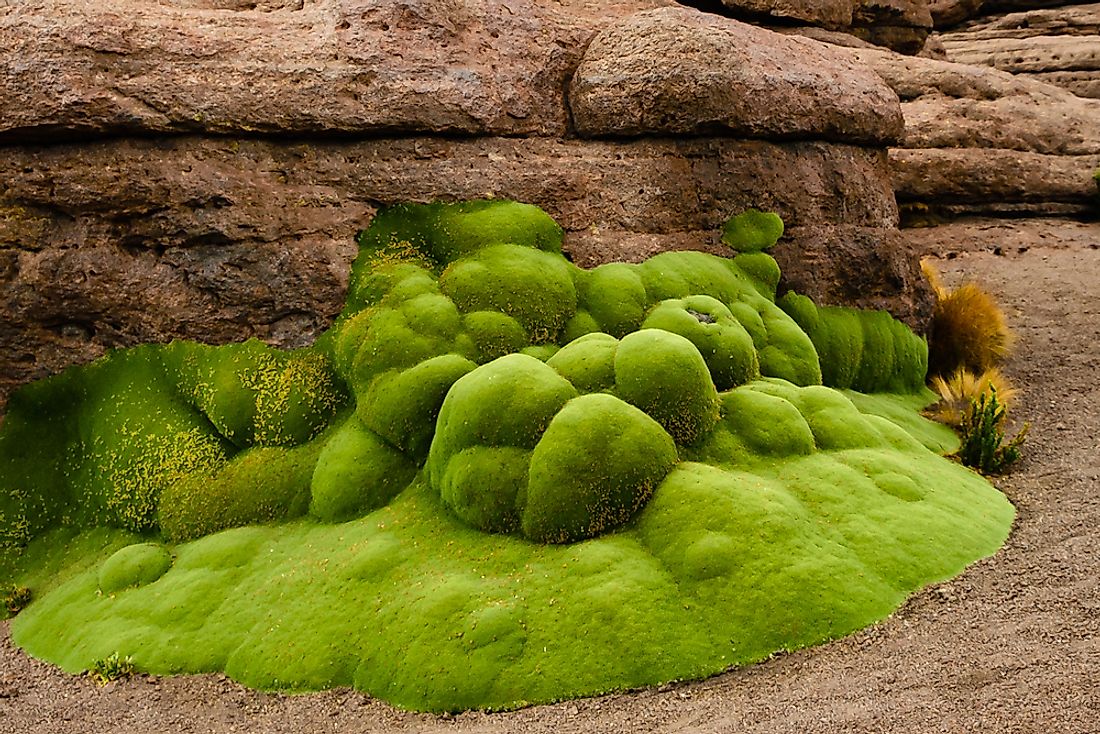 Bolivia is a country of diverse terrains situated in the central portion of the South American continent. Although it is a landlocked country, Bolivia has one of the richest biodiversity in the world. The country has a variety of ecologival regions such as tropical rainforests, dry valleys, mountainous areas, river basins, and tropical savannas. Additionally, Bolivia has a broad range of altitudes from the highest point 6,542 meters above sea level to the lowest point 70 meters above sea level. Due to the enormous geographic variation, Bolivia has many native plants. Some of these plants include the Bolivian Begonia, Yareta, Fire Flag, Creeping Oxeye, and Cuplet Fern, among many others.
Bolivian Begonia (Begonia boliviensis)
The Bolivian Begonia (Begonia boliviensis) is a tuberous plant native to the Bolivian Andes. The plant inhabits rock crevices and areas near streams. Bolivian Begonia stem grows to an average height of 18 inches. It has fiery orange, drooping flowers that bloom from late spring through summer and give the plant a beautiful look. The plant is used commercially for landscaping, and in hanging baskets. Bolivian Begonia does not do well in freezing conditions or in the harsh summer heat.
Creeping Oxeye (Sphagneticola trilobata)
The Creeping Oxeye (Sphagneticola trilobata) is a plant in the sunflower family native to Mexico, Central America, and Bolivia. It is a perennial herb with an average height of 12 inches. Creeping Oxeye has bright yellow flowers that make it ideal for gardening. The plant can be found in a wide range of ecological areas. It is drought resistant and thrives in sunny, well-drained soils. Creeping Oxeye is a highly invasive plant that has been listed among 'The World's 100 Worst Invasive Species'.
Yareta (Azorella compacta)
Yareta (Azorella compacta) is a plant endemic to South America. It is found in the high grasslands of Bolivia, Peru, Chile, and Argentina. It is an evergreen plant that produces lavender flowers. The plant is well adapted to poor nutrition alkaline or acidic soils. It has a very slow growth rate of approximately 1.5 centimeters per year. Some of the Yareta plants are estimated to be as old as 3,000 years. In the past, Yareta was used as fuel, but due to its slow growth rate, the use is not sustainable.
Mistol (Ziziphus mistol)
The Mistol (Ziziphus mistol) is a plant native to South America. It grows to a length of between 10 and 15 meters, having a diameter of 0.2 to 0.6 meters. Its branches have spines close to the leaves. Mistol blooms from October to December. It produces roughly spherical, hazel fruits that are edible. Its trunk produces tough wood used in making handheld tools and as fuel. For centuries, Mistol fruits have been used by South Americans in both its ripe form and processed. Some diet shops in South America continue to use it to produce favorite local beverages.
Varied Uses of Bolivian Plants
Bolivia has an abundance of native plants. The plants are useful for construction, dietary use, aesthetic fuel use, and medical use. Most of the plants are highly adapted to harsh environments. They are therefore able to survive the loss of habitat, competing for species and climate change. However, there are some plants that face the threat of extinction. The main threats to endangered plant species are deforestation, invasive species, and climatic change.
Native Plants Of Bolivia
| Native Plants of Bolivia | Scientific Name |
| --- | --- |
| Mistol | Ziziphus mistol |
| Yareta | Azorella compacta |
| Tamanqueira | Aegiphila sellowiana |
| Fire Flag | Thalia geniculata |
| Bolivian Begonia | Begonia boliviensis |
| Creeping Oxeye | Sphagneticola trilobata |
| Cuplet Fern | Dennstaedtia bipinnata |
| Poulsenia | Poulsenia armata |
| Amazon Sword Plant | Echinodorus grisebachii |
| Matico | Piper aduncum |