Environment
Major Rivers Of Romania
The Olt is the longest river wholly within Romania, while the Danube is the largest to partially pass through the country.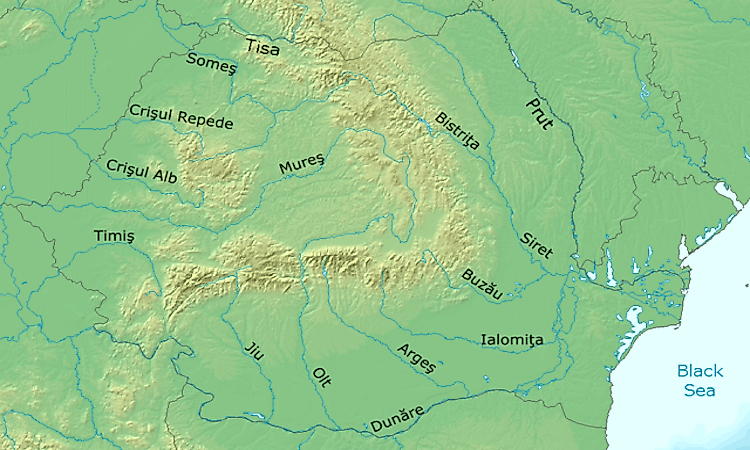 Romania is located almost halfway between the North Pole and the Equator. The terrain is nearly evenly divided between plains, hills, and mountains. Romania's rivers mainly flow west, east, and south wards from the central crown of Carpathian mountain ranges. The rivers are fed by the melting snow and rainfall, often fluctuating its flow, which occasionally results in catastrophic floods. River Danube is the country's most important waterways. The Danube is the most important river of Romania, not just in hydro electric production plants, but also as a means of transport. Virtually all the rivers of Romania are tributaries of the Danube.
Major Rivers Of Romania
Danube
The Danube is Europe's second-longest river, and longest river in the European Union covering a distance of 1,770 miles. The Danube starts from the Black Forest in Germany in the form of two small rivers called Breg and Brigach, which unite at Donaueschingen, and from this point onwards it is called the Danube. It flows through 10 countries, which include Austria, Bulgaria, Croatia, Germany, Hungary, Serbia, Slovakia, and Ukraine. The whole of Romania falls almost entirely within the Danube Basin, and the significance of Danube to Romania is enormous. Almost a third of Danube's basin area consists of Romanian section and more than one-third of the Danube's length flows through Romania. The Danube has played a crucial role in political evolution and settlements of southeastern and central Europe. Its banks linking fortresses and castles also work as a crucial waterway between the countries.
Tisza
Tisza originates in Ukraine, near Rikhiv city, and flows westwards roughly on Romania's border with Ukraine, enters Hungary and then Serbia where it unites with river Danube. The Tisza river basin spread across 60,690 square miles constitutes the biggest sub-basin in the Danube basin. It is the longest tributary of the Danube with a length of 600 miles and second largest by the volume. River Tisza has a very rich wildlife having more than 200 of bird species residing in Tiszafored bird reserve. Its floodplains support a large variety of plant and animal life. Recent incidents of dangerous industrial pollutants being found in the river where cyanide from coal mines was responsible for killing 2,000 tons of fish are alarming.
Prut
River Prut originates in Ukraine and flows in East Europe and at some places, it also serves as the border line between Moldova and Romania on its 593 miles long journey and eventually falls into Danube River at Reni. It is the second largest tributary of river Danube. Fed by melt water and rainfalls the river freezes slightly from the month of January to March. The major feature which defines Prut is its biodiversity, which is largely still preserved, despite the flood plain area being reduced due to the dikes for flood protection.
Olt
Olt starts at Hasmas Mountains near Balan, and flows towards southwest and south directions, to join the Danube at Turnu Magurele. With 382 miles length, It becomes the longest river which flows exclusive inside Romania. Olt travels the Romanian counties of Covasna, Harghita, Sibiu, Brasov, Olt, and Valcea. Ramnicu Valcea, Sfantu Gheorghe and Slatina are few of the major cities on the banks of river Olt. Lotru, Raul Negru, Otlet, Cibin and Teslui are its major tributaries.
Protection Of The Rivers Of Romania
Romania is a nation rich in biodiversity, especially the Danube delta region of the country, which also is the largest delta in Europe. It is a great reserve of water plants, a swamp haven for fauna and flora, and a significant wetland ecosystem. To save the biodiversity, the Danube Black Sea Cleaning Project has been adopted as a vital step in this direction.
What are the major rivers of Romania?
The Danube, Tisza, Prut, Mures, and Siret are the major rivers of Romania.
Major Rivers Of Romania
| Rank | Major Rivers of Romania | Total Length |
| --- | --- | --- |
| 1 | Danube | 1,777 miles (shared with Austria, Bulgaria, Croatia, Germany, Hungary, Serbia, Slovakia, and Ukraine) |
| 2 | Tisza | 600 miles (shared with Hungary, Serbia, and Ukraine) |
| 3 | Prut | 592 miles (shared with Moldova and Ukraine) |
| 4 | Mures | 473 miles (shared with Hungary) |
| 5 | Siret | 439 miles (shared with Ukraine) |
| 6 | Olt | 382 miles |
| 7 | Telciu | 302 miles |
| 8 | Ialomița | 259 miles |
| 9 | Someș | 241 miles (shared with Hungary) |
| 10 | Timiș | 223 miles (shared with Serbia) |
About the Author
Benjamin Elisha Sawe holds a Bachelor of Arts in Economics and Statistics and an MBA in Strategic Management. He is a frequent World Atlas contributor. 
This page was last updated on April 25, 2017.
Citations
Your MLA Citation
Your APA Citation
Your Chicago Citation
Your Harvard Citation
Remember to italicize the title of this article in your Harvard citation.