Environment
Longest Rivers In Poland
The Vistula, Poland's longest river, flows 651 miles between the Silesian Beskid Mountains and Gdansk Bay along the Black Sea.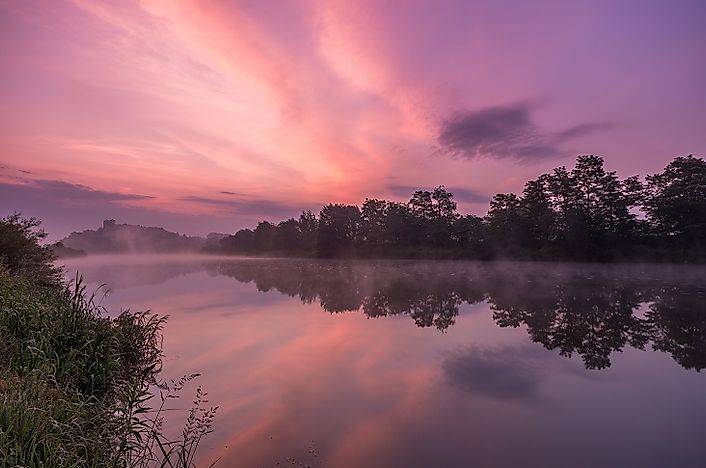 Poland has several major rivers and hundreds of lakes forming the components of its complex of freshwater bodies. These lakes and rivers are integral parts of the country's history and culture. Most of the rivers drain into Baltic Sea and have been used to for navigation from the ancient times. Most of the large rivers have more than one tributaries while the small rivers flow into the big rivers. Poland shares some of its longest rivers with other countries such as the Czech Republic, Germany, Belarus, Russia, Lithuania, and Ukraine. Some of the longest rivers in Poland are detailed below.
Vistula
The Vistula is Poland's longest river at 651 miles in length, and its drainage basin covers an area of 75,068 square miles. The largest part of the drainage basin, 65,000 square miles of it, lies in Poland, while the remainder is split between Belarus, Ukraine, and Slovakia. Vistula River begins from the South Poland with White Little Vistula and Black Little Vistula. It then flows over Polish plains passing through several cities including Krakow, Plock, Torun, Tczew, and Warsaw. Vistula River empties into Vistula Lagoon and Gdansk Bay of the Baltic Sea. The river is connected to the Quaternary period during which the cooling off of the climate took place. The river took its present shape in the last 14,000 years after the recession of the ice sheet which covered the area. The river is navigable from Baltic Sea to Bydgoszcz and can accommodate modest vessels. Vistula River has been one of Poland's main trading arteries over the centuries, especially for timber, salt, and grain.

Oder
The Oder River arises in the Czech Republic and flows through Poland, where it is seen forming a border between Poland and Germany. The river is known by several names in different languages including Oder (English and German, and Odra (Polish and Czech). The Oder is 531 miles long, 70 miles of which are in the Czech Republic and 461 miles in Poland, and drains a total area of 45,892 square miles. Its main branch empties into Szczecin Lagoon. Large part of Oder River is navigable with the upstream canalized and permits large vessels to navigate the industrial sites around Wroclaw area. The river was recognized as the border between Poland and East Germany in 1950 after a long period of refusal. The river was an important trade route before the Slavs settled along its banks. However, Dams were built along its banks to protect the agricultural land. Oder is also an important source of household water for most cities including Ostrava, Police, Nowe Sol, Wroclaw, and Wolin.
Warta
The Warta River lies in west-central Poland. It is a tributary of the River Oder and has an approximate length of 502 miles and a basin area of 21,054 square miles. The Warta River rises at Krowmolow and flows through Lodz Land and empties into the Oder near the border with Germany. The river runs through several cities including Warta, Kolo, Konin, Srem, Lubon, Wronki, and Mosin. Warta River is an important source of water for the majority of households in these cities. It has two major tributaries, with its right and left tributaries in turn being fed by several smaller rivers and streams. The river supports several economic activities in the area including farming and fishing. The River Warta is mentioned in the Polish national anthem.
Economic Role of Polish Rivers
Rivers in Poland play a significant role in economic development throughout the country as a whole. Most communities around the banks of the river depend entirely on rivers for their livelihood. Rivers are important sources of water both for household use and irrigation. Most of the rivers in Poland are navigable, thus they facilitate transport and trade between cities and with other countries including Germany, Czech Republic, and Ukraine.
Longest Rivers In Poland
| Rank | Longest Rivers in Poland | Total Length |
| --- | --- | --- |
| 1 | Vistula | 651 miles |
| 2 | Oder | 531 miles (shared with the Czech Republic and Germany) |
| 3 | Warta | 502 miles |
| 4 | Bug | 480 miles (shared with Belarus and Ukraine) |
| 5 | Narew | 301 miles (shared with Belarus) |
| 6 | San | 275 miles (shared with Ukraine) |
| 7 | Notec | 241 miles |
| 8 | Pilica | 198 miles |
| 9 | Wieprz | 188 miles |
| 10 | Šešupė | 185 miles (shared with Lithuania and Russia) |
This page was last updated on April 25, 2017.
Citations
Your MLA Citation
Your APA Citation
Your Chicago Citation
Your Harvard Citation
Remember to italicize the title of this article in your Harvard citation.