Environment
China's Critically Endangered Mammals
Sadly, several species of primates, rodents, aquatic mammals, large cats, wolves, bears, and ungulates alike face the possibility of extinction in China.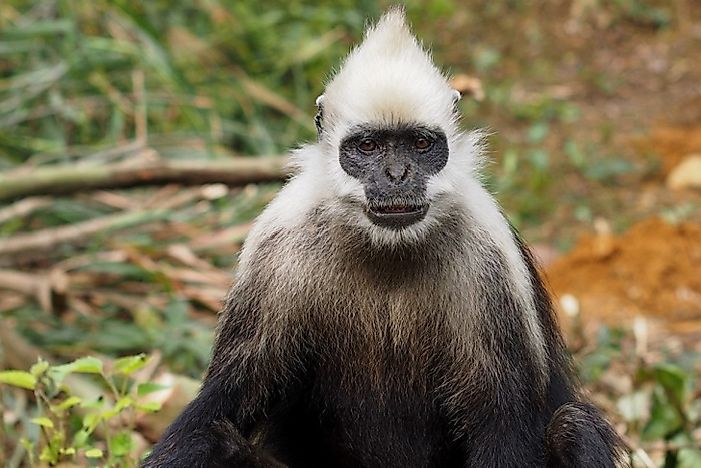 China is one of the 17 "megadiverse" countries of our world. Outside of the global tropical range, China has the largest number of diverse species in each category of vertebrates, including reptiles, amphibians, birds, fish, and mammals. In total, there are approximately 7,516 vertebrate species living here. Of these, an estimated 840 are endangered, threatened, or vulnerable. China is the number 3 country in the world for mammal diversity with 562 species. This article takes a look at some of the critically endangered mammals in this country.
Critically Endangered Mammals in China
White-Headed Langur
The white-headed langur can be divided into two subspecies, both of which are considered to be critically endangered. The leucocephalus is the subspecies found in China in the Guangxi Autonomous Region, where it prefers the moist, tropical rainforest habitat. This Old World monkey species can be identified by its black color with white heads, cheeks, and neck. It can grow to around 19 inches in height with a tail that reaches 33 inches in length. This langur species lives in groups that typically consist of one male, various females, and their young. The population of the white-headed langur has declined over 80% over the last 36 years. This rapid decline is largely due to demand in the traditional medicine industry, which values these monkeys for their supposed ability to treat health problems, including erectile dysfunction.
Eastern Black Crested Gibbon
The eastern black crested gibbon can be found in parts of southern China, with their ranges extending into Vietnam as well. In total, between 45 and 47 individuals have been recorded, only 10 of which live in China. Between 1960 and 2000, researchers believed the eastern black crested gibbon was extinct due to a lack of reported sightings. The previously mentioned population was discovered in 2002. Today, it is considered one of the most endangered primates in the world. Its decline has been attributed to habitat loss, specifically deforestation. Its very limited habitat range continues to be at risk due to demands for increased agriculture, livestock grazing, firewood, and charcoal.
Cheng's Jird
The Cheng's jird is a small rodent species that belongs to the Muridae Family, a term derived from the Latin "mus", meaning "mouse". This species is also commonly referred to as Cheng's gerbil. Although not technically listed as endangered, Cheng's jird is listed here because it is endemic to China. It can only be found in the eastern region of the Xinjiang Province and only above 3,280 feet above sea level. This area provides its preferred habitat of semi-desert and xeric grasslands, where it creates underground burrows.
A more complete list of critically endangered Chinese mammals can be found in the table below.

Conservation Efforts to Help China's Mammals
The vast majority of the mammals on this list are protected by the Convention on International Trade in Endangered Species of Wild Fauna and Flora (CITES). In order to conserve these mammal species, the government of China has proposed establishing some conservation areas to prevent further habitat loss. Additionally, various nonprofits have partnered with local governments in order to promote sustainable agricultural practice and educate the public in regard to the importance of conservation. Because much of the deforestation occurs to meet the demand for firewood and charcoal, some efforts in renewable energy projects have begun to reduce the need for these resources.
China's Critically Endangered Mammals
Critically Endangered Mammals of China
Scientific Name
White-Headed Langur

Trachypithecus poliocephalus
Eastern Black Crested Gibbon

Nomascus nasutus
Cheng's Jird

Meriones chengi
Helan Shan Pika

Ochotona argentata
Salenski's Shrew

Chodsigoa salenskii
Gansu Shrew

Sorex cansulus
Kozlov's Shrew

Sorex kozlovi
Baiji Dolphin

Lipotes vexillifer
Yangtze River Finless Porpoise

Neophocaena phocaenoides asiaorientalis
Amur Leopard

Panthera pardus orientalis
South China Tiger

Panthera tigris amoyencis
Himalayan Wolf

Canis himalayensis
Himalayan Brown Bear

Ursus arctos isabellinus
Bactrian Camel
Przewalski's Gazelle

Camelus bactrianus
Procapra przewalskii

Père David's Deer
Saiga Antelope

Elaphurus davidianus
Saiga tatarica