Near the city of Moab, in southeastern Utah, in the United States National Park Service's Canyonlands National Park. This locale presents a view of a ruggedly vivid landscape. Its features, shaped by the Green River and the Colorado River, include spectacular buttes, arches, spires, fins, high mesas, and, as its name implies, canyons. It is segregated into four districts, starting with the areas around "the Rivers" themselves, as well as "the Needles," "the Island in the Sky," and "the Maze." There are no commercial airlines currently serving the city of Moab. However, the parks themselves can be accessed easily by car on a two to four-hour drive, depending on which city (e.g., Denver, Salt Lake City, or Grand Junction) you are coming from. Its desert climate is mostly hot, receiving no more than 10 inches of rain per year. Summers are typically arid, while winters are cold, with relatively light snowfall
Tourism
The Canyonlands National Park is world-famous as a key tourist destination, attracting an average of 440,039 visitors each year. To get there, tourists can take the bus or train or drive a car from either Colorado, Salt Lake City, or Grand Junction. No roads or bridges connect the four districts, and travel time between them is about two to six hours by car. Tour operators generally do not recommend using GPS units as guides when visiting the parks, especially since its unpaved roads going to the Maze, which will show up on such navigation devices, may become unusable during rainy days.
Uniqueness
The Canyonlands National Park is hugely popular for the many recreational activities that it offers. These include hiking, boating, camping, horseback riding, four-wheeling, backpacking, and mountain biking. If you're into exploring the rustic beauty of the desert and don't mind bumpy and uneven trails, then Canyonlands should be near the top of your bucket list of places to visit. Of all of its four districts, "the Island in the Sky" is the most accessible, with "the Maze" being considered the most far-flung off the beaten path. The White Rim Road in Island in the Sky is ideal for moderately experienced four-wheeler operators, while "the Rivers" is famous for its two-day whitewater expeditions. The Needles offer a backcountry charm, and the Horseshoe Canyon Unit has a stunning view of American rock panels.
Habitat
The desert flora and fauna found in the Canyonlands are unique and interesting, especially to many city-dwelling guests. The environment is hostile, and many of the animals calling it their home are only active during the night or at dusk. Lizards, birds, and rodents can be found roaming the vast desert lands, as well as kangaroo rats, foxes, mountain lions, bats, bobcats, skunks, and ringtails. Sightings of black-tailed rabbits, songbirds, mule deers, coyotes, and porcupines are also quite frequent. Despite its arid nature, vegetation is surprisingly abundant in the Canyonlands, with yuccas, mosses, and cacti predominant in the region. The popular Utah Juniper is also found there, and other drought-evasive plants like the monkeyflower, the maidenhair fern, columbines, willows, and cottonwoods.
Threats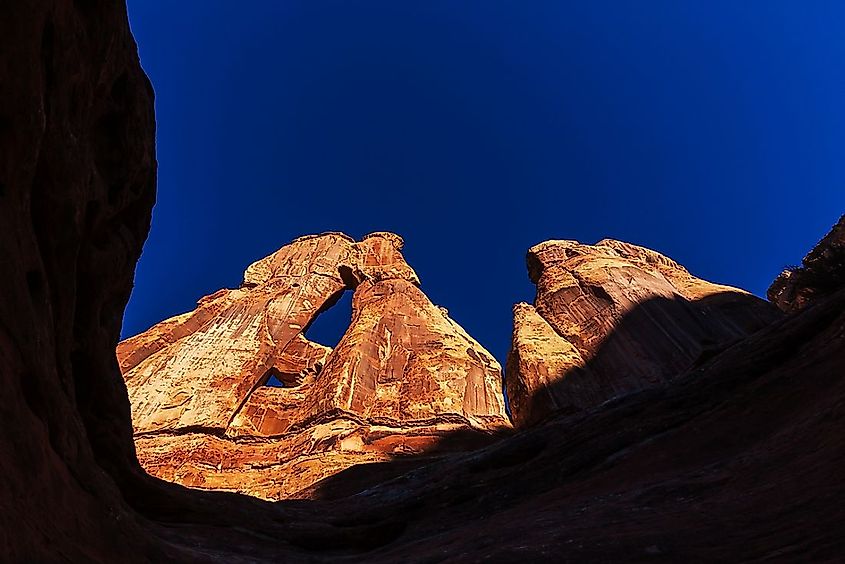 Erosion happens every day at The Canyonlands, and preservation of its wild and vibrant landscape is a primary concern of the National Park Service. The oil boom in the region has forever changed the city of Moab. The city has become increasingly crowded and polluted with the sounds, smells, and sights of oil drilling. Strip mining is also threatening the region, particularly in the Tar Sands Triangle. The National Park Service will offer visitors information on enjoying the park and keeping themselves safe therein responsibly.