Environment
Belize Barrier Reef Reserve - Endangered UNESCO World Heritage Site
Overfishing, tourism, and petrochemical exploration all threaten the largest ecosystem of its type north of the equator.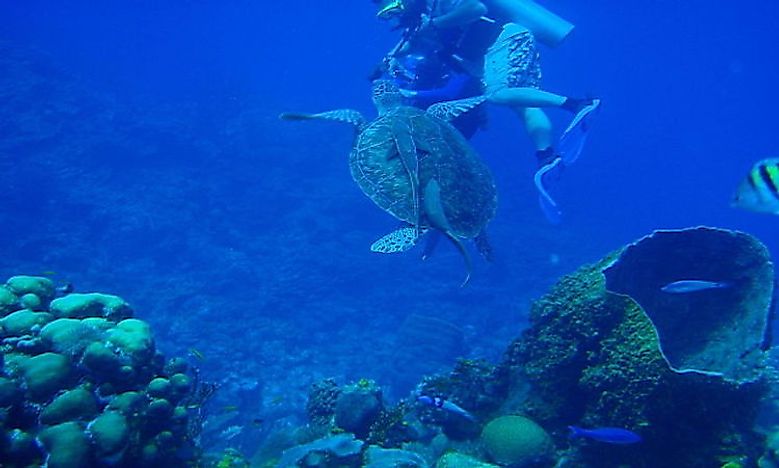 Belize Barrier Reef Reserve
Added as a UNESCO World Heritage Site in 1996, the Belize Barrier Reef Reserve covers approximately 237,962 acres off the coast of Belize and hosts the largest coral reef system in the northern hemisphere. Within the site are 7 protected areas that include national parks, marine reserves, and natural monuments. Living among the atolls, mangrove forests, sand cays, lagoons, and estuaries are a number of endangered species including green turtles, American marine crocodiles, and manatees. Birds such as the red-footed booby and the brown booby rely on this location for food and nesting. This ecosystem was protected because it is considered one of the best examples of its kind in the region due to its very diverse makeup of reef types. In total, over 65 coral species, 350 mollusc species, and 500 fish species can be found here.
Tourism
Because of its wide variety of marine life, the Belize Barrier Reef Reserve is a popular tourist destination. Common tourist activities include scuba diving, snorkeling, sailing, kayaking, and fishing. On the islands, visitors can also go hiking, horseback riding, birdwatching, and explore archaeological ruins. This reserve is the number 1 tourist destination in Belize and receives around 130,000 visitors a year.
Environmental Threats
The diversity of this World Heritage site is threatened by several factors. Large crowds of tourists and the boats they come in on disturb the surrounding habitat, damaging coral and polluting the waters. Additionally, global climate change is quickly altering the temperatures of the ocean, killing the marine life and causing coral bleaching. Coral bleaching causes stress to the coral to which they respond by shedding their algal pigmentation, thus limiting their growth ability. Simultaneously, climate change is causing an increased number of hurricanes in the area which leave irreparable damage to the ecosystem in their wake. Other threats to the reef system include: the fishing industry, coastal development, oil and gas exploration, and oceanic pollution.
Preservation Efforts
Given the importance of this barrier reef ecosystem and its vulnerability, extra efforts at preservation have been taken. In 2010, Belize became the first country to ban bottom trawling, a fishing practice that drags a net across the ocean floor to catch species such as shrimp, cod, and squid. In another move aimed at preserving this fragile ecosystem, the country also prohibited offshore drilling within 1 kilometer of reserve borders.
The entire coral reef extends north to the waters off the coast of Mexico and south to nearly the border of Guatemala. Its size makes preservation efforts difficult to manage. Because of this, the government of Belize has formed partnerships with non-governmental organizations (NGO's) in order to more successfully carry out conservation plans. Not only is help from NGO's necessary, but also collaboration among governmental departments. Various agencies are in charge of coastal development and to keep conservation at the forefront of their endeavors, the government has also created the Coastal Zone Management Authority and Institute in order to ensure an integrated approach to protecting the reef. Keeping this barrier reef healthy is of utmost importance and requires a shared effort among NGO's and governmental agencies.
This page was last updated on April 25, 2017.
Citations
Your MLA Citation
Your APA Citation
Your Chicago Citation
Your Harvard Citation
Remember to italicize the title of this article in your Harvard citation.