Map of Ionian Sea - World Seas, Ionian Sea Map Location
Ionian Sea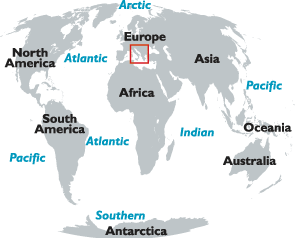 The Ionian Sea is a part of the Mediterranean Sea positioned south of the Adriatic Sea, and bordered by southern Italy and Sicily in the west, and by Albania and Greece in the east.
The northern boundary of the sea is the Strait of Otranto; the southern boundary is our best mapping estimate.
The Ionian Islands stretch along the eastern edges of the sea; the main islands are Corfu, Lefkada, Kefallonia and Zakynthos.
The distance from Catania to Zakynthos Island is 496 km (308 mi), and from the southern tip of the Salento Peninsula to Corfu Town is 129 km (80 mi). The sea has a maximum depth of 4,900 m (16,000 ft.)
This page was last updated on September 3, 2020.